Salesforce Demos
Salesforce is Software-as-a-Service (SaaS) CRM created by Salesforce.com, Inc., a cloud computing company. Salesforce is used for customer relationship management in sales, marketing and customer service.
ScienceSoft leverages its 15-year CRM experience to deliver Salesforce flagship products, including:
Sales Cloud
Sales Cloud is CRM for sales automation, sales process design, reporting and forecasting, which assists both sales managers and reps with the platform's rich functionality.
Service Cloud
Service Cloud is a solution for omni-channel customer service, helping to make customer support quick and efficient.
Marketing Cloud
Marketing Cloud is a marketing automation software, which helps businesses to improve the efficiency of their marketing activities.
Community Cloud
Community Cloud is an online social platform for companies to create branded sites connecting customers, employees, and partners with each other.
Financial Services Cloud
Financial Services Cloud is a platform for advisors, personal bankers, tellers, etc., helping them to interact with clients in a personalized and proactive way.
Nonprofit Cloud
Nonprofit Cloud is a solution helping nonprofits to track and measure their activities in real time, raise more funds, and engage with their constituents better.
Interactive Guided Tours
Watch our guided tours to explore lead and opportunity management, targeted marketing campaigns and preparation to personalized customer outreach.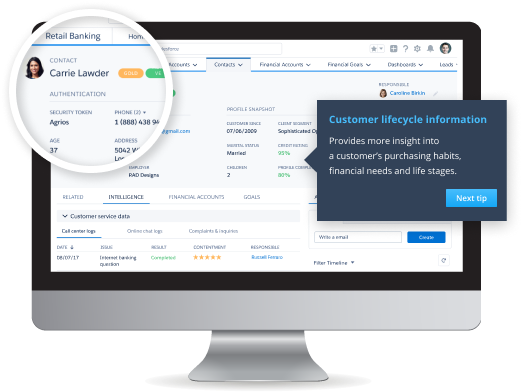 360-Degree Customer Profile
Discover how a comprehensive customer profile created in Salesforce paves the way to efficient customer communication.
See all-round customer view in Salesforce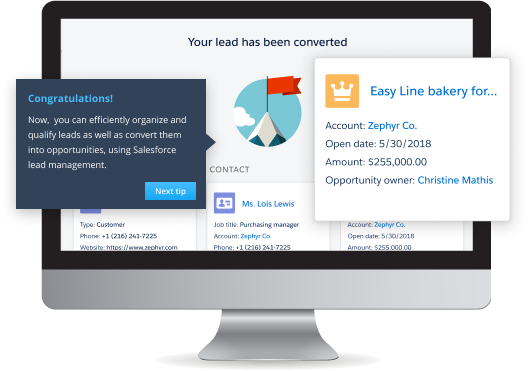 Lead Management in Sales Cloud
See how a structured lead management process brings you time saving and a productivity increase in lead communication and conversion
Uncover the secrets of efficient lead management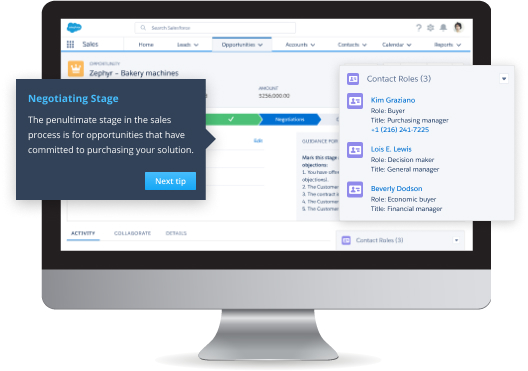 Opportunity Management in Sales Cloud
Learn how to move your opportunities through sales stages with maximum attention to your sales process peculiarities.
Find out how to manage opportunities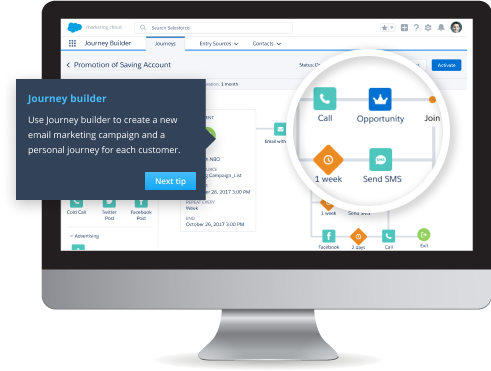 Email Marketing in Marketing Cloud
See how to design a personalized marketing campaign to improve customer experience and increase their loyalty.
Learn to design a marketing campaign
Salesforce customers benefit from the CRM by getting:
lead conversion rate

sales revenue

win rate
lead volume

lead conversion

marketing ROI
customer retention

agent productivity

speed of case resolution
All about Salesforce and CRM
<![endif]-->