Editor's note: Andrew overviews the key features and benefits of implementing CRM for real estate companies and shares the best CRM for realtors. If you are interested in implementing a fitting real estate CRM platform, check ScienceSoft's CRM services offering.
Customer relationship management (CRM) system can help real estate agents stay organized and successfully manage relationships between property sellers and buyers. 45% of CRM buyers are in either the real estate, consulting, or insurance markets, and the largest percentage – 21% - is in real estate.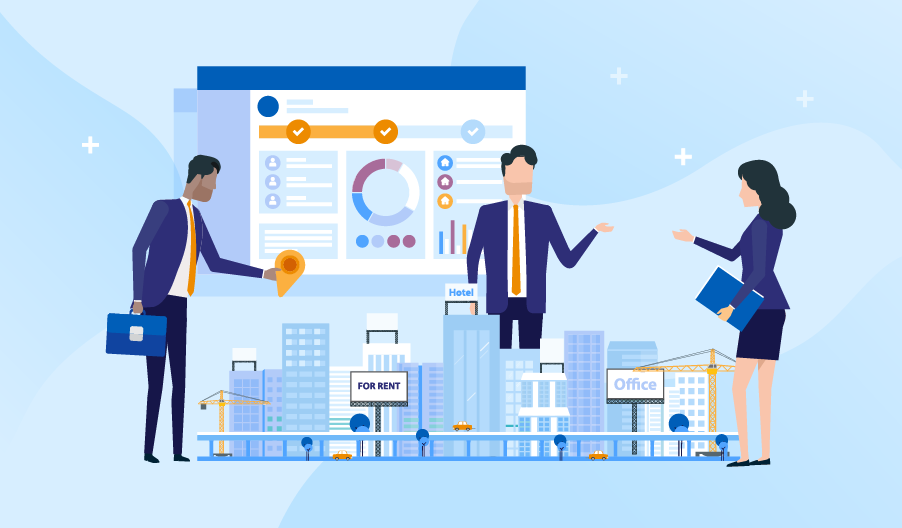 Real estate CRM software allows real estate agents not to waste time searching for necessary information in numerous spreadsheets or emails, as it is all stored in one place. This software helps capture data on new real estate leads, manage the property sales pipeline, automate mundane tasks (data input, follow-up emails, etc.), and streamline transactions. According to the survey, 96.2% of brokerages and 94.6% of real estate agents claimed that using CRM systems increased their productivity. Here are some of the key CRM features real estate agents and brokers are looking for:
360-degree view of prospects, leads, and customers (buying history, communication, email trails, etc.)
Real estate lead management.
Contract and transaction management.
Sales pipeline management.
Real estate reporting, etc.
Microsoft Dynamics 365 Sales offers your real estate agents a set of advanced features, including Sales Playbooks (creating beneficial property sales or rental-related scenarios for real estate agents to follow), personalized sales proposal creation (based on a customer's data and online searches), predictive analytics, and more. The AI-powered Sales Insights feature captures all the relevant data on customer activities (purchasing transactions, previously rented/bought apartments, etc.), identifies and prioritizes opportunities to convert them into closed deals, and suggests the next best action to make (e.g., scheduling an open house event.).
Limitations:
Limited number of integrations with third-party apps.
Pricing:
Professional Edition – $65/user/month.
Enterprise Edition – $95/user/month.
Sales Insights – $50/user/month.
More about Microsoft Dynamics 365 Sales.
Among key features of Salesforce Sales Cloud for real estate agents are lead generation and lead tracking, event scheduling, task monitoring, contract management, etc. It also allows for tracking property statuses and availability and measure real estate agents' performance and process KPIs. The CPQ tool helps your agents create templates for proposal generation and enabling automated cost estimates.
Limitations:
No on-premises deployment option.
Limited customization capabilities.
Pricing:
Essentials Edition – $25/user/month (billed annually).
Professional Edition – $75/user/month (billed annually).
Enterprise Edition – $150/user/month (billed annually).
Unlimited Edition – $300/user/month (billed annually).
CPQ – $75/user/month (billed annually).
CPQ Plus – $150 user/month (billed annually).
More about Salesforce Sales Cloud.
Pipedrive CRM is designed specifically for real estate agents and teams. The LeadBooster tool allows agents and brokers to generate and manage leads from a database of 400 million profiles based on certain criteria (location, job title, etc.). LeadBooster also features a chatbot that can be used, e.g., for your potential customers to find open houses quickly. Thus, when a visitor navigates through your website, a chatbot asks them in which district they would like to live. Based on their answer, the chatbot shares a list of properties in that area and tells them that your real estate agents are holding an open house at one of those properties. If the customer is interested, the chatbot can offer them to contact the realtor managing the open house.
Limitations:
No on-premises deployment option.
Limited number of templates.
Lack of contract management features.
Pricing:
Essentials Edition – $12.50/user/month (billed annually).
Advanced Edition – $24.90/user/month (billed annually).
Professional Edition – $49.90/user/month (billed annually).
Enterprise Edition – $99/user/month (billed annually).
LeadBooster – $39/company/month.
Time to benefit from real estate CRM software
Real estate client management software is not just about saving the time of a real estate agent or a broker. A good real estate CRM is a lead nurturing machine and a contact management system helping your real estate business engage with customers and close more deals successfully. If you consider implementing real estate CRM software or have challenges with an ongoing project, ScienceSoft's team is ready to help.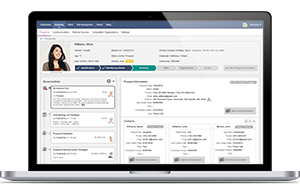 A CRM consulting vendor with 11 years of experience, we will help you choose and implement a CRM that suits your business best.