Editor's note: Andrew outlines some of the key reasons to use CRM for financial advisors and provides his list of top 3 CRM platforms for financial services. And if you need help with choosing or implementing CRM software suitable for the financial services industry, consider ScienceSoft's CRM services.
CRM software: key facts
CRM software forms the largest software market, which continues to grow at astounding rates and is expected to reach $114.4 billion by 2027. CRM software popularity is easy to understand as it supports your marketing, sales and customer service strategies to help you win new clients and retain the existing ones. Also, by successfully implementing a CRM solution, you will get the ROI varying from $2.50 to $5.60 for every dollar invested.
Why should financial advisors use CRM?
The main goal of financial advisors is to increase sales by winning new customers and developing enduring relationships with their customer base. So, they use CRM systems that help them achieve this goal by providing:
360-degree customer view.
Financial account management.
Financial reports and analytics.
Advanced security, etc.
To see how your financial business would benefit from implementing a CRM system in practice, I suggest checking ScienceSoft's project where we provided CRM for a retail bank with 7 million clients.
Top 3 CRM platforms for financial advisors
Microsoft Dynamics 365 Sales
Key strength: Microsoft Dynamics 365 Sales empowers financial advisors with advanced features to automate routine tasks, boost employee productivity, provide customer insights and build authentic relationships with clients.
Unique features:
Business card scanner – to take a picture of a business card and import the text into Dynamics 365 Sales to create a new lead or contact.
Financial data management – to provide client financial accounts and opportunities data, suggest financial services solutions, analyze client potential.
Playbook – templates to create sales-related scenarios for employees to follow for better financial services sales processes execution.
Softphone dialer – to initiate a customer call from a browser.
AI-powered Sales Insights – to analyze a customer's behavior, provide accurate predictions on financial proceedings, etc.
Limitations: Limited number of integrations with third-party services.
Pricing: Starts at $65 user/month (Sales Professional edition).
More about Microsoft Dynamics 365 Sales
Salesforce Sales Cloud
Key strength: Salesforce Sales Cloud's features allow financial advisors to attract new customers, automate key financial processes, and deliver personalized customer service. There is also a managed package called Financial Service Cloud, which is based on Sales Cloud functionality and has specific features best-suited to the financial services industry.
Unique features for Salesforce Sales Cloud:
AI-powered Sales Cloud Einstein – to provide predictions and recommendations for more informed sales-related decisions (e.g., prioritizing the leads that are most likely to convert and opportunities by predicting the chances of winning the deal, forecasting by product families, product schedules and territories).
Lead conversion process – to convert a qualified financial lead into a contact, relate this contact to an existing account or a recently created account and convert this lead into an opportunity or contract.
Lightning Dialer – to enable one-click calling and automated call logging.
Unique features for Salesforce Financial Service Cloud:
Customer and household data management.
Financial account management.
Financial goal management.
Wealth reports, etc.
Limitations:
For Sales Cloud, no possibility of on-premises implementation.
For Financial Services Cloud, lack of currency management.
Pricing:
Sales Cloud starts at $25 user/month for the Lightning Essentials edition (billed annually).
Financial Services Cloud starts at $150 user/month for the Professional edition (billed annually).
More about Salesforce Sales Cloud
DebtPayPro
Key strength: DebtPayPro is a CRM system designed to simplify different financial processes and provide customer management solutions for debt settlement, credit repair, and student loan consolidation.
Unique features:
Financial reports management – to create settlement and debt reports, revenue attrition reports, etc.
Finance-specific integrations – to integrate with merchant account providers, credit bureaus, payment proceeding with 14 payment gateways, including PayPal and FedChex.
Integrations with electronic signature providers (Clixsign and Docusign).
Limitations:
No possibility of on-premises implementation.
No free trial period.
No mobile app.
Pricing: The vendor negotiates prices during a demo session.
Develop your financial business with CRM
In the financial services industry, a company's success highly depends on the customer experience. CRM systems help not only maximize your profitability and simplify your workflows but to improve your customer service and win customers' trust. Having 15 years of experience in providing CRM services, ScienceSoft's team is ready to provide you any assistance from consulting to implementing a CRM solution to meet your business needs.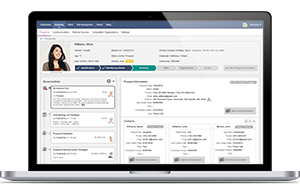 Do you want to manage customer relationships more efficiently? Experienced consultants will help you with CRM software of any complexity.