ScienceSoft delivers full-cycle Salesforce consulting services allowing you to uncover the potential of Salesforce to support your business needs. With 11 years in delivering CRM services, we help to increase the efficiency of sales, service and marketing activities of B2B and B2C companies operating in IT, business services, manufacturing, retail, healthcare, finance and banking, telecoms and more.
When We Consult
What Our Salesforce Consultants Do
If you plan to implement Salesforce or improve your existing solution, ScienceSoft provides comprehensive consulting, which includes:
Salesforce Products We Work With
ScienceSoft's team is qualified to deliver Salesforce flagship products, including:
Challenges We Solve
We show how to successfully solve a number of challenges with Salesforce, including:
Low sales rates due to an inconsistent sales process. We assist in making the sales process more streamlined with Sales Cloud. We advise on digitizing your live processes with Salesforce or using Salesforce as a source of best practices for the processes design. To ensure efficient process automation, we suggest using default Salesforce functionality or applying code-based customizations. It allows creating a well-structured sales process and showing how it's followed, which guides sales reps on their way to closing deals.
Poor customer service due to lengthy case resolution. We can help you to improve your customer service quality exercising default or custom case management functionality of Service Cloud. Its mechanisms of automated case assignment, prioritization and escalation allow reducing case resolution time and support your service agents' productivity.
Lack of personal approach in your marketing campaigns. We show how to enhance the efficiency of your marketing campaigns giving them a personal touch with the Marketing Cloud functionality. Covering manifold customer communication scenarios, you'll be able to engage with a large number of customers, treating each of them in a highly personalized way.
The issues of customer and partner communication. To improve your communication with customers and partners, we can share the best practices of using Salesforce Community Cloud. Your customers and partners will benefit from getting expert advice on help forums, and you'll receive direct feedback from customers on your products and services.
Our Salesforce Demo Versions
See how Salesforce supports your lead and opportunity management, targeted marketing campaigns and preparation to personalized customer outreach with our demos.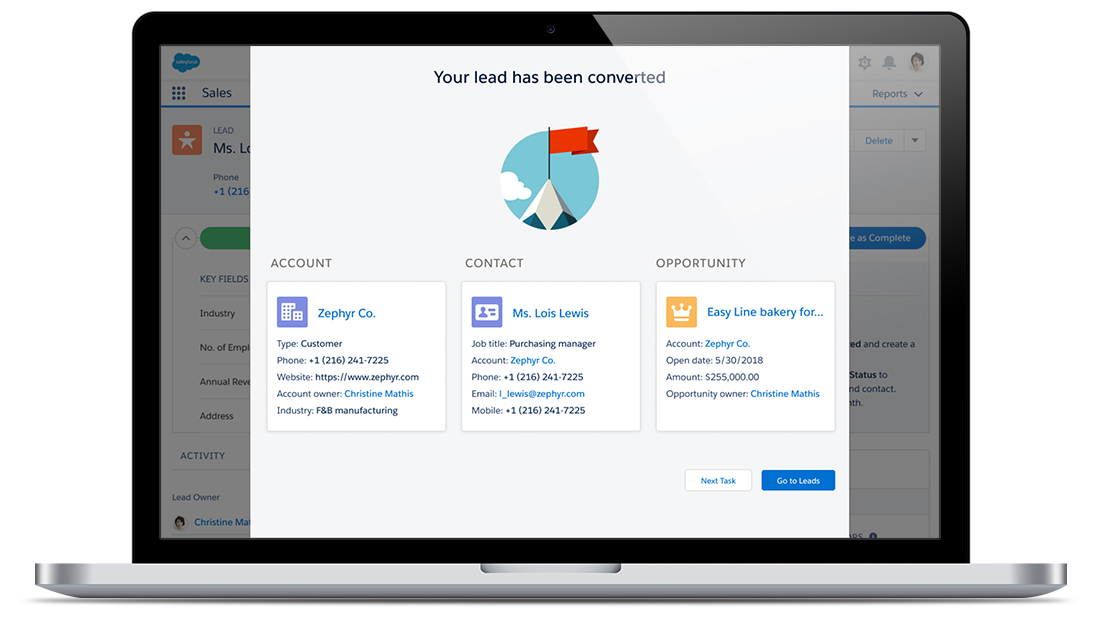 Salesforce Capabilities We Consult On
To help your Salesforce solution bring maximum value for your sales, customer service, and marketing needs, our team consults on how to uncover the following capabilities of the Salesforce platform:
Sales automation: sales process design and management, contact management, lead management, opportunity management, sales forecasting.
Customer service automation: omni-channel customer service, case management, customer service analytics.
Marketing automation: customer segmentation and personalization, customer journey management.
Community management: partner management, employee collaboration (for marketing and sales teams), customer and partner self-service.
AI capabilities: sales, service and marketing predictions, personalization of customer communication, cross-selling and upselling suggestions.
Let's cooperate
Knowing the Salesforce platform in and out, we deliver high-quality Salesforce consulting services to our clients. Reach out to learn how to reinforce your sales, customer service and marketing efforts with the world's leading CRM.