Editor's note: Andrew discusses the benefits of CRMs for financial advisors and recommends the top 3 CRM solutions for this demanding field. If you need assistance to choose and implement the best CRM software for your case, feel free to contact ScienceSoft for our expert CRM consulting services.
CRMs (customer relationship management systems) for financial advisors provide means to store and track client data in a centralized way, maintain regular communication with clients, and automate routine administrative tasks. Financial advisors opt for this software to have a 360-degree view of their client base, better understand their clients' needs, and provide personalized advisory services.
Key Features of CRMs for Financial Advisors
Lead generation. CRM software provides multiple ways to monitor marketing and networking activities and prioritize prospective leads. Having a potential client's engagement history at hand, you can personalize your communication, plan and schedule follow-up calls and appointments to efficiently turn prospects into loyal clients and close more deals.
Client data management. A CRM helps organize and store comprehensive client records, such as personal information, contracts, and communication history. With a solution that automatically collects and updates client data across multiple channels (emails, phone calls, text messages, etc.), you can keep track of your client's status, investment portfolio, preferences, key life events, etc. to better meet their financial needs.
Task management. CRMs for financial advisors make it easy to set up and manage client service tasks throughout the customer lifecycle. Routine tasks such as emailing or manual data entry can be automated to save time and streamline day-to-day operations. CRM systems can also send automatic reminders for upcoming calls, meetings, or holidays and birthdays to make sure that no business opportunity is overlooked.
Reporting. CRM solutions enable tracking and analysis of your financial advisory team's performance. With custom reports produced by financial CRM software, you can reveal the productivity patterns of your team members, bring transparency to your business processes, and optimize inefficient workflows.
Integration. Top CRMs for financial advisors integrate with other business-critical software such as marketing or accounting systems to eliminate departmental data silos and open access to a broader range of data for decision-making.
Top 3 Best CRM for Financial Advisors
Microsoft Dynamics 365
Best for: wealth and asset management companies in need of a comprehensive solution that can be tailored to their sector-specific needs.
A centralized database to store and provide shared access to client accounts, preventing data silos across departments.
Event management to plan and schedule calls, emails, and meetings and set automatic reminders.
Workflow automation to standardize and streamline sales, marketing, and customer service processes, eliminate human errors, and reduce operational costs.
Customer self-service with intelligent chatbots to facilitate client independence and quickly respond to common questions from the clients.
Automated reports to gain valuable insights into provided financial services and analyze client interaction history.
Integrations with other Microsoft Dynamics modules and third-party products to enrich available functionality.
More about Microsoft Dynamics 365
Wealthbox
Best for: small wealth management companies and independent financial advisors looking to offer client-centered financial services.
Contact management via contact record pages to keep track of all client interactions and financial information, including the clients' activities on social media.
Document management to add, manage, and share documents with team members.
Task management to create and assign client service tasks to team members and monitor task progress.
Automated workflows in the form of customizable sequential workflows or shared checklists for better team collaboration and flexible client management.
Event calendar to manage different schedules in one place with the possibility to sync with Google Calendar and Outlook Calendar.
An advanced reports engine that applies to all CRM objects, including contacts, tasks, workflows, events, etc., to dynamically generate custom reports based on multiple criteria for in-depth analytics.
UGRU Financial CRM
Best for: small and growing financial advisory businesses looking for rich financial planning features.
Contact management to organize all necessary information about clients, prospects, and associates, including communication history.
Sales automation to track the clients throughout the sales cycle, assess the value of opportunities and the chance of deal closing.
Outbound phone automation to connect to a VoIP system and stay in contact with clients without being tied to a landline or a dedicated mobile device.
Email marketing automation to send mass emails and run drip campaigns with newsletters and financial brochures to keep clients up to date on the latest developments.
Financial planning to plan cash flows, investment, retirement income, and more; to analyze clients' needs and run different scenarios to get a comprehensive picture of their financial opportunities.
Accounting and invoicing to leverage a central database for billing and cash flow recording.
A Smart Way to Build Stronger Bonds with Clients
CRM software automates customer relationship workflows and offers in-depth view into each client's needs, allowing financial advisors to fully focus on their advisory tasks and provide highly personalized services. If you want to employ a CRM for your financial advisory business, do not hesitate to contact ScienceSoft. Our CRM consultants and software engineers will help you choose and implement an efficient and user-friendly solution that will be fully tailored to your needs.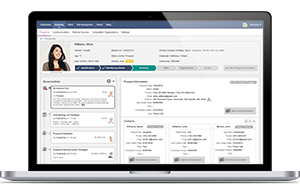 A CRM consulting vendor with 15 years of experience, we will help you choose and implement a CRM that suits your business best.