Make Your Salesforce Project a Success
Our team can provide all necessary details on the Enterprise Edition of Salesforce Sales Cloud and compare it to other options to make your choice of a sales automation tool truly informed. Fill in the form, and our rep will follow up within 30 minutes to lead you to the next steps.
Why Salesforce
Recognized as a Leader in the 2020 Magic Quadrant for Sales Force Automation
Brings businesses an average of 25% increase in revenue
Used by more than 150,000 customers worldwide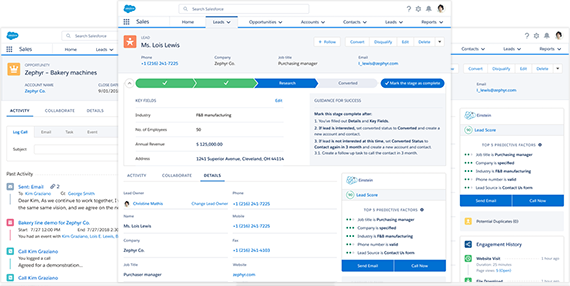 Our Offices
United States
5900 S. Lake Forest Drive Suite 300, McKinney, Dallas area, TX 75070
+1 214 306 68 37
contact@scnsoft.com
Europe
2 Myyrmäenraitti, Vantaa, ZIP 01600, Finland
+358 92 316 30 70
eu@scnsoft.com
Gulf Cooperation Council
Fujairah - Creative Tower, POB 4422 Fujairah, United Arab Emirates
+971 585 73 84 33
gulf@scnsoft.com
Our Customers Say
ScienceSoft has done an amazing job of making our Salesforce-supported sales processes more efficient. They've performed all the required customizations without any interruption to the business process.
The National Manager,
US-based Roofing Company
Over the past three years, Lixar was very pleased with the service provided by ScienceSoft development teams and executive management. For accelerated project timelines which require skilled resources, ScienceSoft is a company that your team should consider.
Jan Banda
Director,
Lixar
ScienceSoft proved to be a professional service provider from the outset. We appreciate their proactive approach and ability to suggest improvements to a prospective solution on both architectural and business levels.
Mikhail Anfimau
Senior Solution Architect,
Leo Burnett
Over the past 10 years we've worked on about ten mobile app development projects with ScienceSoft. It was our first encounter with an outsourcing company. The relationship turned out to be very good, so we saw no need to look for other suppliers.
John Andersson
Founder & CEO,
Peek-A-Boo
ScienceSoft is a highly skilled and uniquely capable firm with multitudes of talent on-board. We have collaborated on a number of diverse projects over the years all of which have been utmost success for both us and our clients.
Nader Afshar

President,

Persis Consulting Co.

<![endif]--> <![endif]--> <![endif]-->