Editor's note: Do you find it difficult to build patient trust that can help improve the quality of care? In this article, Alena gives 3 tips on how to build long-term relationships with the patients and gain their loyalty with software. Read on and feel free to turn to our medical IT consultants to get answers to your questions about building patient trust with high-quality software solutions.
ScienceSoft's customers from the healthcare industry often ask me for advice on how to nurture patient trust with the help of technology, as they see that trust contributes to improving patient satisfaction rates, reducing readmission and increasing economic outcomes. Below, I share 3 tips on how to build patient trust with software that have already helped ScienceSoft's customers from the healthcare industry.
I recommend healthcare organizations to be more transparent in their dealings with patients. For that, the potential of a patient portal cannot be underestimated. Thus, one of the ways to build trust with a patient portal is to enable patients to publicly leave feedback regarding doctors and other medical personnel and the general quality of services on the provider's website. Such an opportunity to look at your services through patients' eyes can help you improve the quality of care. Your patients can also use a portal to communicate with medical staff sharing their concerns and discussing the questions related to their diseases. Moreover, you can create a space allowing patients to discuss, for example, their treatment process or choose doctors according to the rating. This will make patients sure that their opinion is important for a healthcare provider.
Another way to build patient trust that I suggest to healthcare organizations is to engage patients in the process of their treatment, which can help patients feel in one team with their care provider. For that, you can develop a mobile healthcare app that provides patients with their treatment plans and reliable information about their vitals (including body temperature, blood pressure, pulse, and breathing rate, etc.). You can get an idea of how such an app may look from ScienceSoft's project on designing a care coordination app.
Also, you can enable the app to notify patients to take medicine and monitor their diet. And you can add gamification features to the app and encourage patients to improve awareness of their diseases and treatment procedures with quizzes and tests. Try this patient application demo to see how it looks in real life.
My consulting practice shows that patient trust is likely to rise with the increase of your services' accessibility. Now, when the importance and demand for remote services have never been higher, you can provide your care services without physical interaction using a telemedicine application (my colleague Anastasia Yaskevich describes telehealth apps in more detail in her article). With the telemedicine app, you can provide remote real-time consultations and organize e-visits via video chat. To see how it works, check our project on designing a HIPAA-compliant Android version of the Chiron Health platform.
Also, telemedicine apps allow renewing prescriptions, filling out medical forms and going through other formal procedures without visiting a doctor.
Additionally, telemedicine apps can be enriched with medical chatbot technology. Chatbots can search for needed medical information, handle simple patient requests, and send notifications about upcoming e-visits, thus streamlining care processes, increasing care availability and helping patients with the treatment routine.
Now, high-quality software is one of the prerequisites for building long-term relationships with patients and gaining their trust. If you want to ensure that software you use is up for the task or interested in introducing any software type mentioned in the article, just let me know.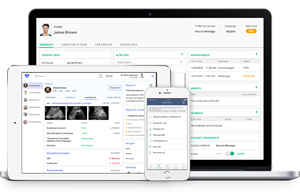 Looking for a solution to your healthcare IT challenge? Our experienced healthcare consultants are here to help.