QLSI Log Source Inventory
QLSI Log Source Inventory for IBM Security QRadar SIEM is an application that generates periodical log source reports in Excel format and sends them by email.
QLSI reports are:
configurable;
report data is separated by domains;
include log sources with all possible statuses (OK, in error, warning/timeout, disabled, unknown);
include all important log source information and a legend;
presented in MS Excel format that allows users to easily sort and filter the data.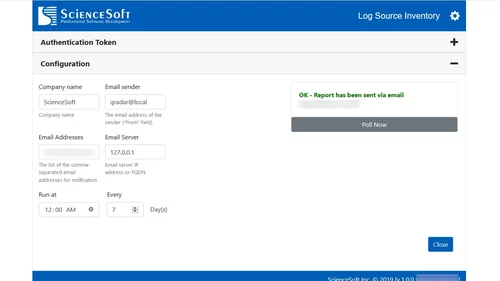 QRadar Native Alternatives
Log Source Management extension and QRadar reports allow exporting to CSV format which is not quite convenient for analysis and reporting. QLSI report contains unique information that is not available from standard exports, e.g. EPS values per each log source.
License
Open Source / Apache 2.
IBM App Exchange
Available as a complimentary app within a commercial tool purchase.
More about ScienceSoft's Cybersecurity Services and Solutions
<![endif]-->