Equipment Management Software
Features, Benefits and Success Factors
With 34 years in developing custom solutions, ScienceSoft designs and develops equipment management software that serves unique business needs
Equipment Management Software: the Essence
An equipment management system is used to monitor the performance of enterprise equipment, manage equipment life cycle from planning to disposal, and automate its maintenance processes. The tool helps businesses maximize equipment life and efficiency, improve its safety and compliance, and increase ROI. The equipment management system integrates with ERP, MES, PLC, HMI, and more.
Sample Architecture of Equipment Management Software
To enable comprehensive equipment management, ScienceSoft usually builds IoT-based solutions that include the following components:
Physical level. Sensors, RFID tags, barcodes, or QR codes mounted on equipment to collect various equipment-related data (e.g., location, performance, temperature). Collected data goes through the field gateways and the cloud gateway to the streaming data processor.
Data processing level. The streaming data processor transmits the input data to the data lake and control apps. From the data lake where the data is stored in its natural format it gets to the big data warehouse that stores structured data for further analysis. In-depth data analysis helps identify abnormal patterns and trends in equipment data and generate actionable insights on how to optimize equipment operation, schedule equipment maintenance before failure occurs, plan equipment procurement, and more. The machine learning component creates precise and efficient models based on historical data for control applications that send automatic commands and alerts to actuators.
Application level. Web and mobile applications enable users (managers, equipment operators and technicians, etc.) to communicate with the solution, view real-time equipment data and reports, create equipment profiles or electronic forms, and more based on business logic.
Key Features
Having 34-year experience in manufacturing IT solutions, ScienceSoft can outline the key functionality of equipment management software.
Equipment information management
Equipment profiles with information on equipment type, model, serial number, manufacturer, mileage, location, etc.
Secure centralized storage and full-text search of equipment manuals, insurance and warranty documentation, and more.
Creation and real-time collaboration on equipment documentation (e.g., parts lists).
Creating various electronic forms (pre-shift inspection forms, hours of service logs, maintenance checklists and reports, etc.) for employees to complete in the field using phones and tablets.
Support for multimedia import (e.g., pictures of defects in equipment or produced parts) into submitted electronic forms.
Equipment activity and condition tracking using various sensors (rotation, speed, vibration, temperature sensors, etc.).
Tracking location and availability of equipment with barcodes, QR codes, RFID tags, etc.
Equipment depreciation tracking.
Equipment safety of use tracking.
Tracking of equipment booking and check-in and check-out logs.
Notifications about identified defects (e.g., part displacement, breakdown, wear, corrosion) or other issues (e.g., unscheduled equipment use, theft) to an equipment operator or a supervisor.
Equipment maintenance management
Scheduling equipment inspection based on real-time equipment monitoring data.
Automated equipment checking for obsolescence.
Tracking location and availability of spare parts with barcodes, QR codes, RFID tags, etc.
Equipment maintenance history tracking.
Scheduling preventive maintenance based on equipment procurement date, equipment running time, etc.
Scheduling predictive maintenance based on equipment performance and condition data.
Scheduling equipment safety inspections.
Tracking maintenance activities and safety inspections.
Regular or emergency work order creation for equipment or its parts requiring maintenance/replacement.
Prioritization of work orders based on equipment criticality, condition, and more.
Prioritizing equipment safety tasks and assigning them to relevant personnel.
Work order tracking (tracking time spent on maintenance, resources involved, etc.).
Tracking the history of warranty repairs for all purchased equipment.
Automated alerts about warranty agreement expiration.
Identification of warranty repairs when a work order is created.
Tracking labor hours spent repairing/replacing items under warranty for warranty claims.
AI-based analysis of real-time equipment data (e.g., uptime/downtime, speed, temperature) and identification of abnormal patterns.
Predicting breakdowns and expected time to failure due to corrosion, overheating, load misalignment, and other factors.
Root cause analysis of equipment-related issues (downtime, breakdown, overheating, etc.) based on historical data.
What-if analysis to predict equipment behavior (load change, operating problems, etc.) in response to operator actions and events.
Forecasting resources consumption by equipment, production costs, etc.
Templates for reports on equipment compliance, maintenance history, equipment failure, produced items, losses, production costs, depreciation costs, equipment utilization, fully productive time, etc.
Customizable role-based reports for technicians, supervisors, etc.
Real-time dashboards for equipment monitoring (operation speed, areas of increased safety risk, downtime, performance, cycle time, yield, uptime, etc.).
Historical reporting on equipment-related data.
AI-based equipment planning and optimization
AI recommendations for:
Investment planning and procurement of new equipment based on equipment life cycle cost analysis and equipment criticality.
Planning and scheduling equipment modernization, replacement or disposal based on its utilization, health and criticality assessment, etc.
Equipment maintenance strategy optimization based on predictions of equipment breakdowns.
Equipment data encryption.
Multifactor authentication.
Permission-based access.
Audit trail.
Data backups.
Regulatory compliance (e.g., OSHA, FDA, EPA).
Important Integrations
ScienceSoft recommends integrating equipment management software with:
ERP - to streamline equipment management and resource planning processes, for example, planning and purchasing of new equipment.
Production systems (PLC, HMI, SCADA, MES, etc.) - to centralize and analyze equipment condition and performance data, including data about anomalies (e.g., overheating, unplanned stops) received by various production systems from sensors, barcodes, and RFID tags.
Communication tools (e.g., Microsoft Teams, Slack) – to eliminate communication silos and facilitate the collaboration of a maintenance team on work orders in the equipment management system using live chat and video calls.
Success Factors for Equipment Management Software
Experienced in manufacturing IT projects, ScienceSoft's consultants have defined important factors, which if covered, help get maximum value from equipment management software.
For equipment operators and maintenance teams that don't require advanced training or support from an IT team to use effectively.
Custom real-time dashboards
To create full visibility into multiple equipment metrics (e.g., yield, operating speed, uptime) that are dynamically updated. The dashboards are tailored to specific user roles (e.g., an equipment operator, a maintenance worker, a supervisor) to maximize the efficiency of provided information.
To get AI-driven insights about equipment performance, root causes of equipment failures, efficient equipment planning and procurement, as well as to enable predictive maintenance and assess its efficiency.
Due to data encryption, access control, multifactor authentication, and other security measures that protect data on equipment location, performance, condition, costs and ensure compliance with relevant regulations (e.g., OSHA, HIPAA, FDA, EPA).
Success Stories by ScienceSoft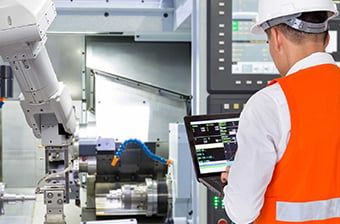 Machine Control System for Motion-Centric Application
A custom solution for automating sensor calibration and fine-tuning the work of a production line that offers:
20+ functional modules.
Visual interface tools and diagnostic tools.
Support of automated testing (functional and unit testing).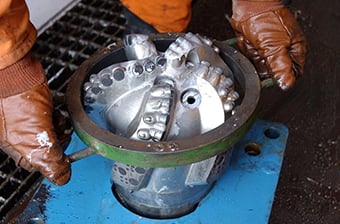 Defect Recognition Software for an Oil Drilling Equipment Manufacturer
Detectng drill bit defects in 3D camera images using ML and visual recognition algorithms.
Displaying the image analysis results as wear percentage.
Automated recommendations on drill bit replacement or maintenance.
Costs and ROI
The implementation costs of equipment management software for a midsize business vary greatly depending on the number and types of equipment, the number of users and their roles, features and integrations required, and other factors.
Key financial outcomes
equipment uptime due to efficient equipment monitoring and maintenance

time spent on equipment inspection due to remote monitoring

equipment maintenance costs due to predictive and preventive maintenance.

increase in equipment productivity due to reduced equipment downtime

production and operating costs due to effective equipment condition monitoring and alerting
Equipment Management Products ScienceSoft Recommends
CHEQROOM
Description
CHEQROOM provides full visibility into equipment location, availability and condition via automated reports and real-time dashboards, which help quickly detect issues and make informed decisions about equipment usage, disposal, purchase, and more. The tool enables equipment tracking, booking, check-in/check-out as well as equipment maintenance management.
Best for
Management of frequently moving equipment
MaintainX
Description
MaintainX, equipment maintenance software, is used primarily for tracking corrective and preventive maintenance activities and controlling equipment parameters like activity and safety. Among its most popular features are incident detection, work order creation, parts inventory tracking, team collaboration on equipment maintenance, regulatory compliance tracking, and more.
Best for
Equipment maintenance and operations management
UpKeep
Description
UpKeep provides equipment activity tracking and inspection, alerting, incident management, predictive and preventive maintenance. The tool offers rich work order management capabilities, such as creating and assigning work orders; prioritizing maintenance tasks based on due dates and criticality; generating notifications when the maintenance task status (e.g., created, completed) is updated.
Best for
Work order management
Fiix
Description
Fiix is maintenance tracking software that keeps detailed records of equipment performance and maintenance history. The QR code is generated after an equipment record is created in Fiix. This QR code can be printed and placed on the equipment, which helps a technician quickly access the record, log a work request, check the attached documents, etc., by using the mobile app. What's more, the tool facilitates preventive and predictive maintenance.
Best for
Equipment performance, location and maintenance tracking
When to Opt for a Custom Equipment Management System
ScienceSoft recommends choosing custom implementation when you need:
| | |
| --- | --- |
| | A tool that suits your specific equipment management processes, while available market solutions don't. For example, if you need to compare equipment performance and operation across multiple facilities. |
| | Seamless integration with your existing software (e.g., ERP, MES, PLC, HMI, communication software), especially when there are custom tools. |
| | Full compliance with specific internal and external regulations (e.g., by OSHA, FDA, EPA). |
Equipment Management Solution Implementation
In IT for manufacturing since 1989, ScienceSoft advises on and delivers efficient equipment management solutions.
Equipment management software consulting
Analysis of equipment management needs.
Defining technical requirements for the equipment management solution.
Selection of a suitable platform for platform-based implementation or outlining the solution's architecture and a tech stack for custom development.
Advising on key integrations for the solution (e.g., ERP, MES, PLC, HMI, communication software).
Elaborating on a data security strategy.
Creation of a project plan and a business case including time, cost and ROI estimation.
Go for consulting
Equipment management software implementation
Analysis of equipment management needs.
Eliciting the solution's requirements.
Architecture design of the equipment management solution.
UI and UX design of user apps.
Development of the solution from scratch or customization of ready-to-go equipment management software.
Integration of the solution with ERP, MES, PLC, HMI, communication software, and more.
Quality assurance of the equipment management solution.
After-launch support and evolution.
Go for implementation
About ScienceSoft

ScienceSoft is a global IT consulting and software development company headquartered in McKinney, Texas. We offer advisory, design, implementation, support and evolution services to provide businesses with efficient equipment planning, tracking and life cycle management. Being ISO 9001, ISO 27001 and ISO 13485 certified, we guarantee high-quality IT services and the security of our customers' data. If you are interested in equipment management software, reach out to ScienceSoft's team.

<![endif]-->