A mature QA process provides guidelines for preventing such project problems as missed deadlines, increased time needed for completing an iteration and subsequent customer disappointment. With the number of guides available all over the web, it seems project teams shouldn't experience any troubles in following mature QA processes. However, it's not always the case.
Working as QA consultants, we've noticed that project teams still struggle to reach even Level 2 maturity. Below, we offer a detailed description of the common problems we've come across in our QA consulting practice.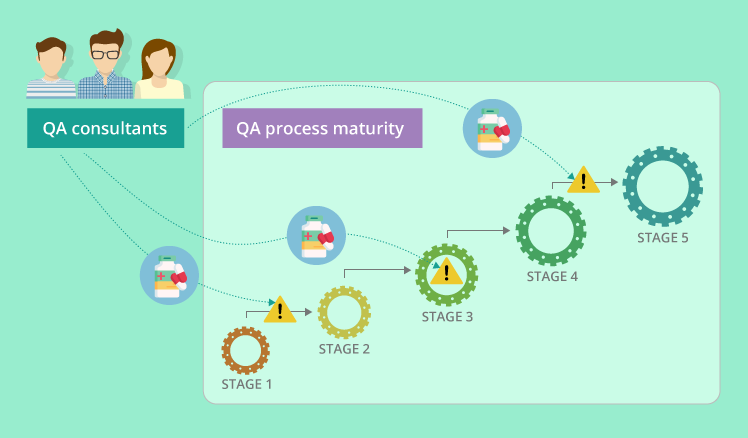 Some project teams prefer to invest time in a tried-and-true method for improving the quality – extensive testing, while the mature QA process is considered an unneeded embellishment. After all, they have worked without it from day one and have done their job all right and the customers seem to be satisfied. If not, it's because they have unrealistic expectations. Sooner or later, such teams do realize they need a QA process to deliver a quality product and keep all their customers content. Sadly, realizing this need for a process often takes a series of failed projects and lost customers.
Cure: When the project team is that lost, an external QA audit makes the most suitable solution. In this case, QA consulting experts review the available project documentation and the existing QA practices and cooperate with the team in creating the most suitable QA process for a given project. A suitable QA process should include clear-cut sets of actions to mitigate the project risks timely and efficiently at each stage of the SDLC.
Unfortunately, QA consulting itself may turn into a problem.
Choosing a QA consulting vendor, project managers sometimes concentrate on the cost of the services alone. As a result, they go for cheap QA consultants without properly verifying if the QA consultants are qualified enough. In our practice, such "good bargains" usually translate into severe under-testing, constant testing team overload or a nominal process due to the consultants' lack of experience and domain knowledge and their resulting inability to adjust proposed improvements to project specifics efficiently.
Cure: To avoid disappointments, the hiring party should build up comprehensive candidate profiles featuring their domain knowledge needed to examine the project and its peculiarities in detail, flexibility in terms of cooperation and pricing models, adaptability to various work styles. These profiles will help the hiring party reduce the list of candidates to a viable optimum. Then the hiring party should discuss the practical QA consulting aspects, such as a consulting strategy.
The project situation can turn even wilder when a team turns into an adamant QA process supporter who blindly follows "the sooner, the better" approach.
Our QA consulting team once faced a project where the faulty QA process came from a dangerous combination of two factors:
The nominal approach to the existing QA process
Our client was a medium-sized company, where a QA process that covered all SDLC stages existed only nominally, as no one really cared to follow it. But this couldn't last forever.
Working on a complex corporate website, the testing team didn't check the requirements for completeness and blindly followed the process – created test cases for the existing requirements and performed testing. However, at the end of the iteration, their customer was disappointed because the needed functionality wasn't delivered.
Hectic efforts to improve this process
To save the project from the further disappointment of the customer, the team studied basic QA maturity models and decided to evaluate the QA process with the help of the TMMi model. Having studied the evaluation results, the team concluded that the low level of QA maturity was to be blamed for delivery problems. So, they decided to leap from Level 1 to Level 4 maturity in a month.
To ensure the faster transition to the desired maturity level, testers worked in a hurry on test improvements and did not include regression testing to the testing process, though this type of testing is critical for addressing project risks timely. No wonder, this hampered the overall progress and caused another series of missed deadlines.
Cure. The project team should remember that a quality QA process isn't built in a day. Building up a good and efficient QA process requires continuous improvement. So, instead of fighting for a skyrocketing growth, the project team should improve problematic maturity issues gradually. Besides, as the QA process covers all SDLC stages, the testing team should evaluate the outcomes against the initial requirements at every stage, as well as promptly respond to possible changes in the requirements.   
So, how to set up a mature QA process without hindrances? We offer a short guide.
Acknowledge the need for the QA process. It is the first step to establishing it.
Choose a reliable QA consultant. Though the project team may well run an in-house QA audit, it will freeze their everyday activities. So, outsourced QA consulting may be a better option. However, customers should be attentive and choose a QA consult not by cost, but by merit.​
Follow the QA process meaningfully and steadily. The project team's work doesn't end when the QA process is up and running. A mature QA process is all about consistency and continuity of efforts to keep it efficient and improve it further without frantic leaps that do more harm than good.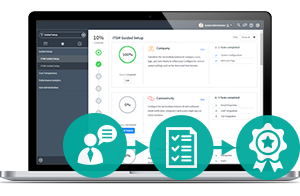 We help companies to establish effective and structured QA processes considering business and industry specifics, develop a QA strategy, conduct QA audit and find ways to reduce QA expenses.