Hire Software Testers with 10+ Years of Experience
ScienceSoft offers a pool of carefully selected and trained manual and automated testing experts for hire. Our testers prepare test data, create, execute, and maintain test cases, report on found defects. We provide self-managed testing teams and individual testers to augment your in-house team.
Why Choose ScienceSoft to Hire Test Engineers
Highlights of our testing team
75+ test engineers on board.
80% of test engineers with 10+ years of experience in software testing.
Test leads with 8-15 years in QA management.
Guaranteed proficiency of test engineers in written and spoken English.
Testing compliant with a mature quality management system confirmed by ISO 9001 certification.
Adherence to standardized defects description rules, test cases design, and test reporting templates.
ScienceSoft's corporate highlights
34 years in software testing services.
Testing company with a portfolio of 730+ projects.
Experience in 30+ industries, including manufacturing, retail, wholesale, logistics, professional services, healthcare, financial services, oil & gas, telecommunications.
Headquartered in the US with an international presence in the EU, Europe, and the Middle East.
For the second straight year, ScienceSoft USA Corporation is listed among The Americas' Fastest-Growing Companies by the Financial Times.
What Our Customers Say about ScienceSoft's Test Engineers
Roderick Schipper
CTO
helpLine B.V.
We started working with ScienceSoft on testing our core application called Careware. The application is quite complex and has many ERP and mobile elements in it. We have worked with the team in very close cooperation ever since and value the professional as well as flexible attitude towards testing.
Rob Morgan
Creative Director
Playlines
We contracted ScienceSoft to provide QA for a major Augmented Reality installation project, after extensive research, and we're really happy with our decision. The team were flexible, thorough and on-the-spot, and able to provide assistance for short-term mission critical testing. We'd happily recommend them to other mobile and immersive developers.

Norbert Nagy
Co-Founder and CEO
GuideVision
After looking through numerous candidates, we set our choice upon ScienceSoft and, over the course of our close cooperation, we haven't regretted the decision. In terms of … automated testing services, they fulfilled our expectations and became very valuable for the projects. We would definitely recommend working with ScienceSoft as a long-term partner.
View all customer reviews
The Scope of Testing by ScienceSoft
Types of software we validate
Mobile apps
Web apps
Desktop apps
Data warehouses
Cloud-based software
Enterprise software (ERP, CRM, SCM software, etc.)
Customer-facing software
SaaS software
Software with advanced techs (IoT, big data, etc.)
Testing types we perform
By automation level
Manual testing
Automated testing
By software features to validate
Functional testing
Integration testing
Compatibility testing
Performance testing
Security testing
Usability testing
Exploratory testing
Regression testing
Release testing
Tools Implemented by ScienceSoft's Test Engineers
Test Artifacts Our Test Engineers Create
A test strategy outlining the testing approach, techniques, objectives, and test automation involvement based on software and project specifics.
A test plan defining the testing coverage, types, and schedule, test team lineup, etc.
Test suites, test cases, and test automation scripts.
A defect report and a defect description submitted to the applicable defect tracking system.
Test execution reports provided on a build/daily/weekly basis or any required schedule.
A report on testing metrics visualizing the testing progress and effectiveness with the help of pre-defined KPIs (e.g., software requirements covered by test cases, total number of found defects).
A test summary report consolidating overall test results and testing metrics, outlining the general quality of software/software module based on the number and severity of detected defects.
Sample Profile of Our Senior Test Engineer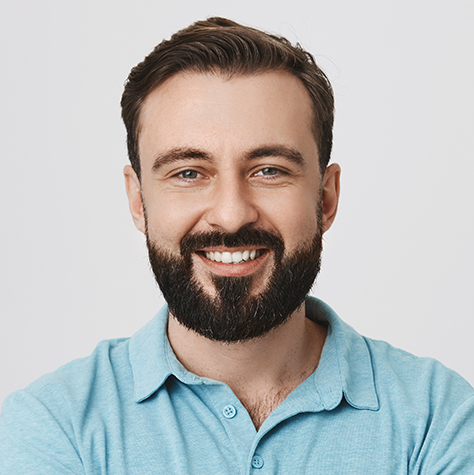 Andy, Senior Test Automation Engineer
Experience in software testing: 12+ years
A test automation engineer with solid experience in automated and manual testing of complex enterprise software.
Capable of working in international teams, showing high performance in the context of missing software documentation and time pressure.
Degree: Bachelor of Engineering
English: Advanced
German: Pre-Intermediate
Automated and manual testing.
Functional, integration, and compatibility testing.
Exploratory, release, regression testing.
Web, mobile, desktop, DWH and BI testing.
Communicative and initiative team-player.
Quickly adaptable to the changes in testing tasks and their priorities, software requirements, and working processes.
Attentive to detail, capable of staying focused while performing repetitive tasks.
Automated testing tools: Selenium (Python), SoapUI, Ranorex, Katalon, Applitools.
Desktop virtualization tools: VMware Workstation, Remote Desktop Services.
Test management and defect tracking tools: Atlassian Jira, IBM Rational ClearQuest, Bugzilla, Redmine, HP Quality Center, TestRail.
Manual functional, integration, compatibility testing and automated regression testing during the development of integrated enterprise solutions: the world's largest PLM platform, a BI solution, and a DWH – and after the system was merged with another PLM software.
Position: Lead Functional and Test Automation Engineer.
Manual functional, system integration testing and automated regression testing during the development of a complex ERP system with a BI module integrated with several ecommerce platforms.
Position: Senior Functional and Test Automation Engineer.
Manual functional, compatibility, and integration testing of a web, desktop, and mobile versions of an enterprise LCMS.
Position: Senior Functional Test Engineer.
How Hiring Testers from Us Works
1
We sift the right CVs for your project (1-2 days)
After receiving your request, we discuss the specific requirements for the number and qualifications of individual test engineers or testing teams.
For hiring individual testers: we shortlist 3-5 test engineers best-fitting your needs for each testing position you require and provide their CVs for your consideration.
For hiring self-managed testing teams: we provide several variants of a testing team's lineup.
2
We organize the interviews with shortlisted individual testers/testing team leads (1-2 days)
We arrange online interviews with test engineers or testing team leads you pre-selected.
Note: if required, testers or testing teams can fulfill test assignments and provide them before the interviews.
3
ScienceSoft's testers/testing teams onboard your project (about 1 week)
Selected test engineers/testing teams onboard your project getting acquainted with:
Project team members and the implemented workflows.
Communication patterns and schedule.
Applied project management, defect tracking, and testing tools.
Long- and short-term testing objectives and tasks.
Selected Testing Projects by ScienceSoft
How ScienceSoft Ensures Effective Testing Cooperation
Flexible hiring conditions
You can involve from 1 to 60 testers at a time and instantly scale them up and down based on your changing project needs.
ScienceSoft's pool of testers includes manual and test automation engineers, Senior and Middle test engineers, testers experienced with specific testing types, etc.
Our test engineers can join your team at any stage of SDLC or software evolution.
We design individual sets of testing metrics for each hiring project so that you always know how to track the specific activities, progress, and performance of our test engineers.
Here are the KPIs that ScienceSoft's test engineers typically report on:
Percentage of software requirements covered by test cases.
Average and total number of created and updated test cases.
Number of test cases executed during a certain scheduled period (e.g., iteration, release).
Average and total number of defects found per a certain period.
Testing effort variance (the ratio between actual and estimated testing efforts).
Focus on communication with other project team members
ScienceSoft's test engineers will closely collaborate with your in-house QA team and software developers to align the testing activities with the current project objectives (e.g., development and testing schedules, plans, and priorities, emergency testing requests).
Choose Your Cooperation Model
Team augmentation with test engineers
Add testing professionals of the required number (from 1 to 60 at a time) and expertise to your in-house QA team.
Best for:
Filling in the gap in a specific testing competency.
Engaging test engineers into continuous software evolution.
Helping the in-house QA team handle some temporary challenges: testing scope creep, requirements change, etc.
Hire test engineers
Complement your project with self-managed testing teams comprising a test lead and a flexible number of test engineers (from 2 to 5).
Best for:
Full-range testing of an application or a software module in parallel with its development.
Comprehensive one-time testing (e.g., user acceptance testing, testing before a major software release).
Validating end-to-end corporate workflows enabled by integrated software solutions.
Hire a testing team
More about Software Testing
<![endif]--> <![endif]--> <![endif]-->