Accounts Receivable Automation
A Complete Guide
Accounts Receivable Automation: the Essence
Accounts receivable (A/R) automation is a way for companies to eliminate manual efforts across all A/R-associated workflows, from bookkeeping to cash inflow forecasting to debt recovery. Accounts receivable automation software helps companies effectively manage customer invoicing, receivables tracking, and collection procedures.
A/R automation solutions integrate with CRM, general ledger software, cash management software, and payment gateways. The implementation of accounts receivable automation may take 8–12+ months. Average costs for building accounts receivable automation software range from $140,000 to $400,000, depending on the solution complexity.
ROI for accounts receivable automation can reach up to 390%.
Main Use Cases of Accounts Receivable Automation
Automate 90%+ of enterprise-wide A/R transaction capture, processing, and recording tasks and achieve 3x+ increase in the A/R team productivity.
Get automated invoice creation and submission to customers to drive 2–3x faster invoicing cycle and eliminate manual billing errors.
Provide customers with seamless digital payment experience and rely on automated payment processing to benefit from 30% improvement in timely cash inflow and get 100% visibility of paid invoices.
Employ AI to leverage fully automated planning, execution, control, and optimization of personalized collection strategies. It brings 25–75% cut in past-due receivables and helps speed up debt recovery.
Accounts Receivable Automation Software: Key Features
Below, ScienceSoft shares a sample feature set that forms the core of A/R automation system.
Key Integrations for Accounts Receivable Automation Software
To ensure timely and accurate A/R data collection and eliminate double data entry across disparate systems, ScienceSoft recommends integrating A/R automation solution with the following systems:
To upload automatically sales orders and quotes from CRM to A/R automation software and enable input of relevant data when generating invoices.
To upload automatically real-time data on paid/open invoices from A/R automation software to CRM to match payments received/dunning or payment delay details to the appropriate CRM records.
To upload automatically data on invoices paid/due/overdue from A/R automation software into the general ledger application to provide relevant data for financial close and financial reporting.
To upload automatically data on the amounts received across a company's multiple bank accounts from cash management software into A/R automation software for faster invoice reconciliation.
To upload automatically up-to-date customer personal info, billing address, payment methods, subscription details from a customer portal to A/R automation software for accurate and timely invoicing.
To upload automatically invoices from the A/R automation solution to the customer portal to enable customers to pay invoices via the portal and view their invoice and transaction history.
To upload automatically data on the amounts received, due and overdue, and customer interactions on debt collection from A/R automation software to the BI tool to create reports on the forecasted A/R performance.
Success Factors for Accounts Receivable Automation
ScienceSoft's consultants have defined important factors that help bring the customer additional value across A/R management workflows.
Real-time A/R data collection
To enable high visibility into the current status of the money owed to an organization (paid/partially paid/due, etc.) and ensure timely actions on debt collection.
Fully automated invoice generation
To eliminate manual errors in invoices and ensure rapid invoice creation for timely submission to customers.
ML-powered A/R forecasting
To predict accurately various A/R parameters (e.g., expected payment dates on invoices, or total accumulated customer debt at a specific date in the future) based on historical customer behavior and payment data analysis.
AI-enabled digital assistant
To automatically capture customer promises to pay from emails, messages, recorded calls, provide automated A/R reconciliation, and recommend optimal actions, time and communication channels for proactive debt collection.
A Featured A/R Automation Success Story by ScienceSoft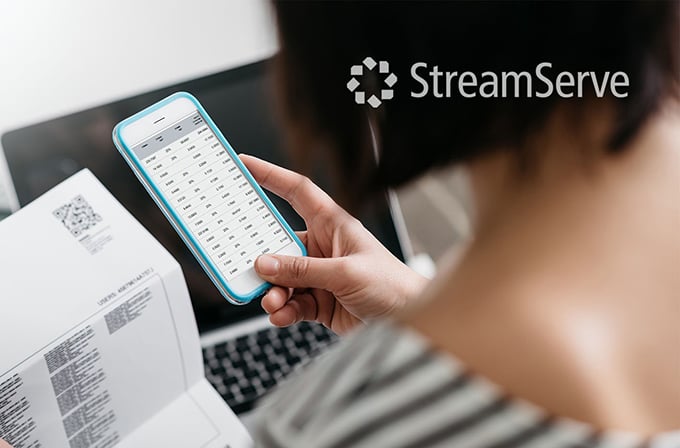 StreamServe invoice management software for a mobile operator with 5 mln clients
Template-based generation of customer invoices.
Designing custom invoice templates and adding marketing materials to invoices.
Invoice e-signing.
Automated invoice submission to clients via email.
Customer's benefit: Faster invoice generation and processing, reduced DSO.
Steps to Automate Accounts Receivable
Below, ScienceSoft shares a sample roadmap to accounts receivable automation:
1
Business needs analysis and eliciting requirements for A/R digitalization.
2
Designing the feature set, architecture, and tech stack for the A/R automation system.
3
Project planning: deliverables, KPIs, duration, budget, team, etc.
4
Custom A/R automation software development.
5
Quality assurance in parallel with coding.
6
A/R data migration (from spreadsheets or a previously used accounting tool).
7
Establishing integrations with the required internal and third-party systems.
9
Continuous support and evolution of the automated A/R solution (optional).
ScienceSoft's Tech Stack for Accounts Receivable Automation
A/R Automation Costs and Financial Outcomes
Accounts receivable automation costs vary from $140,000 to $400,000, depending on the automation solution complexity and the scope of integrations.
With accounts receivable automation software, you can reach up to 390% ROI, based on Total Economic Impact™ Study.
Financial benefits of A/R automation
cost savings from automated invoicing

reduction in debtor coverage costs

decrease in DSO

cut in write-offs
When Custom Accounts Receivable Automation Software is the Right Choice
We recommend opting for custom development in the following cases:
| | |
| --- | --- |
| | You need accounts receivable management software providing specific features, for example, creating priority rules for payment and collection queues based on your specific trade credit and collection policies. |
| | You need specific integrations with your existing corporate software, which ready-made accounts receivable automation solutions can provide only via costly and time-consuming customization. |
| | You need a highly scalable accounts receivable automation solution that allows continuous evolution and functionality extension when needed. |
Accounts Receivable Automation with ScienceSoft
In financial software development since 2007, ScienceSoft helps businesses implement effective A/R automation to improve their invoicing and collection processes.
Accounts receivable automation consulting
Accounts receivable automation needs analysis.
Assessment of the existing invoicing and payment processing tools and their integration points (if any).
Suggesting the optimal A/R automation software features, architecture, tech stack, and integrations.
Creating a business case, including cost and time estimates.
Delivering an implementation roadmap and risk management plan.
Go for consulting
Accounts receivable automation implementation
Accounts receivable automation needs analysis.
Accounts receivable solution conceptualization.
Architecture design.
Accounts receivable automation software development.
Integrating the automation solution with the required systems.
Quality assurance.
User training.
After-launch support and evolution.
Go for implementation
Our Customers Say
The invoicing system created by ScienceSoft automates data integration from different sources, invoice generation, and provides visibility into the invoicing process. We have already engaged ScienceSoft in supporting the solution and would definitely consider ScienceSoft as an IT vendor in the future.
Heather Owen Nigl, Chief Financial Officer, Alta Resources
About ScienceSoft

ScienceSoft is a global IT consulting and software development company headquartered in McKinney, Texas. Since 2007, we design and develop effective accounts receivable automation software tailored to each client's unique credit and cash collection strategies. Being ISO 9001 and ISO 27001 certified, we apply a mature quality management system and guarantee that cooperation does not pose any risks to our customers' data security.

<![endif]-->