Editor's note: Do you abstain from outsourcing software development because of hidden costs this initiative may entail? Read on to learn how to minimize this risk and check ScienceSoft's software development outsourcing offer to see how we make such cooperation cost-effective.
For Agile projects, ScienceSoft recommends using outsourcing services to keep up with early deployment and fast software evolution. However, some companies are uncertain about outsourcing Agile development as it's commonly based on the Time and Material pricing model, where the total price remains relatively vague and may rise due to hidden costs.
But don't get discouraged: in this article, we reveal the sources of hidden costs and bring solutions from ScienceSoft's experience. To make the information even more of use, consider it alongside with pros and cons of offshore software outsourcing.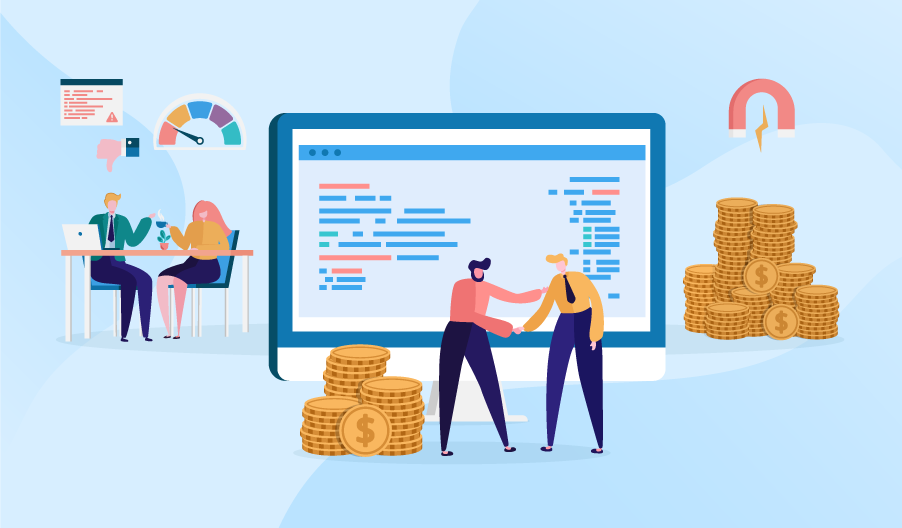 There are two outsourcing models on the market:
While resource-level outsourcing may seem attractive due to lower prices, it also implies more hidden costs resulting from the lack of all-round expertise inside such teams. Below we enumerate the reasons for the hidden costs typical of the resource-based outsourcing model and explain how the processes-based model overcomes them in Agile projects.
Low performance is characterized by communication gaps, scope creep or growing technical debt, and remote project management on your side often proves ineffective.
Solution: a vendor's PM integrated with an outsourced team has a better grasp on the team's progress.
Changes are natural for Agile but too many of them may mean that understanding between you and an outsourced team isn't mutual.
Solution: a vendor with BAs and UX designers on-board anticipates your needs and provides better feature prioritization.
Resource-level outsourcing often excludes proactive testing activities to appear cheaper, so bug fixing can roadblock the whole project later.
Solution: a vendor who includes QA in all aspects of their work, starting from needs analysis and requirements gathering, proceeding with development (unit testing) and testing itself (regular regression testing, the relevant amount of test automation).
A team with developers only (a common case in resource-level outsourcing) can make unthoughtful architectural choices and cause massive rework further in the software development life cycle.
Solution: a vendor's team with mature software architects can design and evolve software architecture efficiently.
Process-level outsourcing can also impose hidden costs if organized ineffectively.
Solution: begin with a Proof of Concept to verify if and how your idea can be developed into software. You will immediately see how a vendor works and how your processes align with an outsourcing model of software development provided by this vendor.
Even if your cooperation is going well, it's always better to hedge your bets.
Solution: Draw up a contract obliging a vendor to keep all artifacts (requirements, architecture description, code, tests, etc.) up to date and in a repository controlled by you.
Your way to cost-effective software development outsourcing
To get real savings on outsourcing in the long-term perspective, prioritize a vendor's relevant expertise and the approach to service delivery over price.
ScienceSoft can take over your entire project pipeline with our work processes optimized for maximum return on your project investments and turnover increase.
Discuss Your Project with Our Consultant
Looking for an outsourcing partner to take over your software development project or the entire pipeline of projects? ScienceSoft is ready to support your business growth and digital transformation initiatives.