As companies plan to outsource software projects, they get ready to reap outsourcing benefits: quick and effective software delivery, reduced costs, no need to hire new personnel onboard. But the success of the outsourcing initiative can be seriously undermined with poor risk management. In the article, we dwell on 4 acute software development outsourcing risks and offer ways to curb them.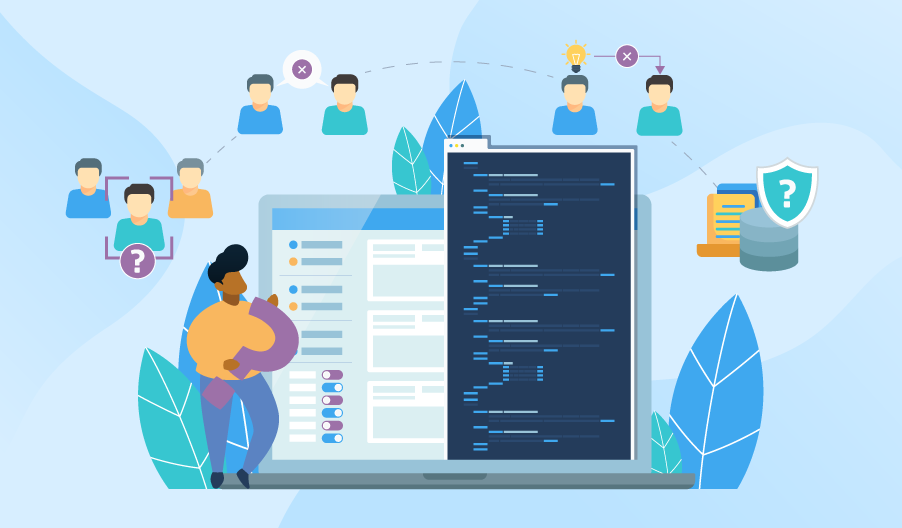 Risk #1:
Poor vendor choice
A poorly chosen vendor brings missed deadlines, dissatisfied users, deadly security breaches and more problems. We can outline two core reasons for ill-considered vendor choice: either a customer has little experience with outsourcing and doesn't know what to pay attention to while choosing a vendor, or a vendor exaggerates their competencies to win a project.
Aiming at successful outsourcing experience, you need first of all a full picture of a vendor's expertise and performance in software development outsourcing projects. For that, take time to read a vendor's case studies on projects similar to yours and check the references of their past and present clients.
Risk #2:
Ineffective vendor-customer communication
More than once we have dealt with the consequences of the situation when outsourcing partners underestimated communication and didn't want to allocate enough time and effort for building it. But with ineffective communication, project requirements are not clearly identified, and problems with project progress are not discussed on time and in sufficient detail.
A possible solution to avoid these issues is a structured approach to communication based on the communication hierarchy for maintaining effective collaboration at different levels.
To avoid communication gaps concerning the review of project progress, consider implementing a communication plan with review sessions. You need to agree in advance with your vendor on the points to discuss (for example, which process inefficiencies were detected and how they were addressed, how KPI targets were met during the discussed period and so on), the frequency (e.g., weekly or monthly) and the format (reporting per email, online and onsite meetings) of reviewing. Note that although reports and online meetings matter, onsite meetings (although they mean some additional costs) are very important because they contribute to building mutual trust between a customer and a vendor, which is crucial for long-term partnerships.
Risk #3:
Insufficient knowledge transfer
With poor knowledge transfer, a vendor doesn't have a full picture of your business needs and problems and thus fails to deliver services to address them. Such an outsourcing issue can stem from the lack of a defined knowledge transfer procedure, language barriers with offshore vendors and tough software development project timeframes with no time left for comprehensive knowledge transfer.
For effective knowledge transfer, outsourcing vendors need all documentation relevant to the outsourcing cooperation. This documentation may include IT strategies, support knowledge bases, user guides and more. At the same time, the documentation shouldn't be the only way to share knowledge – additionally, knowledge transfer can involve software functionality demonstrations, workshops, discussions and interviews.
Knowledge transfer is an ongoing process. It's always a good idea to additionally discuss with your vendor the procedures for further knowledge enrichment.
Risk #4:
Inadequate cybersecurity measures
When you outsource software development, a third-party vendor gets access to the sensitive data that your solutions deal with. Depending on the industry, it can be patient data in healthcare solutions, financial information in mobile banking software, customer demographics in ecommerce solutions, etc. If your outsourcing vendor is negligent about cybersecurity, your data can be subject to cyberattacks which can seriously undermine your business.
Knowing that, you should find a vendor who is ISO 27001-compliant (this standard proves that a vendor has reliable information security processes in place) and keeps to your industry standards and regulations (such as HIPAA for healthcare). Apart from that, you ask a vendor to show their security policies and make sure that they conduct regular penetration testing, log monitoring, email protection and data loss prevention activities. Also, put substantial penalties for security breaches into the SLA to give the vendor more motivation to ensure solid cybersecurity of your solution.
Afterword
Poor risk management brings plenty of unfavorable consequences to the companies who outsource their software development: from missed deadlines to cybersecurity problems. To bring these risks down to a minimum, consider investing time and effort into the choice of suitable vendors, establishing and conducting effective communication with them, choosing and implementing winning knowledge transfer practices and taking care of cybersecurity.
Looking for an outsourcing partner to take over your software development project or the entire pipeline of projects? ScienceSoft is ready to support your business growth and digital transformation initiatives.