Editor's note: Natallia overviews the emerging fintech trends and describes the benefits that the collaboration with the fintech companies brings to the traditional banks and financial services institutions. If you consider transforming your conventional financial processes with an innovative fintech solution, feel free to contact ScienceSoft's team for our end-to-end fintech software development services.
Almost everyone from bankers and financial services professionals to mass media have actively discussed the emergence of fintechs as well as those possibilities and challenges they bring for banks. Google trends confirm that the conversation about innovative digital solutions has reached its peak, which makes it one of the most hotly debated topics in the industry now. We jump in to explore whether emerging fintechs are a threat or an opportunity for banks looking to keep up on the financial services market.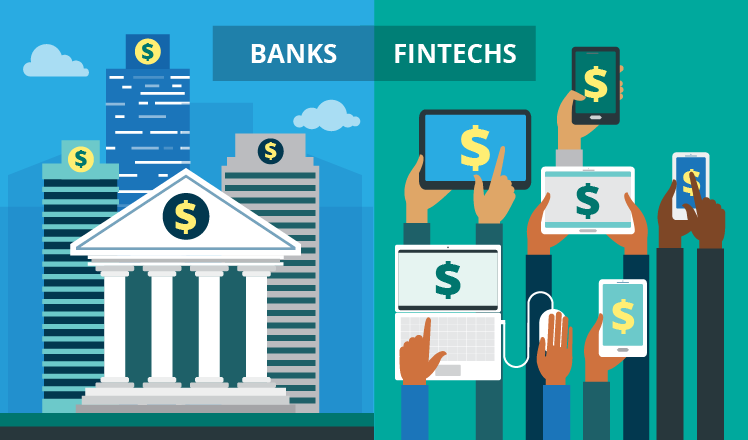 What's behind this fintech boom?
The notorious 2008 financial crisis left a seed of doubt in customers' minds about the traditional bank being the only safe and trustable financial services provider. Such market realities encouraged customers to search for alternative ways of managing their finances.
Additionally, the younger and more tech-savvy generation that will soon become the key consumer of financial services has a completely 'digital' thinking fostered by widely spread cloud technologies, mobile apps, social media, analytics and more. These trends have become the starting point for the flash-like fintech revolution.
According to the KPMG study, in the past 5 years investments in fintech have increased by 10 times reaching $12.8 billion in 2016. US fintech venture capital investment is also robust in value making up $4.6 billion in the same year. Though this amount is 23.3 percent lower than in 2015, it's still the second highest total of the decade. Such interest comes not only from investors with high expectations about fintechs' future, but from consumers as well.
Why make so much fuss about it?
Fintechs have created a new highly competitive landscape in the financial services market. They managed to combine best practices in financial software development with flexible business strategies to create customer-centric solutions at lower costs.
Fintechs have a wide number of analogs for any financial service or product offered by traditional banks. With their complex corporate structures and legacy systems to maintain, incumbents just can't keep up with the pace of innovation. As stated in PwC's Global Fintech Report, a whopping 88 percent of banks fear losing revenue to financial technology innovators.
What's so special about fintech?
In short, it's exceptional customer experience. That's the cherry on top that differentiates fintechs and makes them attractive in customers' eyes. The insights from Gartner show that the majority of companies (89 percent) see customer experience as their primary basis for competition. This approach is made up of a few distinctive features that define fintechs' competence in providing exceptional customer experience.
1. Fintechs create conceptual ideas
When targeting a certain market niche, fintech companies don't just create one more financial product. Instead, they offer a conceptually new and more effective way to perform familiar financial operations. Take Simple as an example. Instead of merely showing customers their account balances, the app shows them a 'safe to spend' sum. This approach completely differs from banks' traditional practice, which is usually nothing more than sending customers their transaction histories with little helpful data on top of that. Thus, providing forecasts or giving advice about future financial behavior using a mobile application remains the prerogative of fintech solutions so far.
2. Fintechs offer simplification
Apart from intuitive product design and 24/7 accessibility, fintech solutions are easy-to-use and offer simpler ways to meet customers' needs. For example, Roostify aims to ease and speed up home lending for customers. Being a self-service platform, it auto-populates data fields in a loan application from Mint or TurboTax accounts and eliminates the need for paper statements.
3. Fintechs offer personalization
Technology giants such as Google, Apple, Facebook, Amazon and Alibaba (GAFAA) have already set high standards for personalization. Enthused with GAFAA's success among customers, fintechs also focused their efforts on creating personalized solutions, through filling current gaps in the financial services market. For example, WorthFM introduced a robo-advisor and a cash management platform targeting mass-affluent women.
All these technological innovations certainly disrupt the usual course of financial activities and challenges existing banks to protect their market shares.
Can banks and fintechs cooperate, really?
Initially, both banks and fintechs were rather hostile to one another. Since banks have always preferred to create almost everything in-house, they saw no use in cooperation with fintechs. But with time, banks realized both the opportunities and threats arising from fintechs, so the need for collaboration in creating banking software became obvious.
Banks have seen that fintechs know how to meet customers' needs and serve them better while most financial institutions cannot be as creative and quick-to-market as fintechs. In their turn, in spite their 'first mover' advantage, fintechs realize they need more than a wow solution. Going beyond the adoption stage, fintechs usually lack banks' capital, scale and regulatory support to further promote and support their solutions. Thus, partnering with banks is logical for fintechs, too.
Generally, banks use the following strategies to address fintechs' emergence:
launching their own fintech companies
acquiring fintechs
creating startup programs to incubate fintechs
setting up venture funds to sponsor fintechs
establishing partnerships with fintechs
The last two are currently the most popular forms of cooperation.
Any real partnerships so far?
In 2015, JP Morgan Chase partnered with OnDeck to speed up small business loan approval. Citigroup has also made some of its APIs available for third parties, which will allow fintechs to build their own applications and further connect them to a bank like MasterCard or Virgin Money do. Besides, UBS decided to use the SigFig robo-advising technology in wealth management.
Such partnerships are available not only for bigger banks, but for community banks as well. For example, the $850 million-asset Radius Bank from Massachusetts decided to collaborate with Prosper to improve its online lending while Avidia Bank with $1.2 billion in assets used Linked2Pay technology to introduce B2B mobile payments for commercial clients.
Where to move further?
Though most fintech solutions are rather niche-focused, banks need to carefully plan their cooperation with fintechs, since the decisions they take are very likely to determine banks' success in the future.
At ScienceSoft, we suggest the following steps for banks heading towards collaboration with fintechs:
To work out a long-term innovation strategy that takes into account potentially beneficial partnerships with fintechs
To monitor trends in the segments with the highest activity of fintechs
To collaborate with fintechs that meet the bank's innovation strategy
To learn and constantly upgrade knowledge on how innovative solutions in banking and financial services work
In the long run, partnerships are inevitable
Technological advancements brought by fintech startups are currently driving much of the change on the banking and financial services market. Quite quickly, many fintech companies managed to gain success by targeting underserved customers or offering exceptional customer service. Yet, in the long-term perspective both banks and fintechs need to build partnerships to reap mutual benefits, such as retaining the market share or growing profits.
Choose IT solution
Banking Software Consulting & Solutions
Need an IT solution that will suit your specific business needs? Thrive with our platform-based and custom banking software.