Blockchain Consulting Services
Business Transformation with Blockchain
Having 34 years of experience in IT and deep practical knowledge in blockchain, ScienceSoft helps companies in 30+ industries conceptualize their blockchain idea, assess its feasibility, accurately plan and implement their blockchain project.
Complicated assessment of the economic feasibility of blockchain use.
A feasibility study and a Proof of Concept to test the viability of a blockchain solution for your specific use case.
You get
Lack of in-house competencies to create a clear blockchain solution concept.
A full-scale blockchain solution concept, including an architecture design and a detailed feature set, a go-to tech stack for the solution development, an integration plan with required software.
You get
Mounting costs of a blockchain project.
A comparative analysis of possible approaches to the blockchain implementation to reveal cost optimization opportunities fitting for your business needs and priorities.
You get
Lack of project management skills to accurately plan the blockchain implementation.
A detailed roadmap for blockchain implementation, including a risk mitigation plan and project cost and time estimates.
You get
Lack of technical capabilities to build a blockchain solution in-house and smoothly integrate it with required software.
End-to-end blockchain implementation, which covers blockchain solution development, integration, quality assurance, maintenance and support.
You get
The Financial Times Includes ScienceSoft USA Corporation in the List of the Americas' Fastest-Growing Companies 2023
For the second year in a row, ScienceSoft USA Corporation ranks among 500 American companies with the highest revenue growth. This achievement is the result of our unfailing commitment to provide high-quality IT services and create best-value solutions that meet and even exceed our clients' expectations.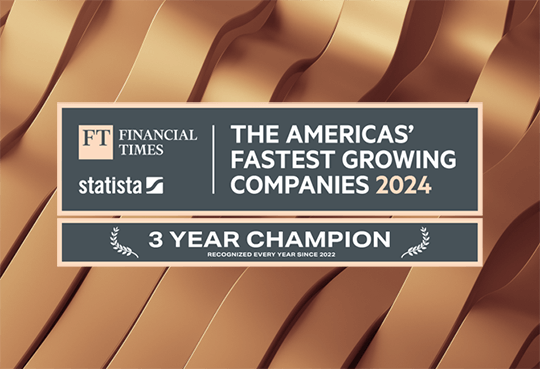 Secure, fast, and cost-effective domestic and cross-border payment, currency exchange, lending transactions.
Eliminated manual errors across financial transaction processing.
End-to-end supply chain traceability.
Facilitated verification of goods authenticity.
Enhanced security of supply chain transactions.
Automated enforcement of fixed multi-party agreements.
Immutable, HIPAA-compliant keeping of health records.
Safe and easy medical record sharing with patients.
Secure transfer of sensitive medical data between multiple healthcare providers.
Immutable asset records for various industries, from healthcare and manufacturing to media and real estate.
Ensured proof of ownership for assets.
Prevented fraud and counterfeiting.
Automated data intake, underwriting, claim processing, and payouts using smart contracts for insurance.
Fast and transparent claim settlement based on the immutable blockchain data.
Data and document management
Safe sharing of data and documents.
Guaranteed regulatory compliance.
End-to-end traceability of manipulations across data and documents.
Identity and access management
Irrevocable credential data.
A zero-knowledge proof encryption scheme.
Corporate decision-making
Blockchain-based voting with easy vote verification.
Secure vote storage.
Incorruptible vote counting.
Secure and scalable permission-based or permissionless decentralized ecosystems with minimized downtime.
Blockchain-based market platforms
Decentralized applications (dApps)
Peer-to-peer applications with no single point of failure for transparent, fast, and safe multi-party transactions.
Blockchain-based digital currencies that serve as a means of payment, exchange, value storage, represent particular financial rights.
Programmable crypto assets built on blockchain that may represent tradeable assets, utilities, rewards, governance rights, and more.
Blockchain-based crypto tokens that represent a certificate of authenticity and ownership of a unique digital or physical asset.
Asset tokenization platforms
Decentralized platforms that allow users to create, manage, and trade their asset-backed tokens.
Decentralized platforms for safe, transparent, and legally compliant security token crowdsale and facilitated asset management for token issuers and investors.
Digital wallets for streamlined management and secure storage of crypto assets.
Protocols that automatically enforce fixed multi-party obligations with no need for intermediaries.
Decentralized solutions that enable compatibility of crypto assets across different blockchain platforms.
Decentralized autonomous organizations (DAOs)
Blockchain-based platforms for collaborative decision-making across communities with no central authority.
Since 2020 in enterprise blockchain and cryptotech consulting.
A large pool of blockchain consultants proficient in leading blockchain frameworks (Ethereum, Hyperledger Fabric, Graphene, Parity Substrate, EOSIO, etc.).
Since 2003 in cybersecurity to carry out all-encompassing blockchain security consulting.
Software development expertise in 30+ industries, including retail & wholesale, manufacturing, healthcare, telecoms, banking & finance.
Compliance experts with 10+ years of experience to ensure that a blockchain solution meets case-specific standards and regulations.
In-house project management office and a mature quality management system confirmed by ISO 9001 certificate.
ISO 27001 certification to ensure the security of the customers' data we access.

Jeff Cafolla
CMO and Co-Founder
Secure-DeFi
We wanted to build a multi-chain crypto wallet that would let users convert cryptocurrencies without commission. ScienceSoft came up with a go-to architecture, features, and tech stack for our multi-chain wallet, and introduced a detailed roadmap for crypto wallet implementation. Besides, they helped us develop a corporate website to represent essential technical information and a white paper for our potential customers and investors.

Yuhan Cheng
Business Development Manager
CoolBitx
Owing to ScienceSoft's expertise in Blockchain-based software development, we chose them as a technology partner for the CoolWallet SDK development project. We were pleased with the outcomes of the project, as well as with the transparent and responsive collaboration from the vendor.

Devin Hanchar
Director of Technology
Ghostlab Inc.
For our project – building a Bitcoin mobile wallet on Cordova – we needed the assistance of a skilled mobile developer. The developer managed to quickly understand the existing code base and proceeded to modify and evolve it according to our requirements. Together, we released our app on time and budget.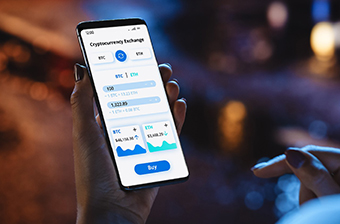 Consulting on Crypto Wallet Development for an EU Fintech Startup
Cooperation start in 10 days.
Analyzing customer needs and eliciting requirements for the crypto wallet.
Suggesting an optimal approach to crypto wallet development.
Introducing a crypto wallet product concept, a technical requirements specification, and a detailed implementation project plan.
Customer's benefit: Cutting the development project cost over 12x times.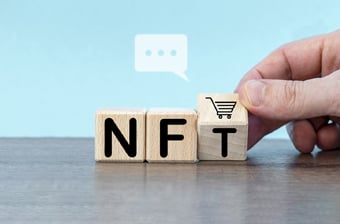 NFT Marketplace Consulting for a US Startup
Analyzing customer needs and eliciting requirements for the NFT marketplace.
Introducing an optimal feature set, architecture design, and technology stack for the NFT marketplace.
NFT marketplace prototyping.
Customer's benefit: Prompt development of a clear NFT marketplace concept.
Technologies & Tools We Use
Benefits of Blockchain Consulting with ScienceSoft
Prompt consulting
We can provide a well-designed blockchain solution concept, a technical requirements specification, and a detailed implementation project plan in 3-7 weeks depending on the solution complexity.
Minimized financial and technology project risks
We analyze the economic feasibility of blockchain development for each customer and develop a Proof of Concept to test the tech viability of a blockchain solution in real life, if required.
Optimized costs of blockchain implementation
We devise a strategy to optimize blockchain implementation time and costs. Particularly, we:
Compare possible approaches to blockchain implementation and suggest an optimal one.
Define an optimal feature set for the blockchain solution based on client's business needs to avoid packing it with unnecessary functionality.
Suggest best-fitting frameworks, platforms, and ready-made components where possible to streamline blockchain development and ensure a high solution quality.
Consistent collaboration
We render blockchain technology consulting in close collaboration with project stakeholders to get an in-depth understanding of their blockchain needs and ensure the service fully covers their unique blockchain requirements.
Blockchain development consulting
Analyzing your business needs and eliciting requirements for a blockchain solution.
Proof of Concept development (optional).
Introducing an optimal architecture design, feature set, and tech stack for the required blockchain solution.
Suggesting the optimal API integration and cross-chain interoperability patterns.
Preparing an integration plan with required systems.
Blockchain security consulting.
Delivering a roadmap for blockchain solution implementation, including a risk mitigation plan.
Go for consulting
End-to-end blockchain implementation
Analyzing your blockchain needs.
Blockchain solution conceptualization.
Blockchain solution development.
Developing APIs and cross-chain interoperability protocols.
Integrating the solution with required systems (optional).
Quality assurance of the blockchain solution.
Drawing up user training materials or conducting user training (optional).
Support and evolution of the blockchain solution (if required).
Go for implementation

<![endif]--> <![endif]--> <![endif]-->