Editor's note: In this article, Marina showcases the specifics of ad hoc reporting and analysis and shares the three options to gain its capabilities. In case you want to leverage ad hoc reporting and analysis in your business, you are welcome to consider ScienceSoft's business intelligence services.
The constantly changing business environment requires making fact-based decisions on the fly. Addressing this challenge, ad hoc analysis and reporting becomes a necessity for companies who seek ways to operate efficiently in any unstable conditions. So, let's find out how ad hoc analysis and reporting can help you provide your business users with the answers to their questions requiring quick action and gain a competitive advantage over your competitors.
Ad hoc analysis vs. regular analysis
Regular or repeating analysis presupposes reports and dashboards that are viewed on a regular basis by business users. Once some analytics software is set up to answer a range of predefined questions, no additional efforts, like data sources integration, are needed.
In its turn, ad hoc analysis is data analysis conducted on demand to promptly answer particular questions that cannot be answered with regular reports.
Ad hoc analysis may be triggered by a variety of reasons, including:
The need for more detailed information about the aspects reflected in regular reports (for example, learning about the sales of some particular product when your regular reports provide data on the whole product line).
Getting valuable insights on specific issues, usually in response to some peculiar event – say, a sudden drop in sales.
Proof of concept for new types of regular reports.
How to organize ad hoc analysis and reporting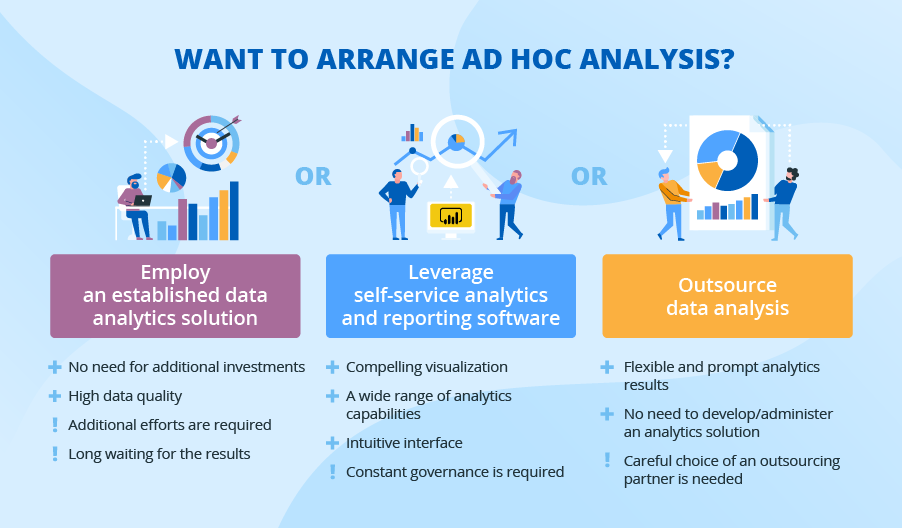 Generally, there are three ways to arrange ad hoc analysis:
Employ an established data analytics solution
If you have a centralized analytical solution, you can already carry out ad hoc analysis with existing software. Still, the following steps should take place to enable that:
Defining report requirements.
Deciding on what data sources to integrate to conduct the analysis.
Performing the required data management procedures – data cleansing, grouping, modeling, etc.
Reporting data in an easy-to-digest format.
Among this option's benefits are the absence of additional investments and ensured high data quality in case of proper data management procedures arranged in your company.
However, you can see that ad hoc analysis requires additional efforts in this case. Consequently, business users may wait for the analytical results from 1 hour to two weeks, depending on the employed analytical solution, the report complexity, the data management procedures, and much more. So, I consider this approach inefficient in today's business environment because of the two main reasons:
Business users aren't self-sufficient – they have to address third parties to perform the analysis – the IT department, data analysts or data scientists (depending on the analysis complexity).
Potential delays in obtaining analytics results – ad hoc reports can be gained too late to take advantage out of the insights.
Leverage self-service analytics and reporting software
The second option is to adopt self-service analytics and reporting software. The implementation of such reporting tools, for example, Microsoft Power BI or Tableau, can empower business users in your company to get analytics insights and present them in a visual format without burdening your IT staff and data analysts. Among self-service software benefits are:
Analytics results are presented in the form of informative and easy-to-digest reports, spreadsheets and dashboards with charts, tables, etc. To see the visualization capabilities of self-service analytics software in detail, watch our BI demo.
A wide range of analytics capabilities
Self-service software usually has a set of basic analytical features for beginners and more advanced capabilities for competent users.
Thanks to such functionality as drag and drop, drill-down, natural language processing, etc., self-service software is rather easy to master.
However, you should remember that a self-service analytical solution with ad hoc capabilities requires constant governance to ensure data security, data accuracy and consistency, and high quality of data analytics results.
Outsource data analysis
The last option from the list is to outsource your data analysis to a vendor. It may be a one-time data analysis or continuous engagement with an agreed number of ad hoc reports of specified complexity on a subscription fee basis.
The advantages of this option are quite obvious – you obtain flexible and prompt analytics results with no need to develop or administer an analytics solution. However, to reap the above benefits, you have to carefully choose your outsourcing partner. If you need to dig deeper into this issue, check out the overview of data analytics outsourcing written by my colleague Irene Mikhailouskaya. There she covers typical concerns, such as data security, when outsourcing data analysis and gives tips on how to proactively deal with them.
Your business users can have the answers to all their questions promptly!
With the capabilities of ad hoc analysis and reporting, you can streamline your decision-making, increase operational efficiency, and gain flexibility in the ever-changing business environment. If you feel like obtaining these benefits but can't choose among the options I've listed above or need help with their implementation, you can always resort to ScienceSoft's help.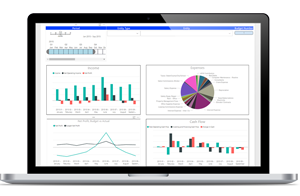 Are you striving for informed decision-making? We will convert your historical and real-time data into actionable insights and set up forecasting.