IoT for Asset Tracking: Key Aspects
Better Visibility of Physical Resources
With 12-year experience in IoT development, ScienceSoft helps build and implement robust IoT-powered asset tracking solutions.
How IoT Can Help with Asset Tracking
IoT for asset tracking helps optimize asset planning, scheduling, allocation, utilization, and maintenance. As a result, businesses can minimize asset loss, misplacement, breakdown, stockout, and excess. IoT-based asset tracking solutions generate up to 40% savings on maintenance and reduce cycle count time up to 90%. Moreover, 79% of supply chain leaders using such solutions record higher revenue growth than their competitors that still use manual asset tracking.
IoT Asset Tracking Market
The global IoT-based asset tracking and monitoring market size is expected to reach $6.7 billion by 2028, rising at a CAGR of 10.7% during the forecast period. The key market drivers include the rise of automation, lower IoT infrastructure costs as well as the growing use of connected devices, IoT-based analytics, and 5G technology.
Tracking the status, location, and movement of raw materials and components, work-in-progress and finished goods for streamlined inventory control and timely replenishment.
Real-time collection and analysis of the status, utilization, performance, condition, and other equipment data for optimized equipment operation and timely equipment maintenance.
Monitoring of the vehicle location, condition, driver behavior, fuel consumption, etc. for reduced risks and costs related to vehicle management and telematics.
Tracking location, condition, space utilization, water and energy consumption, etc. of facilities for their effective planning, maintenance, and optimization.
Tracking the location and usage of medical supplies, tools, equipment, and medications for accurate and safe storage of hospital assets, faster asset search, and streamlined planning of equipment maintenance.
Tracking the IT assets like hardware, consumables, and software licenses for full asset transparency, optimized allocation and utilization, timely maintenance and replenishment.
Monitoring employee location, vitals, and adherence to the rules of workplace safety; detecting potential hazards (pollutants, spills, fires, even overwork) for improved worker safety and health.
Collecting real-time data on livestock location, speed, body temperature, etc. for grazing patterns optimization and early detection of heat stress or disease.
ScienceSoft's Success Stories for IoT for Asset Tracking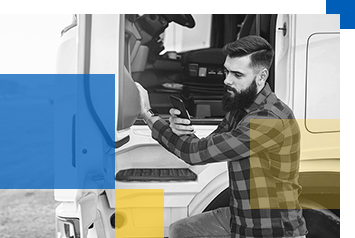 Development of a Car Electronics Management Application
ScienceSoft delivered a car electronics management solution for a software and hardware provider that specializes in car electronics products. The solution offers an interactive web interface and feature-rich mobile application for Android and iOS with intelligent voice commands, low battery consumption while tracking vehicle state, and real-time GPS tracking with push notifications. It allows vehicle owners to track their vehicles' location, start and stop the engine, open and close the doors, turn the lights on and off, monitor trip information, and perform other tasks remotely.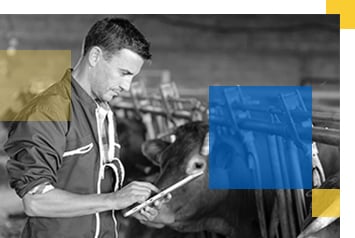 Development of RFID-Enabled Smart Farming Application for Livestock Management
ScienceSoft's team helped a Finnish software company that focuses on the agricultural sector and animal management solutions create an RFID-enabled smart farming application for livestock monitoring and identification. The solution ensures smooth integration between RFID scanners and pidion device (palmtop) for efficient wireless collection of livestock data straight from the field and helps reduce time spent on data gathering and processing.
Tools We Employ for IoT-Based Asset Tracking
To develop state-of-the-art IoT solutions for asset tracking, ScienceSoft utilizes a range of advanced technologies, including:
The Challenges of IoT for Asset Tracking
In IoT development since 2011, ScienceSoft knows how to address potential challenges and risks of IoT for asset tracking to make sure your investments pay off.
Challenge #1: Assets' relevance for tracking
Depending on a company's size and the number of assets, it may not be worth to track each asset.
Check the solution
Solution: Creating a database of all the company's assets and deciding on which assets to track. For example, these may be fixed assets worth more than $5,000.
Challenge #2: Vulnerability to security issues
Connected IoT devices rarely have inbuilt security or consistent update mechanisms, which may result in malware infection, DDoS attacks, damage to the devices, asset data leakage, and more.
Check the solution
Solution: Thorough vulnerability assessment, source code review, penetration testing should be conducted for the IoT-based asset tracking solution before it is launched. Also, an IoT team should make sure that IoT devices are not operating with their default security settings, which poses security risks.
ScienceSoft's cybersecurity and IoT engineers are ready to design and build highly secure and compliant IoT solutions for asset tracking. Also, we can perform comprehensive security checkups of your entire IT ecosystem, such as risk assessment, compliance assessment, IT security audit, and more.
Challenge #3: Compatibility issues between different smart devices and IoT solutions
Lack of standardization causes compatibility issues for IoT software and hardware from different vendors.
Check the solution
Solution: ScienceSoft's IoT experts recommend API integration as the best option to connect to third-party systems. In our IoT projects, we use the open API approach, which allows us to work with any equipment regardless of the vendor. This approach help avoid risks and restrictions related to equipment supply and maintain the system's flexibility, enabling you to easily scale up an IoT asset tracking solution if needed.
Challenge #4: Cloud connectivity risks
Using the cloud technology is a common practice for IoT solutions. But if an IoT solution is based only on the logic of a single cloud app, it creates a serious risk: if the cloud app fails, the entire IoT asset monitoring solution will stop working.
Check the solution
Solution: To protect an IoT solution from shutting off, a mesh networking system should be implemented. This system will enable communication between IoT asset tracking devices even if there's no access to the main app. We at ScienceSoft leverage this decentralized network in IoT software development, as it allows devices to exchange data directly without access to the cloud.
Thus, the devices are will be able to perform their tasks even if cloud is unavailable.
| | | |
| --- | --- | --- |
| | | |
| | | According to ScienceSoft's experience, the pricing of IoT asset tracking software starts from $20,000 - 80,000 and can be as high as $150,000 - $250,000, depending on the solution complexity. |
| | | |
| | | |
These are the main cost factors to take into consideration:
Types of assets, their number and the expected growth rate.
IoT hardware (e.g., barcodes, tags, readers) and infrastructure (e.g., network, cloud storage) costs.
The tech stack and software licenses.
The number and complexity of a solution's functional modules.
The number of platforms supported (web, mobile, desktop).
The number of different user roles with tailored functionality, the expected number of users.
The number and complexity of systems to integrate with, including custom or off-the-shelf systems (e.g., ERP, EAM, EHS, CMMS).
The complexity of the required asset analytics reports and dashboards.
Solution availability, performance, security, and scalability requirements.
The sourcing model (in-house vs. outsourced development).
Team composition.
Additional IT services like user training and support.
How ScienceSoft's Expertise Can Help
About ScienceSoft

ScienceSoft is a global IT consulting and software development company headquartered in McKinney, Texas. Since 2011, we offer all-around consulting, implementation, and support services for IoT-based asset tracking solutions to help our customers get full view into their assets, optimize their use, and reduce asset maintenance costs. ISO 9001- and ISO 27001-certified, we guarantee high-quality services and complete security of our customers' data. If you are looking for expert consulting or development services to implement an IoT tracking system, reach out to our team.

<![endif]-->