Internet of Things (IoT) Solutions
IoT (Internet of Things) solutions involve connecting IoT devices to the cloud and enabling data processing and analysis to provide business processes automation and up operations' efficiency. With 12 years in IoT, ScienceSoft delivers IoT solutions for healthcare, manufacturing, banking, and retail.
Connected products
We re-think the roles of smart devices and enrich their traditional functionality. By offering extended IoT-driven monitoring and controlling capabilities, we provide businesses with the ability to:
Optimize device functioning and use: check device productivity, add new features and integrate these features into everyday operations, analyze which features are actively used and need further development and investments and which components are not popular among customers and can be removed.
Create new revenue models: check how connected things are used by customers to offer better cooperation options, for example, user-based pricing.
Develop best-of-breed products: apply insights leveraged with big data analytics to drive business benefits in research and development.
Smart maintenance
Our IoT solutions provide major improvements in predictive maintenance and service productivity and allow businesses to:
Reveal incipient problems and carry out remote repairs to reduce field service costs.

Validate warranty claims and identify warranty agreement violations.

Uncover failure patterns to reduce future product or equipment failures, thus, avoid associated service.
Smart cities, smart utilities
With wide experience across multiple domains, we equip power plants, transportation systems, environment management organizations, water and electricity grids, schools, libraries, hospitals, and shopping malls, entertainment facilities and other amenities with specialized smart solutions to deliver visible improvements, such as:
Improved quality, speed, and interactivity of urban services.
More efficient communication among smart city residents and facilities.
More convenient traffic.
Optimized energy consumption.
Reduced air pollution and more.
Industrial IoT
We re-think the concept of a traditional factory and deliver IoT solutions tailored to serve the needs of your industry.
With our industrial solutions, businesses get the ability to:
Optimize equipment utilization and reveal bottlenecks in the manufacturing process.
Avoid downtime by timely detecting potential failures and scheduling predictive maintenance.
Improve production quality.
Increase employees' safety.
Optimize inventory & asset management and more.
Smart supply chain management
We provide our customers with more than just logistics & transportation automation. With effective planning, optimal use of intelligent transportation channels, faster and better controlled flow of goods, smart delivery and warehousing conditions control (temperature, humidity, vibration and other factors critical for cargo), manufacturers, trucking companies and other business players get profitable results in terms of time and quality.
Our IoT solutions ensure better connectivity between manufacturers and retailers and drive cost-effectiveness and transparency through optimized supply chain processes, warehousing and traffic management.
Connected health
We deliver innovative IoT solutions to digitally connect patients to healthcare providers and lessen the burden of the latter by digitizing the approach to giving healthcare services.
Here are just a couple of examples of how we streamline traditional healthcare with IoT:
Real-time heart rate, blood pressure and sugar monitoring.

Real-time alerting when potentially dangerous variations from the norms are observed.

Identifying risks (for example, which patients are at risks of heart attacks) to take timely measures.
Retail IoT
To ensure smooth interaction among manufacturers, sellers, and consumers, we provide IoT solutions that automate retail processes and serve for:
Personalized customer approach and improved customer experience.
Optimized supply chain management.
Easy product information access.
Smart stock replenishment.
The Financial Times Includes ScienceSoft USA Corporation in the List of the Americas' Fastest-Growing Companies 2023
For the second year in a row, ScienceSoft USA Corporation ranks among 500 American companies with the highest revenue growth. This achievement is the result of our unfailing commitment to provide high-quality IT services and create best-value solutions that meet and even exceed our clients' expectations.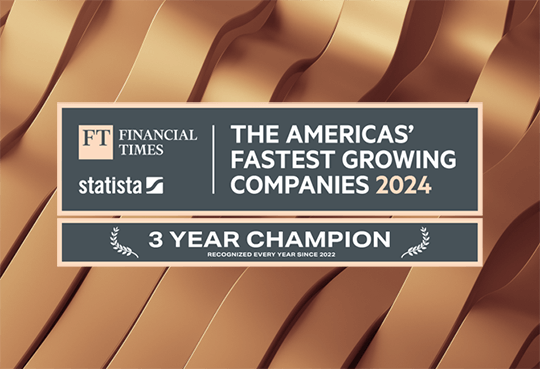 Our Approach to IoT Architecture
Designing IoT solutions, we use our IoT architecture concept and adjust it to the demands of a particular business case.
In our approach to the IoT architecture, we focus on:
We give enough attention to every element of the IoT architecture and make them work together.
We don't follow stiff IoT architecture patterns, but adjust the IoT architecture depending on your industry and specific business purposes.
With enterprise systems: we make your new IoT solution team up with your corporate IT solutions (such as ERP, MES, WMS, delivery management systems, and more).
Benefits of IoT Solutions
Effective decision-making and data-driven business flow improvements based on the advanced analysis of collected IoT data.
Consumer behavior insights collected by tracking and analyzing customers' movements in physical shops, their interactions with shelves and goods to improve customer experience.
Minimized downtimes due to predicted equipment malfunctions and timely maintenance.
Improved asset utilization.
Cost-effective water and energy use.
Improved patient outcomes due to continuous monitoring, fast patient data processing and timely clinical intervention.
Operational efficiency resulting in reduced operating costs.
Improved employee safety due to monitoring employees' work time, health state, and warning in case of exhaustion.
Explore Smart Factory Solution Demo
ScienceSoft showcases how a smart factory solution enables comprehensive business processes' analytics aimed at improving facilities' productivity.
We Meet Acute IoT Challenges
We perfectly understand our customers' concerns about IoT and gather best practices to address IoT challenges before they have an effect on our customers' bottom lines.
There is no out-of-the-box way to achieve "smart" behavior

... while smart behavior is a major source of ROI. We consider the specifics of every case to make our solutions really smart:

To create a reliable and effective IoT solution, we can fetch data from various systems, both external and internal. This way, we get enough data to power our smart solutions and ensure they are truly intelligent.
We develop control applications that manage things automatically and consider them an important element of our architecture.
We use machine learning to create models based on historical data. We use models in control applications to ensure smart behavior.

Integration into the existing processes and systems can be painful for IoT adoption

New IoT solutions, even promising and effectively adopted by business players in your industry, can throw your business out of gear if you don't know how to use them properly, or they just don't fit your specific business needs.

We integrate your new IoT apps and corporate IT solutions (ERP, MES, WMS, delivery management systems and more) to make everything run on all cylinders for the main purpose - make your business flourish.

Internet of Things has specific security threats

Huge volumes of data generated by smart, connected things (as well as output data) need to be securely transmitted and stored. An additional challenge is that IoT security needs a new approach, different from traditional IT security.

We leverage our 18 years' experience in cybersecurity and implement our best practices to help our customers identify real and potential security vulnerabilities and address security threats as early as possible.
We cover a wide range of technologies to deliver reliable and profitable IoT solutions.
All about Internet of Things
<![endif]-->