The incorporation of the latest technologies is essential for any business in terms of effectiveness and productivity. The appearance of Internet of Things (IoT) totally revolutionized the way companies conduct their operations. Its presence is already felt in such industries as healthcare, retail, logistics and transportation. However, the most tangible results of implementation of the IoT technologies could be seen in fleet management.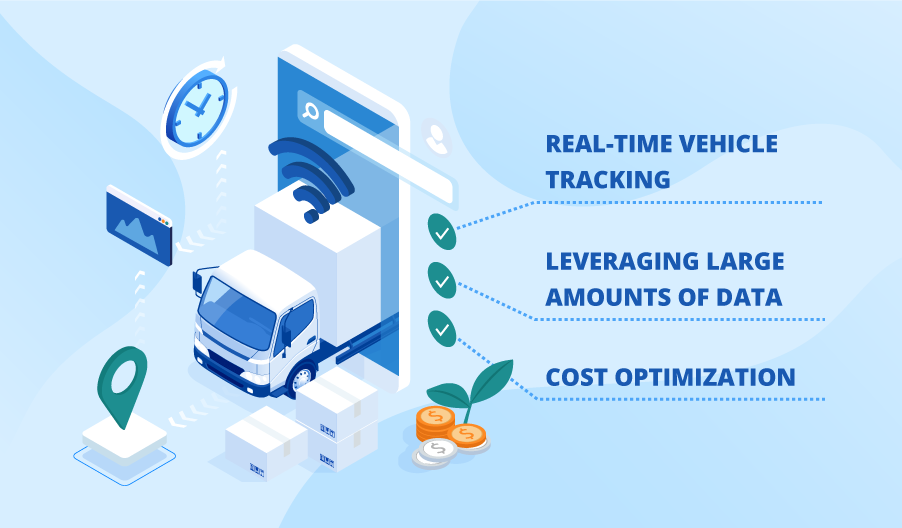 Real-Time Vehicle Tracking
One of the key aspects for any transportation company is the ability to track its vehicles. The usage of various wearables and sensors already enables these industries to notice great benefits of connectivity. For instance, the usage of GPS tracking devices allows companies to monitor their vehicles in real-time and elsewhere. It is especially necessary for those businesses that have a large amount of fleets. Nonetheless, small fleets can also find affordable software solutions and derive benefits.
One of the major benefits of GPS tracking systems lies in the fact that managers have an opportunity to observe drivers' behavior on the road including such factors as speed they are travelling at and whether or not they are making unnecessary stops. Possessing these data managers can actually coach their drivers telling them to slow down or turn off the engine if necessary. It also enables them to identify at any time where their vehicles are, detect possible problems or risks and, as a result, increase driver safety.
Connectivity also provides benefits in terms of maintenance and repairs. A sample fleet management app shows how with real-time traffic information fleet technicians have the possibility to better act and respond if any problem occurs. This information allows managers to optimize their fleets and boost their productivity.
Leveraging large amounts of data
Each day fleet managers deal with large volumes of data such as fuel consumption, speed tracking, vehicle utilization, etc. Before the IoT era these data were collected manually, thus often causing problems with identifying and solving problems that occurred. However, the usage of the IoT technologies enables managers to have this information available at their fingertips.
IoT makes it possible for vehicles and driver devices be connected in real time so, when an issue occurs, fleet managers can gather and analyze all of the necessary data and act on it shortly. Using these data wisely companies will be able to improve their processes and increase their efficiency. Indeed, according to the estimation of DHL, a delivery company, and Cisco, the leader in IT and networking, IoT technologies, for instance, asset tracking solutions could have a great impact in the logistics sector, reaching more than $1.9 trillion.
Due to the interconnectivity of all the devices businesses can accurately generate information about their fleets on a daily basis and, as a result, automate business processes. The usage of wearables and sensors offers possibility to regularly track and refill stocks without manager's supervision. As a result, fleets can totally overhaul their operations which will further lead to continuous improvement of quality and productiveness.
Cost optimization
Finally, the major goal of any company is optimization of its costs. IoT makes it possible to convert this dream into a reality. Due to the connectivity of all the devices and vehicles fleet managers can better understand whether they are spending their budget wisely and decide upon the possible ways to save money. For instance, GPS devices and sensors help managers to identify how fast drivers are going or accelerating and, analyzing this information, find the possible ways how to save on fuel costs. Moreover, the IoT data could be used in order to recommend on how to optimize routes.
Another visible benefit of IoT with regard to cost efficiency lies in the maintenance procedures. Clear maintenance planning helps to eliminate possible risks or upcoming failures. When planning these procedures according to mileage or foreseeable failures, it may greatly reduce company's expenditures.
Conclusion
To sum up, IoT is no longer a future but a reality. It has totally transformed logistics and transportation industry and the way companies conduct their operations. The usage of wearables, sensors and other smart equipment already plays a significant role in fleet management automating its major processes and boosting productivity. Therefore, embracing IoT now companies will be able to derive benefits in the near future.
Choose service model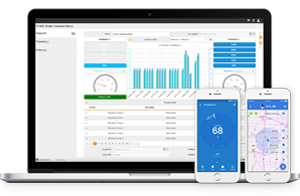 IoT Services by ScienceSoft
From strategy development to support and evolution - we will lead your IoT initiative from 'How?' to 'Wow!'