Not all companies implementing CRM decide to exercise it to achieve full sales automation, thinking it's a costly affair. However, this is the case when spending now means gaining more later on in terms of time saving and productivity increase. Let's see how sales automation helps.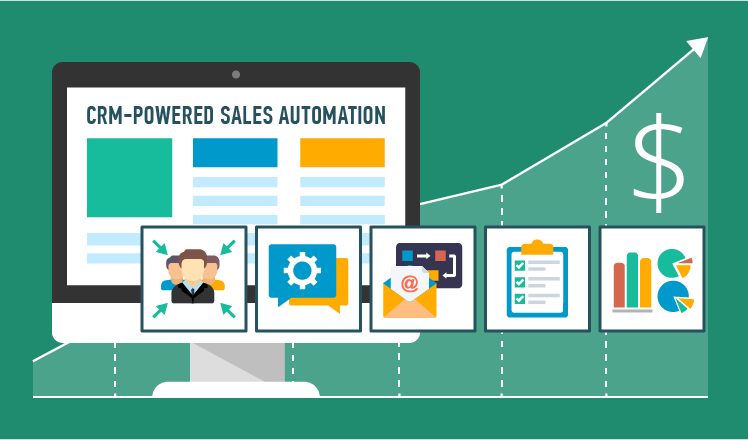 Why automate sales?
General reasons in favor of sales automation are:
Sales automation can be achieved with multiple tools, but this article will focus on Salesforce and Microsoft Dynamics 365-powered automation. Being leaders on the CRM market, Salesforce Sales Cloud and Dynamics 365 for Sales platforms boast rich functionality, which allows feeling the benefits of sales automation. Also, these platforms provide freedom for customizations, which ensures that your solution will work the way you want it to.
What exactly to automate?
1. Communication with prospects
Prospecting is one of the key stages of the sales process since sales reps should know the customers' needs far and wide to tailor the offer. That's why sales reps are recommended to spend a good part of their week prospecting for leads. Automated prospect outreach is a good place to start streamlining your reps' workflow.
Sales people commonly maintain the communication with customers via email. If to create all emails manually, the amount of time spent on this task, can be considered enormous without exaggeration. Email automation tools are things to make use of.
Creating targeted personalized emails by using marketing-approved templates is possible with tools like Salesforce Engage.
There's an opportunity to track incoming and outgoing emails sent from Outlook or Gmail via Salesforce Engage Tracking, which ensures that no message remains unnoticed.
In Dynamics 365, automating emails is performed with the Workflow tool.
Email tracking for Dynamics 365 is available with default tool Microsoft Dynamics 365 for Outlook. To synchronize Dynamics 365 solution with other email services, using a third-party tool for managing email communication is a must.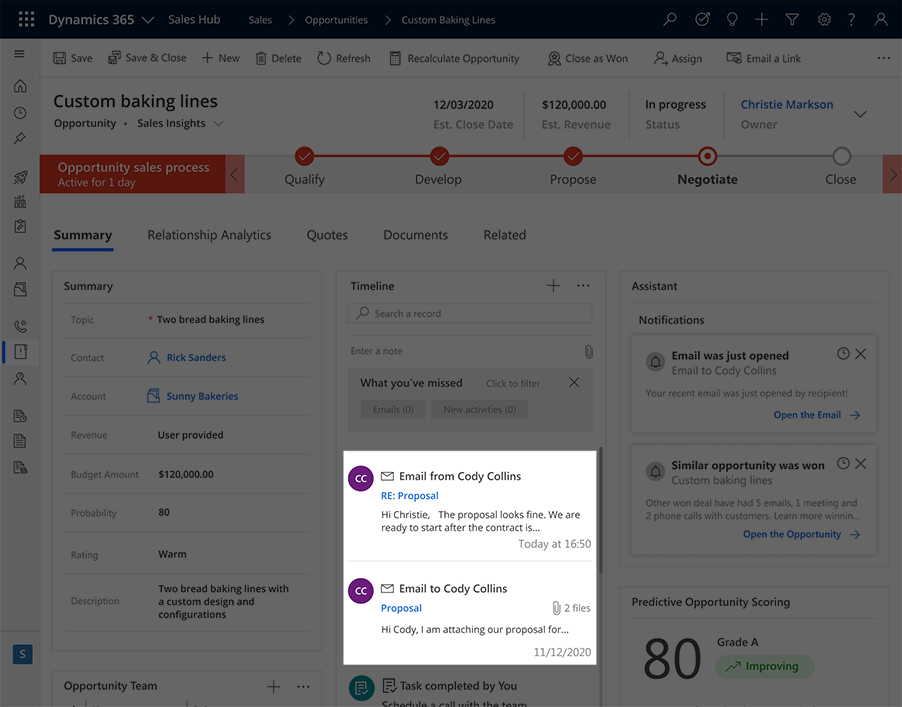 Tracking emails in Dynamics 365
Most CRMs have basic calling functionality that enables calling customers and prospects in one click instead of dialing phone numbers. Besides, they localize a sales rep's number to a sales rep's sales territory, which increases the probability that such a call will be answered.
This automation is achieved with the Lightning Dialer or Lightning Voice products in Salesforce and the Dynamics Telephony application for Dynamics 365.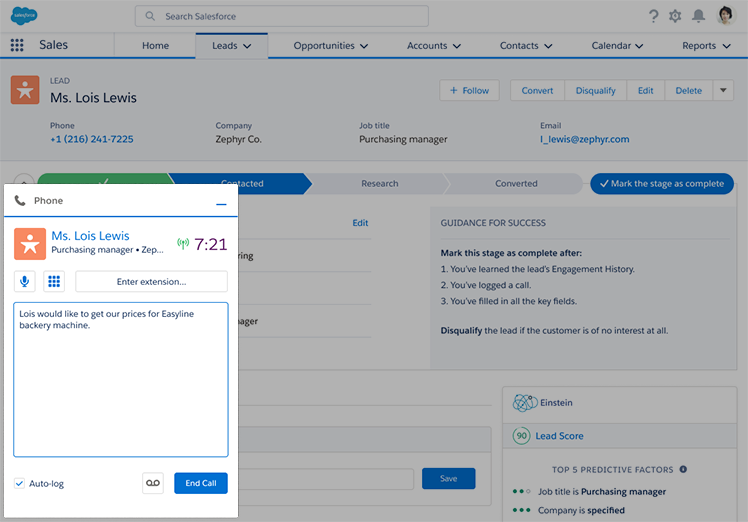 Lightning Dialer in Salesforce
2. Routine sales tasks
Automation of lead distribution
Automated lead distribution allows rotating leads according to predefined criteria to make this process quicker.
Lead distribution in CRM works the following way:  a lead's geographical location, status, source, etc. serve as criteria for lead distribution. If a lead matches a certain assignment rule (there can be only 1 active rule), it will be automatically assigned to a particular lead owner (sales rep).  Each rule consists of multiple rule entries that specify how exactly the leads are assigned. For instance, in Salesforce, an assignment rule based on a geographical location may have 2 entries: leads from "China" in the "Country" field will be assigned to "Sales rep 1" and those from "UK" – to "Sales Rep 2".
Automation of lead prioritization
It's pivotal for sales reps to place a "right" lead high. Knowing which customers to pursue helps sales reps be productive and clearly see the priorities. Tools for lead prioritization can help with that.
In CRM, AI tools help to prioritize leads more accurately than traditional lead scoring approaches do. They pick the leads that have the most in common with previous successfully converted leads and score them accordingly. This allows sales reps to focus on the leads with a higher score, with an increased possibility to turn them into opportunities. Einstein Lead Scoring scores and prioritizes leads in Salesforce Sales Cloud, while Versium Predict feature does the same in Dynamics 365.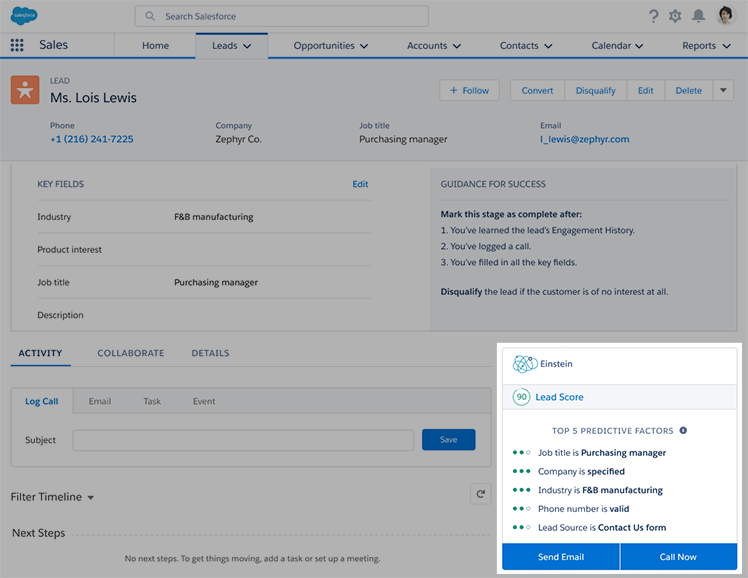 Lead Scoring in Salesforce Sales Cloud
Automation of creating records and follow-up tasks
Automated creation of records and follow-up tasks helps to unburden sales reps, sparing them more time for their selling duty.
Relevant CRM features allow creating a record of any type, updating it and enabling its automation by setting due criteria for the trigger, which identifies when the process should run. Here's an example: if a highly valuable opportunity is won, a draft contract and a follow-up task can be created in a few clicks for the account owner to follow up a week after the opportunity closes. In Salesforce, setting up this process requires Process Builder, while Dynamics 365 users do the same with Workflow.
According to the Salesforce state of sales report, administrative tasks dominate sales reps' time. In fact, 25% of an average week is spent on them. It's not surprising that an overload of routine duties hampers the possibility for sales reps to keep everything in mind.
CRM task notifications can help sales reps to remember tasks on their to-do list. Generally, if a sales manager or a rep creates a task and assigns it to any other user in the system (in some cases, to themselves), the task's assignee receives an email notification. When group tasks are assigned to multiple users, each of them gets a notification.
Sales reps may also receive email alerts that are automatically generated and sent to designated recipients. Our Salesforce consulting team can associate email alerts with workflow rules, approval processes, or entitlement processes. In Dynamics 365 automated email alerts are associated mainly with workflows. They can be triggered based on a certain field or status defined by sales reps.
Features to empower sales reps
Automation of cross-selling and upselling
Upselling and cross-selling is an inherent part of sales reps' job, and another one made easier with automation.
The Guided Selling prompts of Salesforce Configure, Price, and Quote (CPQ) provide hints on the products relevant to a prospect. The product is recommended to a prospect based on data like the prospect's title, industry and stage in the sales process.
In Dynamics 365 such options are available with the Quote, Order and Invoice features. They might offer product bundles to make it easier for sales reps to choose products for upselling and cross-selling.
Provision of prospect details
To get detailed contact info about their current contacts and leads, or to look for the new ones, sales reps may turn to relevant CRM features.
Data.com, a Salesforce component, enables automatic access to Salesforce records and their management so that contact data (similar to that found on business cards) can be easily shared through the platform's large database. Sales reps can search for new accounts and contacts in the extensive database. As a result of the search, sales reps can add new leads or contact records supplied with comprehensive data right into their org.
Dynamics 365 allows the import of accounts, leads, or opportunities with the Import Data Wizard feature. It enables data import from spreadsheets, databases, or external systems.
Advice for better selling
AI features of CRM enable smarter selling, since the insights they provide can be game-changing for winning more deals.
For instance, sales reps are reminded to follow up when there isn't activity over a certain period. The AI features of CRM also give sales reps signals that reveal relationship risks and provide insights that recommend the next actions to take with the customer. In Salesforce, the Einstein Insights feature is responsible for that, while in Dynamics 365, the insights are provided by the InsideView feature.
Drafting a personalized proposal requires time and effort, and there's no doubt. CRM features can make this process faster and more efficient.
Building template-based proposals spares sales reps' time and efforts. Salesforce provides such capabilities with the Proposals and Contracts feature within Salesforce CPQ.
Dynamics 365 helps sales reps to create personalized proposals with its out-of-the-box Mail Merge feature.
Features to help sales managers
Defining the sales process
One of the key responsibilities of sales managers is to set up a well-structured and logical sales process. Relevant CRM features can help them to create a clear map of a sales process's stages. Sales reps, in their turn can see what's expected from them at each stage. Using the features like Progress Bar in Salesforce and Guided Process Bar in Dynamics 365 together with such CRM records as Leads, Campaigns and Opportunities allows sales managers to make sure that the process they have defined is followed.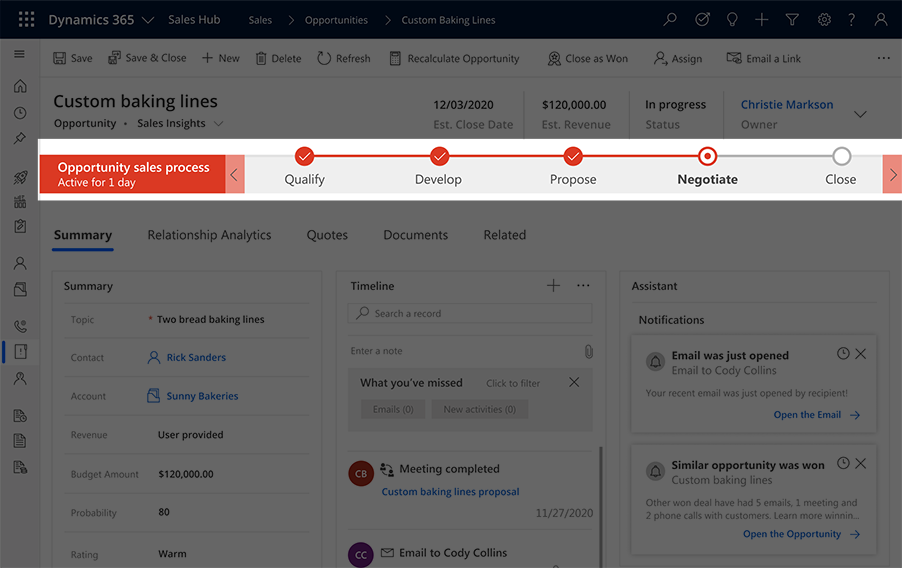 Guided Process Bar in Dynamics 365
Visibility into opportunities
To see that the pre-arranged sales process is followed, sales managers need additional visibility. It can be achieved with opportunity stages inside the opportunity records.
With the help of the opportunity records, a sales manager can have detailed information while observing each stage of the sales process.
What's more, it's possible to tailor opportunity steps in Salesforce to the company's sales process, which also helps to enhance a pipeline's usability.  Tailoring these stages in Dynamics 365 is performed with business process flows.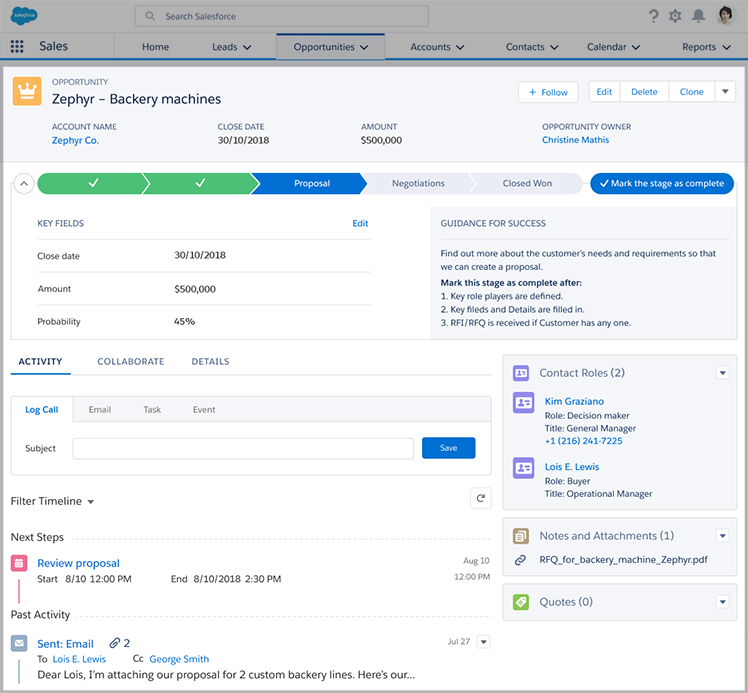 Opportunity record in Salesforce
Visibility into sales reps' performance
To supervise their reps' performance, sales managers can make use of the CRM reporting features.
These features enable tracking salespeople's activities with easy-to-build dashboards, which can display weak points in the reps' performance and pinpoint factors of their high productivity. Highly configurable reports provide a sales manager with a clear view of their team's performance by displaying the required information in rows, columns or dynamic charts.
In Salesforce, such visibility is ensured by Reports and Dashboards. The Report Wizard of Microsoft Dynamics 365 serves this very aim too.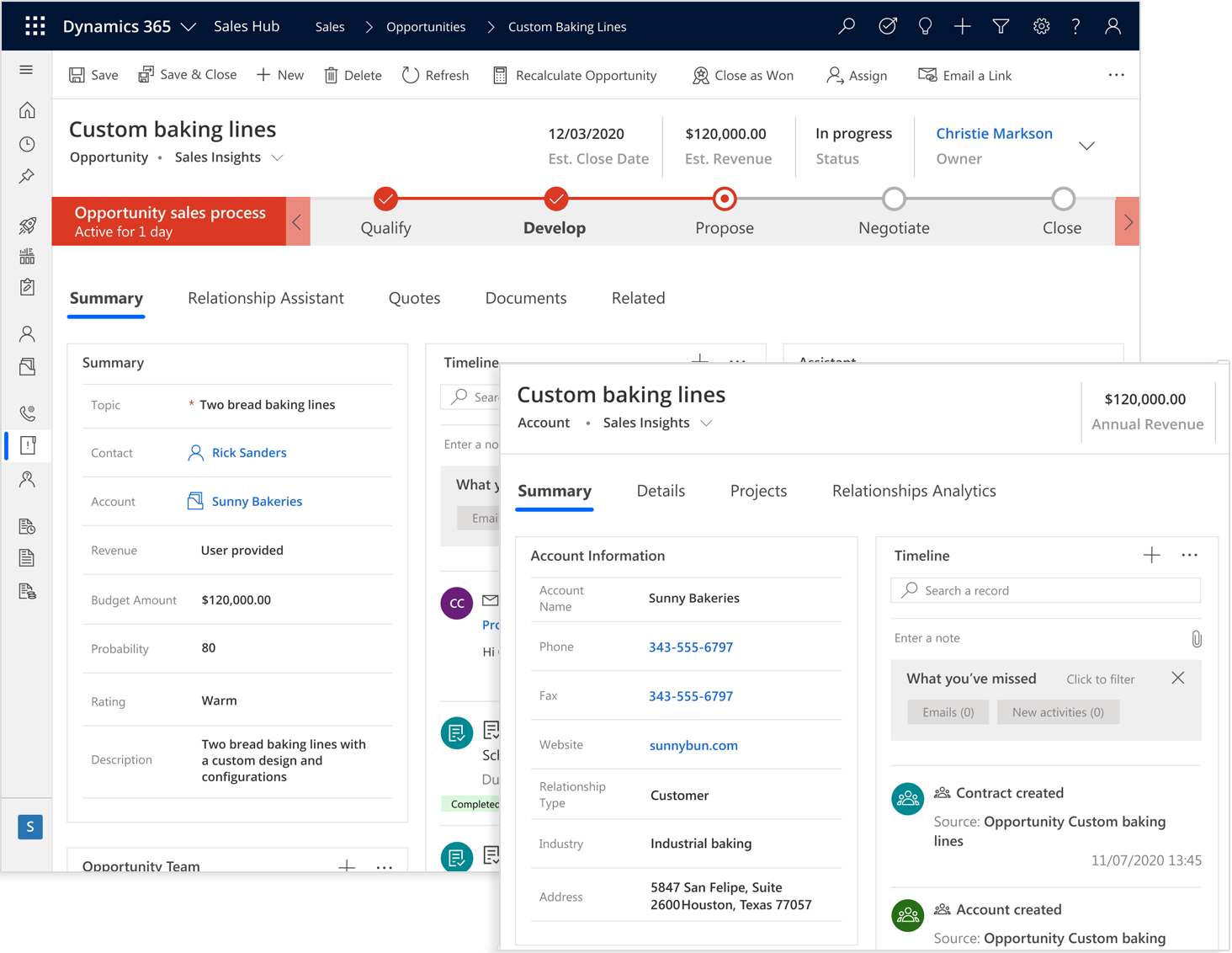 See an interactive demo of sales automation in Dynamics 365 
How to automate?
What kind of a CRM can ensure your sales automation success? We believe that a CRM should be…
Making a sales process smooth through automation requires implementing a CRM with extensive functionality, corresponding to your business needs.
Even a CRM with rich out-of-the-box functionality requires tailoring to sales teams' needs and a specific sales cycle. To this end, various customizations should be applied, which range from altering pages' look with custom fields to building custom apps from scratch.
With training opportunities available to its users
To fully benefit from a customized CRM solution providing sales automation, you should keep in mind the need for appropriate training for salespeople, so that they can adapt to the new tools and make the full use of them. To this end, Salesforce Knowledge, a knowledge base, is used to provide helpful instructional steps and guidelines.
The choice of training opportunities provided by Microsoft Dynamics 365 depends on whether users need a brief product exploration or deeper training. Platforms like Microsoft Learn, Microsoft Virtual Academy OpenEdx together with Microsoft Dynamics 365 MOOC courses are established for learning basic functionalities in Dynamics 365. For deeper knowledge, a user may access e-learning options on CustomerSource.
Playing by these rules will make sales force automation a win-win for both sales managers and reps.
Summing up
You can achieve effective sales force automation by focusing on such aspects as automating communication with prospects and both sales managers' and reps' routine tasks. It's better to distinguish role-based aspects relevant to sales reps (proposal creation, getting advice and prospect details) or to sales managers (building the sales process and evaluating sales reps' performance), so that both could get their benefits.
The increased performance of both these user groups due to sales automation will help to ensure successful sales.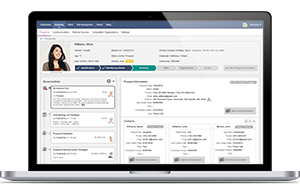 Do you want to manage customer relationships more efficiently? Experienced consultants will help you with CRM software of any complexity.