Managed IT Support Services
Managed IT support services include 24x7x365 proactive monitoring, troubleshooting, support, and evolution of corporate IT infrastructure. Equipped with 15 years of experience in ITSM and 10 years in DevOps implementation, ScienceSoft is ready to take over the support and management of your diverse IT services.
Situations Where Our Managed IT Support Can Help
You may need our managed IT support services in the following situations:
You want to reorganize your IT environment extending the number of IT technologies and introducing new services to support your business growth. You are concerned about your IT environment diversity and immaturity of IT management processes, and seek for a way to implement your ambitious IT initiatives, possibly within a DevOps approach.
You intensively use your IT resources and intend to improve the IT environment. Your challenge is to ensure the IT infrastructure stability and create the conditions for the further development of a diverse IT environment.
You use IT to the full but have no plans to further develop your diverse IT infrastructure (for example, due to budget limitations). You need to keep your IT reliable staying within budget, and be able to resolve IT-related issues quickly.
Your IT infrastructure is managed by different vendors, and you have concerns about service coverage gaps that lead to high IT risks. You're looking for a vendor who will ensure full coverage of all daily IT management tasks at an affordable cost.
Why Managed IT Support by ScienceSoft?
34 years in IT and 10 years in applying DevOps practices.
15 years of experience in ITSM practices based on ITIL principles.
Strategic partnerships with Microsoft, Amazon, ServiceNow, Oracle, Salesforce, and more leading tech companies.
More than 750 IT specialists including Microsoft Certified Professionals, AWS Certified Solutions Architects, AWS Certified SysOps Administrators, AWS Technical Professionals, Red Hat Certified System Administrators.
ITIL personnel holding ITSM-related certificates, including ITSM Professional, Certified Implementation Specialist – IT Service Management certificates.
ISO 9001-certified quality management system rooted in ScienceSoft's quality-oriented culture, value-driven approach to collaboration and motivated IT professionals on board.
Unfailing security management system built upon ISO 27001 certification, internal mature processes, advanced techs and skilled specialists.
IT Components Covered by Our IT Support Services
We handle all daily management and long-term evolution of the entire IT infrastructure or its part and ensure the continuous support of:
Networks
On-premises data centers
Cloud services (IaaS, PaaS, SaaS)
Data storages, including databases, data warehouses, big data storages

Cybersecurity solutions
Websites
Desktops
The Financial Times Includes ScienceSoft USA Corporation in the List of the Americas' Fastest-Growing Companies 2023
For the second year in a row, ScienceSoft USA Corporation ranks among 500 American companies with the highest revenue growth. This achievement is the result of our unfailing commitment to provide high-quality IT services and create best-value solutions that meet and even exceed our clients' expectations.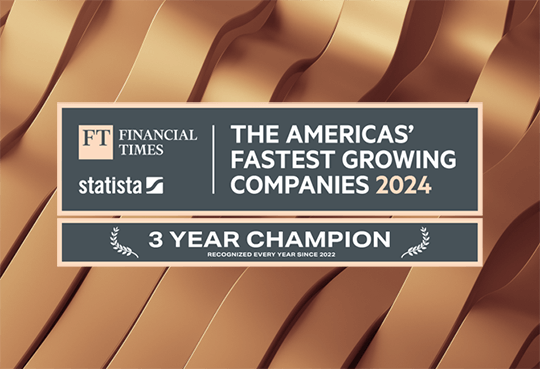 What Our Managed IT Support Services Include
Our services are designed to meet the customer's needs of different complexity. We combine mature IT service management and reasonable agility on all the stages of the managed IT support services we deliver to ensure high service quality. We proactively improve service reliability and functionality and scale up our IT support services to meet the needs of your growing business.
ScienceSoft's managed IT support services include:
IT infrastructure consulting

We define IT issues you are concerned about and the business objectives you want to achieve. We analyze the current state of your IT infrastructure, i.e., its applications, enterprise systems, cloud solutions, servers, etc. We determine the relevant technologies you may need to adopt to achieve the set business goals. Applying our ITSM experience, we help you achieve competitive advantage and viability with a full cycle of IT support services we offer – from designing your IT infrastructure to building, migrating and optimizing your workloads.

IT environment administration

We manage and maintain the operability of your data systems, network components, and applications. ScienceSoft's IT infrastructure administrators ensure:

User administration.
Software configuration.
Regular software updates, and more.

We assist you in managing both your internal applications and software you offer to your clients. We handle software issues varying in complexity – from password resetting to the code-level investigation of issues. With 3 IT help desk support levels we provide, you don't need to arrange an in-house support team but still can be sure that your applications are managed properly and concerns of your users are timely addressed.

IT infrastructure monitoring

To predict and promptly detect issues related to the performance of your IT environment and its components, we configure and use appropriate monitoring tools (e.g., Zabbix, Nagios). Our IT administrators can constantly monitor all components of your on-premises or cloud-based environments, including servers, applications, data storage, virtual machines, and provide you with regular reporting on your IT infrastructure performance and resource utilization.

To achieve higher IT operations efficiency, we integrate IT infrastructure monitoring tools with ITSM tools. As a result, we get the increased visibility into the IT environment, reduced service restoration time and an automated ticketing process.

IT issues troubleshooting

We address the issues related to the operability of your servers and end-user devices following the next steps.

1. Designing a contingency plan to address major incidents, analyzing business impact and defining preventive measures.

2. Ensuring plan execution to avoid recurring critical incidents.

3. Resolving incidents resulting from server misconfigurations, the insufficient protection of endpoint devices, etc.

4. Finding and resolving the root causes of the incidents with a thorough log investigation.

IT infrastructure evolution

ScienceSoft pays due attention to the support of the growth and evolution of your IT infrastructure. Our team is eager to:

Cooperate and provide the necessary assistance in planning the improvements and development of your IT infrastructure.
Smoothly implement changes in your IT environment avoiding downtime.
Collaborate with third-party vendors responsible for the management of the other parts of your IT infrastructure, applying the DevOps approach if necessary.
Ensure user adoption of the changes in your IT environment via release notes and comprehensive training provided to your employees when needed.
Provide a proper level of cybersecurity of your network, applications, databases, etc., either with our own resources and capabilities entirely or in cooperation with your in-house information security team or a third-party vendor's specialists.
Benefits You May Pursue and How We Deliver Them
Featured on the prestigious Global Outsourcing 100 list – the annual listing of the top outsourcing advisors and consultants, ScienceSoft strives to bring value in every project by delivering the following benefits:
IT management costs reduction
We offer reasonable rates for our IT support services governed by an SLA with the details of cooperation.
We provide our services remotely when applicable to minimize costs.
We combine the efforts of different IT specialists (IT infrastructure architects, cloud administrators, etc.) and optimally utilize support resources (both human and IT) to make our services cost-effective for you.
We apply mature ITSM processes combined with IT infrastructure automation practices (e.g., infrastructure as code (IaC)) to deliver our services more efficiently without increasing the amount of needed effort.
Improving IT services quality and reliability
We offer ITSM based on KPIs and SLOs agreed to provide you with an ability to measure the quality of IT support services we furnish.
We deliver a service portal for your users (either internal or external) to improve user experience by getting informative user feedback and quick incident reporting and responding.
We ensure a high level of your IT infrastructure automation to decrease the time needed to deliver IT modifications.
We ensure thorough and continuous application monitoring to make the performance of your applications flawless and find software defects before end users come across them.
Being ISO 9001 and ISO 2700-certified, we rely on a mature quality management system and guarantee cooperation with us does not pose any risks to our customers' data security.
Providing IT evolution while keeping IT reliability high and costs reasonable
We ensure structured change management: we analyze the areas to be improved in your IT environment, determine the related risks, define the change scope, configure and test the potential changes in a separate IT environment, arrange user acceptance testing, and implement the changes in your IT environment with the minimal downtime.
We apply our DevOps expertise, if required, to implement changes in your IT infrastructure promptly and smoothly. We implement a thoroughly designed continuous integration and continuous delivery (CI/CD) approach to provide you with more transparency over the development pipeline, automate and accelerate modifications delivery, and improve the overall IT environment reliability.
Releasing internal IT management resources for other tasks
We proactively improve the reliability and performance of your IT infrastructure, as well as promptly solve your technology-related problems before they show themselves and cause damage or downtime in your IT environment.
Based on the SLOs stated in the SLA, we self-manage and maintain a high level of IT support services we deliver to you.
We build open communication directly with business managers to gather all the possible details on your current business priorities and help you arrange your internal IT resources so that to release them for your higher-priority tasks.
What Our Customers Say
Gordon Seipold
CEO
3steps2web
ScienceSoft has been providing an excellent level of service maintaining the application's AWS infrastructure. During our cooperation, ScienceSoft's team has built a fault-tolerant and highly available application infrastructure with automatic crash recovery capabilities, which makes our web application stable and high-performing. We would certainly recommend ScienceSoft as a reliable service provider.
Luke Walther
Business Development Director
Give Back Wireless
Due to our business growth, we decided to outsource the continuous development, support and maintenance of our proprietary internal systems. ScienceSoft coordinated knowledge transfer, discovery of our internal systems, then transitioned into supporting those systems and taking on projects to evolve their functionality. We recommend them as a trustworthy partner with skilled technical specialists on board.

Alex Gudkov
Chief Information Officer
TruConnect
I would happily recommend ScienceSoft to anyone looking for a transparent, reliable IT support vendor. They helped us deliver several PHP-based projects, mobile applications, refactored and improved the performance of our .NET code, provided L3 support for our web services. They're very effective and consistently meet all the required KPIs: we were guaranteed hotfix rollouts in under 24 hours, and they delivered on the promise.
Jarod Joyce
Creative Director
Dot It Restaurant Fulfillment
ScienceSoft has been vital to our company's growth in ecommerce over the last 3 years. We rely on the team for a variety of Magento support tasks, and they always deal with our problems fast. They are a very versatile company in terms of the number of services they provide. With their help, we've successfully upgraded our platform, improved our front-end UI, and developed a more efficient internal workflow to support our customers.
Peter Hermann
CEO
ZEITundZUTRITT GmbH
For the past 6 years, ScienceSoft has been a reliable partner in supporting and maintaining our HR software product. They have fixed hundreds of bugs in the product's performance since the start of our cooperation back in 2016 and keep modernizing HR on our demand, introducing new features and tweaking existing functionality to let us better cater to our growing client base.
View all customer reviews
Our Approach to Organizing and Delivering Managed IT Support Services
Taking into account a cooperation model you decide on, ScienceSoft provides their services according to the following stages:
1
Responsibility transfer
We analyze your current IT situation by studying your business plans and strategic initiatives, incident history, change backlogs.
We conduct necessary meetings and interviews with your business and technical teams or, for instance, third-party cloud or security providers to get all the possible information related to your IT assets, infrastructure components configurations, and process descriptions.
We design a detailed plan to deliver our managed IT support services and prepare an SLA with a detailed KPI system (see an example below) and agreed SLOs to provide you with an ability to control our services.
In case you approve the defined SLOs, service level reporting, and other components of the prepared SLA, you pass the responsibility for the entire infrastructure or the appropriate IT environment components to us.
2
Service delivery
We provide you with a full set of support services or particular IT support services described above.
We regularly analyze the results of our support services and deliver you detailed reports on our work weekly and/or monthly for you to have visibility over services delivery.
3
Improvements
Our IT infrastructure experts provide their innovative ideas and proposals on possible process improvements and IT infrastructure enhancements and further help with their implementation if needed.
Our Approach to Collaboration
Following a result-oriented approach to collaboration, we build strong and open communication with our customers and third-party vendors avoiding conflict situations and finger-pointing. We work together with your IT department or with the teams of your other vendors to satisfy your IT needs and quickly solve any occurring problem while staying within budget and technical limitations. Thus, we minimize management and administration efforts on your side.
Below, you can see how an effective multi-tiered approach to collaboration may look (we can adjust it according to your specific requirements and wishes):
KPIs & SLOs for Total Transparency of Our Service Activities
Due to the maturity of our IT support and project management processes, we self-manage the quality of our services. Nevertheless, you can easily control the service deliverables with a detailed KPI system.
Here is how a KPI system may look (it can be modified according to your specific situation):
An example of a KPI system
Costs:

Budget planned
Budget spent
Over budget approved and spent (if any)
Time spent by your employees to handle ScienceSoft's requests

Services reliability:

Service availability
Response time (median, 95th, 99th percentile or other agreed)
IT incidents (issues users encountered)

IT infrastructure security:

Number of vulnerabilities found by independent penetration testing
Number of security incidents

Changes (by business value and priority):

Delivered
Waiting in a backlog
Backlog waiting time expired

User satisfaction:

User satisfaction score
Change adoption metrics
Cooperation Models We Offer
We tailor our IT support services depending on the level of involvement you expect from us:
Complete managed IT support
In terms of complete managed IT support, our team takes the whole responsibility for keeping your IT infrastructure reliable, maintaining your network performance, managing your virtualized environments, and ensuring a high level of your IT infrastructure cybersecurity with the efforts of our expert information security team.
If you opt for a co-managed cooperation model, we efficiently align our efforts with your internal IT infrastructure department or, for example, third-party cloud or security specialists and are ready to constantly cooperate with them in adjusting SLOs, improving risk management processes, administering and maintaining software and hardware operability. We also offer you our expertise and assistance in analyzing user satisfaction, conducting regular security checks and threat assessments, if agreed in an SLA, and preparing regular detailed reports on our IT support activities.
Tools and Technologies We Work With

<![endif]--> <![endif]--> <![endif]-->