Editor's note: Veranika explains why it is important to track and analyze help desk performance and what KPIs to measure to enhance your customer service. If you are interested in outsourced help desk support, feel free to check ScienceSoft's help desk outsourcing services offering.
Why establish and track help desk KPIs?
Help desk agents are at the forefront of helping customers resolve their issues and answer their questions. Analyzing your agents' work and help desk processes with KPIs will help you keep customers satisfied and loyal to your brand. Help desk KPIs give you insight into how well your agents perform and areas in which they should be trained. Based on KPIs, you can develop individual and team performance goals and plan activities to optimize your help desk processes (e.g., increase the automation level). Platforms for help desk automation, like Dynamics 365 Customer Service and Salesforce Service Cloud, will help you both track and improve important KPIs.
What help desk KPIs to track?
Common help desk performance metrics include:
First Response Time.
Customer Satisfaction Score.
Resolution Rate.
First Contact Resolution Rate.
Customer Retention Rate.
Ticket Volume by Channel.
Abandonment Rate for Calls.
Critical management.
Average Speed of Answer.
Below I overview three key metrics that should be included in any help desk KPI system.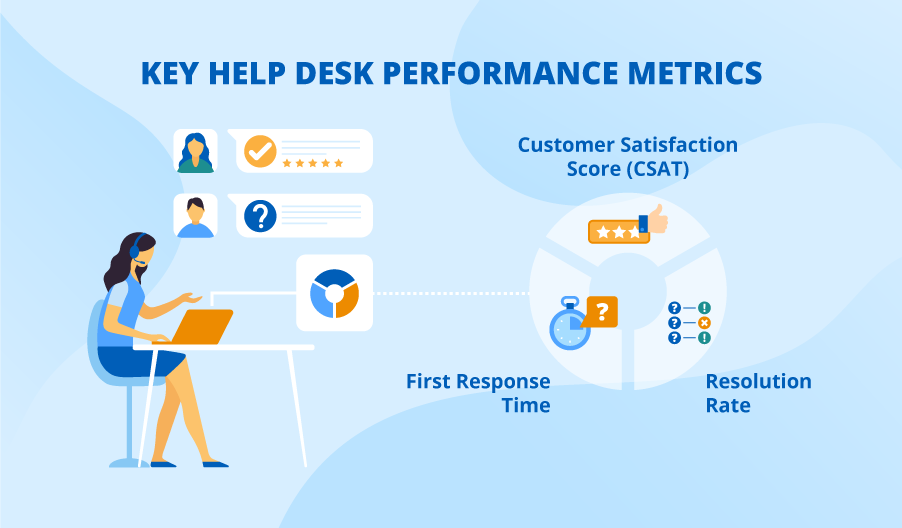 3 vital help desk performance metrics
First Response Time measures the average time a customer waits to receive an initial reply from a help desk agent. The first impression is everything, and good help desk agents excel in responding to customers as quickly as possible. The longer you keep your customer waiting, the more likely they will have a negative first impression of your help desk team. Keeping this indicator as low as possible has a direct impact on customer loyalty.
#2 Customer Satisfaction Score (CSAT)
Your help desk's ultimate goal is to keep your customers satisfied with how their issues were resolved and how the communication with your brand went. To achieve this goal, the Customer Satisfaction Score should be measured and analyzed on a regular basis. Customer feedback to enable CSAT measurement can be gathered in several ways. For example, companies can send surveys to customers as soon as their issue is resolved or have a form on their website for customers to leave feedback. All the acquired data is used to measure CSAT (usually expressed as a percentage). Also, this indicator is closely connected with other metrics, including First Call Resolution.
While customers expect an answer from support promptly, the ultimate goal of contacting your help desk is to have their issues resolved successfully. Resolution Rate shows the percentage of issues resolved by help desk agents from the total number of tickets received. This KPI allows you to measure your agents' efficiency, identify issues that your agents can't resolve and provide them with appropriate training to fill in knowledge and skill gaps.
Next step in building an effective help desk
Measuring help desk performance is a must to increase your help desk efficiency and optimize efforts. The metrics I outlined constitute the core of any help desk KPI set, which is extended according to your customer service specifics. If you need any assistance with establishing a help desk process supported by a tailored KPI set, reach out to ScienceSoft's team.
With 14 years in application support, we offer multi-tiered IT support for your enterprise applications or your software products and their users with minimum involvement from your side.