In the latest report from Gartner, Salesforce was named the leader in sales automation for the 13th year in a row and the leader in customer service for the 11th time running. It proves that Salesforce remains one of the popular products on the CRM market, and it is rightly perceived as a powerful tool to address sales, customer service and marketing challenges. Does it make Salesforce a one-size-fits-all solution? To figure it out, our experienced CRM consultants provide a comprehensive review of Salesforce pros and cons to help you benefit from Salesforce implementation services, in case you make this platform your CRM choice.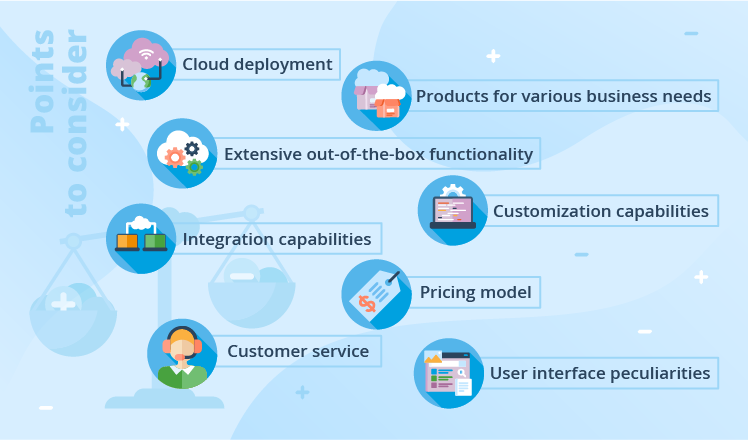 Pros
Being a cloud-based CRM, Salesforce has a number of benefits that stem from its cloud nature:
Cost-effectiveness of Salesforce solution in comparison with on-premises CRMs since you need fewer IT resources to launch CRM (no need to purchase any physical infrastructure and hire a development team).
Salesforce CRM is accessible round-the-clock from anywhere worldwide.
The cloud deployment substantially simplifies Salesforce configuration and administration, which means you can do with a smaller IT department. Even a single admin can be enough to address the needs of your end users, and Salesforce will see to planned downtimes, upgrades and releases.
Cons
One of the evident cons of Salesforce (and any other cloud CRM) is that it's fully reliant on the internet connection. The connection should be stable to ensure the consistency of business processes and transactions supported with CRM. Also, the lack of control over system upgrades and planned downtimes can become a real problem for a company wishing to manage such system issues itself.
Pros
Salesforce isn't simply a sales CRM, it includes key products (known as Clouds) and applications to provide extensive support for customer service and marketing processes too. What's more, you can build your own app or portal for customer and partner communication using the Lightning Platform or create a website with the Salesforce solution called Site.com.
Cons
Choosing additional products to complement your solution with entails higher expenses. If you have extensive needs in sales, customer service, and marketing, and plan to see to them all with Salesforce products, the message is clear: get ready to pay.
Pros
Considerable functionality of Salesforce products for different business needs and industries allows supporting complex business operations with automated workflows and managing multiple sales and customer service teams. If to think of the sales process as a whole, Salesforce Sales Cloud has features to support its every stage, from prospecting to the sales deal closure and follow-up. The same refers to delivering omnichannel customer service with Service Cloud or creating highly personalized customer journeys across all communication channels with Marketing Cloud's functionality.
Cons
Every Salesforce edition available for purchase (Essentials, Professional, Enterprise and even the ultimate one, called Unlimited) has system limitations, like the limit on the number of validation rules, custom fields created per object or file shares, which may hamper certain business operations. Perhaps, one of the most pressing concerns of Salesforce users is data storage limits. There used to be 1GB of data and file storage per org, which is small enough to be considered even a bare minimum for allocating all the customer data there. And although the 1GB-limit has increased tenfold for Essentials, Professional, Enterprise and Unlimited editions after the spring release of 2019, 10 GB per org may be insufficient for a worldwide-operating company with thousands of customers, for example. That's why you're likely to consider various ways to increase data storage capacity. One of them can be purchasing additional systems for document management from other vendors.
Pros
Thanks to rich customization capabilities, you can choose the degree of tailoring your Salesforce solution. Depending on your needs, the solution can be configured with point-and-click tools or deeply customized with code. Configuration allows you to introduce custom objects, fields and tabs for [created] objects, email templates, and a lot more. With customization, which implies custom development, you'll get rules for expected revenue or tax calculation, reports and dashboards with enhanced visibility, or automated mechanisms for sales and service tasks management. To see customized Salesforce solutions in action, watch these interactive demos.
Cons
With so many customization options, you can easily over-customize your Salesforce solution. However, the more complex features and custom fields your solution has, the harder it will be for your employees to leverage them all in full. Such excessive customization may lead to low CRM adoption and poor employee productivity.
Pros
To provide smooth and aligned business processes for multiple departments, Salesforce can be integrated with a number of external systems, like DMS, ITSM, ERP, accounting systems, ecommerce platforms, and social media. There're default integration tools and standard APIs that enable mutual data exchange and aligned workflows between the integrated systems.
Cons
Sometimes default tools are not enough to cover certain integration needs. Let's take, for instance, Salesforce Connect, which is often used to integrate Salesforce with ERP or DMS systems (like SharePoint). The tool has certain technical limitations, like the support of SharePoint document libraries only (all other library types and lists are not covered), and no possibility to create SharePoint files within Salesforce. Such cases show the need for custom development to ensure the integration challenges are addressed in full.
Pros
The Salesforce pricing model is scalable. Your subscription fees directly depend on the number of Salesforce users in your organization, and you can easily purchase more user licenses or upgrade your Salesforce edition if the number of users increases.
Cons
Although the costs on Salesforce products on the official website are set per user/month, the payments are annual, which should be considered, while planning your CRM expenses. As for the products' costs themselves, they are rather high in comparison with the costs of other advanced CRMs (for example, Microsoft Dynamics 365). What's more, due to additional costs arising out of customization, the development of custom applications and integration required to adjust your Salesforce solution to your live business processes, you may see the total expenses on your Salesforce CRM going over the roof.
Pros
Salesforce provides comprehensive self-service opportunities with their Trailblazer Community. Salesforce customers can share their experience there, get answers to their questions on the technical aspects of Salesforce use, and share their ideas on Salesforce improvements (and even see some of them considered in the upcoming releases). Lots of knowledge articles, reports, and podcasts are available on the Salesforce official blog. Salesforce also has an online training resource called Trailhead and a separate web page with release notes, which describe the details of the upcoming and past releases since 2014.
Cons
Unfortunately, the help provided via the self-service opportunities is rather limited, and certain customer questions at the Salesforce Trailblazer Community remain unanswered. What's more, the Salesforce live support is not easily accessible. You can see Salesforce users complaining about the inability to contact a Salesforce support agent in their user reviews on Capterra or similar online resources. Thus, in case you'll have to seek a support, you're likely to turn to 3-rd party providers, which will entail additional expenses.
8. UI peculiarities
Pros
Newer Salesforce UI called Lightning Experience is intuitive and easy-to-use. User-friendly page layouts and such features as Sales Path, Activity Timeline, SLA's Milestones and Einstein AI for sales and customer service help sales reps and service agents to get clear guidance throughout their relevant working processes by tracking their activities. As a result, sales reps and service agents manage manifold customer interactions efficiently and stay productive. In their turn, sales and customer service managers are empowered to easier manage the sales and customer service-related processes created with Process Builder, and supervise the KPIs with Lightning reports and dashboards.
Cons
The first thing to mention is the JavaScript code, which may slow down the customized UI (in particular, the load time of pages). To speed up the loading of CRM pages, additional optimization of JavaScript is required.
Another point is that after each Salesforce release (taking place 3 times a year), the layout of certain UI components, like tabs and dashboards may change drastically. This shows a need for efficient Salesforce administration and user training on newly rolled-out or modified features, whichever UI you'll choose.
Is Salesforce a good fit for you?
Making your CRM choice, take into account all Salesforce pros and cons. Thus, Salesforce can help you to support complex business processes and spur the productivity of sales, customer service, and marketing teams. Also, this both feature-rich and customizable CRM is a good choice from the functional perspective.
However, Salesforce has steep learning curve and frequent (tri-annual) updates, so if you're not willing to constantly educate your employees on it, choose a CRM that is easier to master, like Teamgate, Base or Nimble.
Also, if you have significant budget limitations, and you're not ready for big investments into customization, integration, and ongoing support, Salesforce is not your best option as there are other advanced and more cost-effective CRMs, like Microsoft Dynamics 365. Dynamics 365 subscription is cheaper than Salesforce subscription, especially if you already use some other Dynamics 365 products. If you need further guidance on how your company can benefit from Dynamics 365 Sales, you are welcome to explore our Dynamics 365 consulting services.
Need to implement a Salesforce solution to support your sales, service and marketing processes? We are ready to help.