Editor's note: In our article, you will find the details of using Files Connect to integrate Salesforce and SharePoint. If you don't want to deal with technicalities, just go for our SharePoint integration services and we'll do the integration job professionally and fast.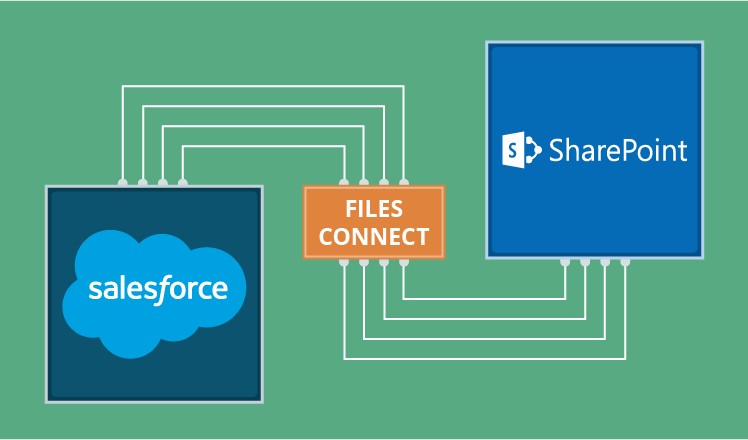 Many companies require more document management and collaborative capabilities than Salesforce provides and hence own also a SharePoint collaboration solution. Last time, we touched upon the importance of connecting Salesforce and SharePoint. One of the 3 possible solutions is to use Salesforce Files Connect, a tool included in the majority of Salesforce CRM licenses. Today, we turn to the pros and cons of using Files Connect for Salesforce integration with SharePoint.
On the whole, Salesforce integration with SharePoint based on Files Connect has the following benefits:
The tool is available for free in most Salesforce editions and licenses.
Apart from SharePoint 2010/2013 on-premises and SharePoint online, Files Connect can be used for integration with other file repositories (Box, OneDrive and Google Drive), which makes document management more flexible.
The vendor constantly enhances the tool.
As for the tool's capabilities, Files Connect allows users to search and work with SharePoint files within the Salesforce UI while preserving all content permissions.
Files Connect can be configured to consider SharePoint custom properties (custom columns, custom content type, metadata from Office 365 documents) in Search, SOQL, and SOSL Queries. This way, Salesforce users can simultaneously browse both Salesforce and SharePoint for files and records through the CRM's search. This functionality of Files Connect speeds up sales reps' work and helps them to make the most out of SharePoint files while communicating with customers, whether this relates to using marketing materials or forwarding proposal documents.
Once a Salesforce user finds the needed SharePoint document, they can connect it to any Salesforce record or object, say, account or opportunity, and share it via Chatter. Also, Files Connect allows editing SharePoint docs directly in Salesforce, this way solving the problem of document duplication and file versioning.
Overall, Salesforce Files Connect supports two file integration options – the one based on references to SharePoint files and the one based on copying those files in Salesforce. While the former is ideal for document management within a company, the latter is the best way to share documents with customers (who, for sure, have no access to SharePoint).
Files Connect suits all collaborative scenarios focused on Salesforce users, like timely offering relevant marketing content to customers or keeping the consistency of project documents in spite of reviews by multiple stakeholders.
Files Connect has several technical limitations, including the following:
For now, there's no official information regarding the support of integration with SharePoint 2016.
Only SharePoint document libraries are supported, all other library types and lists are not covered.
For a smooth work of Salesforce Global search, SharePoint files should be indexed properly, while by default, PDF files, images and videos are not indexed in SharePoint.
Previewing references to SharePoint files and creating SharePoint files within Salesforce CRM is not supported yet (neither is included in the Winter'18 release).
Integration with SharePoint on-premises will cost a company extra $7 per user per month.
Perhaps, the main drawback of integrating both systems by using Files Connect is a loss of focus on SharePoint as a collaboration hub for crucial business processes. In a recent article, we've described how such limitations can hinder contract management. Likewise, establishing a seamless project management process will require an additional integration solution.
For example, business analysts and technical specialists tend to collaborate in SharePoint, while sales reps work in Salesforce. A connection at the workflow level can help a sales rep to initiate discussion of the proposal statement without leaving Salesforce, thus saving their efforts. Then, as business analysts and technical specialists collaborate in SharePoint, the sales rep can be kept up to date through Salesforce automatic status notifications. Once the final version of the proposal is in SharePoint, its status is automatically updated in Salesforce, which prompts the sales rep to contact the customer. This collaboration scenario in addition to the Files Connect functionality will require access to Salesforce records from SharePoint, a sync between Salesforce and SharePoint workflows, and extra tweaks for user convenience (like custom notifications).
An out-of-the-box tool for Salesforce to SharePoint integration, Files Connects solves many of the team collaboration pitfalls. Though Files Connect requires configuration and has some technical limitations, it can suit integration scenarios regarding most of the Salesforce user needs. More sophisticated projects will require customization, yet, with some functionality covered by Files Connect, total investment on integration gets lower.
Integration options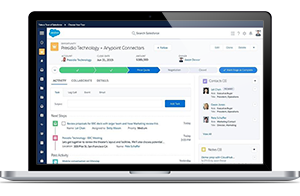 Salesforce Integration Consulting by ScienceSoft
Improve work processes through Salesforce integration with your on-premises and cloud tools ? ERP, accounting, marketing, ecommerce and more.