Let's assume you've chosen Salesforce Sales Cloud as a CRM to manage your sales-related processes. Next you need to opt for a Sales Cloud edition that suits your business best for making your Salesforce implementation a good venture. Salesforce editions differ greatly in terms of features, functional limitations and prices. The wrong choice may result either in insufficient coverage of your sales needs with CRM, or in massive spending on the advanced features you don't really need. To help you avert such consequences, we've prepared a thorough Sales Cloud edition comparison based on our Salesforce implementation experience.
Overview of Salesforce Sales Cloud Editions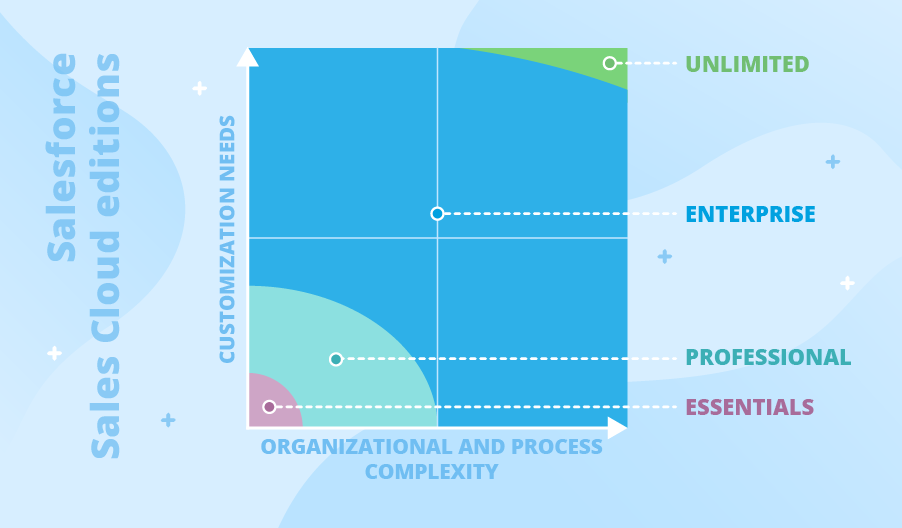 There are 4 Sales Cloud editions helping to address specific sales needs of small, mid-sized businesses and large enterprises:
We provide an overview of the editions' features, functional limitations and prices and explain which businesses (with small, midsized or big sales teams, single or multiple product lines and sales territories, etc.) each of the editions suits best.
#1: Essentials ($25 user/month billed annually)
Essentials offers a simple set of default features to cater for basic sales needs, such as:
Lead management (including web-to-lead capture).
Account, contact and opportunity management.
Sales tasks and event (customer calls, meetings, etc.) management.
Sales reporting with configurable reports and dashboards.
Employee collaboration using Chatter (the inner Salesforce chat).
Mobile access to Salesforce CRM with Salesforce 1 Mobile app.
Sales process automation with the Process Builder (5 processes per organization).
Functional limitations of the Essentials edition that do not allow midsized and large businesses to make their choice in the edition's favor include the inability to customize the solution with code, limited sales automation capabilities. Salesforce-third-party systems integrations are also not possible under the edition, which is definitely an obstacle for companies that use manifold systems for their business process management.
Among default features, unavailable in the edition but valued by midsized and large companies are the Products and Price Books features that allow specifying different pricing options for products and services sold to different customer groups (e.g. individuals, small and midsized business, enterprises).
There are also no features for the management of contracts, orders and quotes, which are crucially important for efficient sales operations in companies with rich customer base.
There's also no possibility to create User Profiles, Roles and Permission Sets that help to control which fields users see within records and define role-based access to CRM data. Such restrictions could be vital for large companies with hundreds of CRM users that need to get access to certain CRM information, based on their job role and privacy or security policy of the company.
Companies the edition would suit most
Essentials can be a good fit for small companies with up to 10 CRM users. Such companies don't yet need advanced CRM functionality and extensive possibilities for CRM customization and third-party integrations to reinforce their sales processes. If a sales team is small and a company can do with the basic functionality and low-level process automation, Essentials may be enough to quickly start a CRM journey.
#2: Professional ($75 user/month billed annually)
If you need specific CRM functionality for managing products and price books, quotes, orders and contracts, and user limits are not acceptable (for instance, due to a sales team with more than 10 members, or the company's fast growth), the Professional edition will suit you better. The list of the edition's default features includes the same features as for Essentials, plus:
Rule-based lead scoring.
Contract management.
Quote and order management.
Lightning Sync (to synchronize contacts and calendar events between any Microsoft Exchange-connected device and Salesforce).
Sales forecasting (including the mobile forecasting app).
Developer sandbox used for developing and testing new functionality in a separate environment with no impact on the production environment.
Functional limitations of the Professional edition are similar to those of the Essentials edition in terms of lacking the opportunity to customize the solution with code and to automate sales-related processes with code. Salesforce integrations with third-party systems via APIs are possible. However, enabling integrations requires additional 25 USD user/month. This makes the Professional edition rather a costly option for midsized and large companies that use manifold systems, like ERP, DMS, and ecommerce.
Another useful feature for big businesses that the Professional edition lacks is Enterprise Territory Management. The feature helps sales managers to organize groups of accounts and the sales reps assigned to those accounts based on the territorial criteria. It allows creating a territory management system, which is extremely helpful for large companies selling their products/services worldwide.
2 more features, which aren't present in the Professional edition but are important for midsized and large businesses with a few sales teams, are Opportunity Teams and Opportunity Splits. The former allows enabling team selling, defining each member's accountability and record access (to eliminate manual sharing of the information). Team selling is of big help when the deal's complex or stuck. As for the Opportunity Splits, it helps to share revenue from an opportunity between the sales team members, based on their contribution to the deal.
Unlike the Essentials edition, there's a possibility to create 2 user profiles per org, 2 user roles per org and 10 permission sets, which still provides rather limited opportunities to control a role-based user access to CRM data, and may not be the option for the companies with tens of CRM users.
Companies the edition would suit most
The lists of features and limits show that the Professional edition would suit well small or mid-sized companies with a single sales department, 11-60 sales team members. The edition would help to support quote and order management, enable sales forecasting, create and test new system configurations with sandbox, automate up to 5 sales-related processes and create 2 custom user profiles, 2 roles and 10 permission sets maximum to ensure role-based access of users to CRM data. It's important that the standard functionality of the edition should fit the company's business process complexity, since there's no possibility to customize the solution with Apex code and Lightning Components. However, it's possible to perform customizations using Visualforce.
#3: Enterprise ($150 user/month billed annually)
Enterprise has all the capabilities of the Professional edition plus:
Workflow and approval automation.
Opportunity Teams to enable sales reps' collaboration on one deal.
Opportunity Splits to share revenue from an opportunity between the sales team members, based on their contribution to the deal.
Enterprise Territory Management.
Advanced reporting features (cross filters, joined reports, history tracking).
Unlimited automation capabilities with Process Builder (a point-and-click tool for automating linear workflows).
Unlimited automation capabilities with Flow Builder (a point-and-click tool for automating complex workflows).
The unlimited number of user profiles and page layouts.
The unlimited number of user roles and permissions.
The unlimited number of record types per object.
Lightning Platform to build and manage applications with point-and-click tools or code.
APIs for integrating Salesforce with third-party systems.
100 developer sandboxes for developing and testing new features.
Functional limitations of the Enterprise edition do not impede large-scale organizations from choosing it and are mostly related to customization capabilities. For instance, there's a limit of 25 Lightning apps that can be built on the Lightning Platform to make using a Salesforce solution easier for different user groups (say, an app for sales reps would include accounts, events, and opportunities tabs, while an app for sales managers would unite reports and dashboards tabs).
The possibility to create validation rules, which control that data entered in CRM matches the company's internal standards, is limited to 100 active validation rules per object. As a rule, it is enough to comply with high standards of a CRM's data quality.
Some other limitations worth mentioning are the limit on custom objects (200 maximum), custom fields per object (500 maximum) and custom report types (200 maximum). If you feel that your enterprise may not suffice with these numbers of report types or active validation rules, you could opt for a higher Sales Cloud edition called Unlimited.
Companies the edition would suit most
The Enterprise edition best suits large-scale organizations with multiple sales departments, 50+ sales team members since it has features for enterprise territory management and smooth cooperation of various sales departments. Besides, the edition can fully satisfy the needs in process automation with default and custom tools, code-based customization, third-party integrations or enhanced control over user access to info stored in Salesforce CRM.
#4: Unlimited ($300 user/month billed annually)
The Unlimited edition has all the extensive capabilities for process automation (workflow rules and approvals), customization with Apex code and integration via APIs available in the Enterprise edition. What makes the edition stand out is the access to Salesforce support and training services, like:
24/7 toll-free support.
Access to premier success resources (a knowledge base, interactive webinars).
Access to configuration services performed by a dedicated Salesforce admin.
Access to one-on-one coaching sessions with a Salesforce expert.
Developer support.
Functional limitations of the Unlimited edition include the inability to create more than 2000 custom objects, 800 custom fields per object, 200 report types, and 500 validation rules. These limits can hardly hinder the attempts to customize a Salesforce solution of a large-scale enterprise to the needed extent. Still, knowing about them saves you from a misbelief that the edition has truly unlimited capabilities, like its name implies.
Companies the edition would suit most
The functionality of the Unlimited edition makes it a perfect match for enterprise-level organizations with multiple sales departments, 250+ sales teams members on board, and the need in an extensive set of features, customization capabilities and ultimate support.
What if you need an upgrade?
As soon as you've realized that your current Salesforce edition doesn't meet your business needs anymore, it's time to make an upgrade.
For that, you need to contact your Salesforce account executive or Salesforce consulting company that serves you and ask for the upgrade to another edition, which suits your changing needs better. You'll have to pay the difference in price between your current edition and the one you're upgrading to till the end of the year without waiting for the end of your current contract with Salesforce.
Is there an alternative to Salesforce Sales Cloud?
If you need to fully address your sales needs, you may consider a similar tool – Dynamics 365 Sales. It also provides a comprehensive set of work tools, has paid add-ons and flexible pricing plans. Besides, Dynamics 365 Sales subscription is cheaper than Salesforce Sales Cloud subscription: Sales Professional – $65 user/month, Sales Enterprise – $95 user/month, Sales Premium – $135 user/month, Microsoft Relationship Sales – $162 user/month. If you need further guidance on Dynamics 365 Sales editions, you're welcome to explore our Dynamics 365 consulting services.
What will your decision be?
To make your choice of a Salesforce edition reasoned and profitable, carefully consider your organizational and process complexity along with customization needs and see how the functional capabilities and limitations of each Salesforce edition resonate with them. Choosing the edition that matches you most, you efficiently support your sales activities and get a high-performing sales team as a result.
Do you need to get an expert opinion on your Salesforce solution? Our consultants will analyze your current Salesforce capabilities and offer an optimal solution to meet your business needs.