With an unprecedented level of dependence on data and technology today, an occasional Salesforce downtime is a real nightmare for companies as it may result in a full service failure. So, it makes sense to prepare for a service disruption in advance to be able to survive it with minimum losses. Our Salesforce support specialists are ready to uncover what stands for the figure of 99.9% uptime, what impact Salesforce downtime has on businesses, the difference between a planned and unplanned downtime, and more.
Understand the numbers correctly
Since CIOs want to know what to expect from their service providers, all of them are interested in getting a Service Level Agreement (SLA) as a guarantee of uninterrupted system performance. While the golden standard is five nines, or 99.999% availability, hardly any service provider will be able to offer that. Nonetheless, it seems that customers have nothing against the figure of 99.9%, which means the downtime is 0.1% only. Sounds impressive until you do the math. A pipe dream of 99.999% is 5 minutes 26 seconds, 99.9% uptime implies 8 hours 46 minutes of downtime per year, whereas a service level of 99% uptime means that the annual average downtime will amount to 87 hours 40 minutes. Therefore, before signing an SLA, it's necessary to fully understand and accept the fact that your company may be left with the service down for many hours − all within the terms of the agreement.
Salesforce's approach to SLA
While not binding itself with a standard SLA, except for specifically negotiated cases, Salesforce has come up with a Master Subscription Agreement. According to it, the service provider makes a rather vague commitment to "use commercially reasonable efforts to make the online Services available 24 hours a day, 7 days a week". In addition, the vendor states they have the proven reliability of 99.9+% uptime record for years and has provided a community page for real-time information on system performance and security to display hosted uptime and service disruptions for the prior month.
At the time of the always-on business, downtime is increasingly not welcome − be it for maintenance reasons or failure.
1. Maintenance or, in other words, planned downtime, though still out of favor, is perceived as a necessary and unavoidable procedure aimed to upgrade, check and/or repair the system to ensure its reliable and optimal operation. Because planned downtime is scheduled and occurs upon prior notification, it is less likely to cause serious damage to the workflow. For example, Salesforce provides information regarding its maintenance windows so that its customers could plan their activities correspondingly. However, the dates are subject to change at the vendor's sole discretion.
2. Unplanned downtime or, in other words, failure, happens as a result of system malfunction, force majeure, or a hacker attack. In contrast to maintenance, it is fraught with far graver consequences since users are not notified of outages in advance and, therefore, are not prepared for them. And although Salesforce guarantees their customers' data retention for such cases, the whole experience may prove to be deplorable for many of them.
Let's now consider the implications the Salesforce downtime may have for a business.
Evaluate the impact of Salesforce downtime on business
Used for data centralization, Salesforce is universally considered as a single source of truth for marketing, sales and customer service, where they refer to for answers related to campaigns, leads, accounts, contacts, opportunities, quotes, deals, analytics, and more. Therefore, if the system is down, it directly impacts these departments. Considering that Salesforce is tied directly to business processes, lack of availability to its tools means the workflow comes to a standstill entailing customer communication delays and temporary collapse in business operations. This results in higher expenses, customer dissatisfaction, spoilt reputation, loss of productivity, and an impossibility to comply with regulatory requirements. Even worse if it happens during the core service hours, as the financial impact in this case will be more tangible amounting to thousands or even millions of dollars.
Prepare for unplanned downtime
As a system outage is more a matter of when rather than if, IT and business departments should develop an emergency plan. We advise this plan should cover the following:
Develop a communication plan beforehand. This will allow all impacted parties to stay informed about an incident and not to fall into panic. Communicating to users the details of a downtime and your expectations for the system recovery will make them feel calmer about the situation and not overreact.
Develop a data backup and recovery strategy. Salesforce performs real-time replication to disk at each data center, and near real-time data replication between the production data center and the disaster recovery center. However, manual backup is advisable as the Salesforce Data Recovery service is an expensive and time-consuming process.
Subscribe to a support center. Since a downtime can happen as a result of poor customization, it makes sense to choose and subscribe to a reliable Salesforce support provider, who will help to eliminate negative consequences and adjust the platform properly according to the company's needs.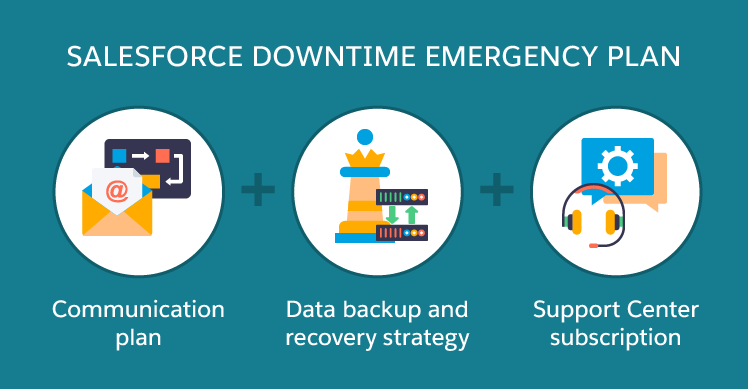 Be aware of limitation of provider's liabilities
In the situation where the vendor seeks to protect their interests in case of a system outage, a customer should seek ways to mitigate possible negative consequences. Salesforce's Master Subscription Agreement limits the provider's liabilities in some crucial cases:
Salesforce doesn't guarantee uptime for your service, only for theirs. The unavailability of your software application, which may happen through the fault of your company's users, has nothing to do with the agreement.
In most cases, Salesforce guarantees availability of their service, not the quality of service. This means your software application may still be available, though its quality and, hence, user experience degraded. If Salesforce is not down but slow, the sales team becomes slow, too, which may lead to losing opportunities and, consequently, revenue. However, this case is also outside the purview of the agreement.
Compare alternatives
On-premises CRM systems, like Microsoft Dynamics 365 on-premises, offer an advantage of full control over the security of data. Data, especially of sensitive nature like health-related, stays within the company, as compared to the cloud deployment when data is stored on distant servers.
If you choose to host an on-premises data center, you need a team of system administrators and programmers to maintain all the hardware and software and protect it from IT equipment failure, UPS battery failure, or an accidental error.
Key takeaways
Nowadays, as businesses rely heavily on information technology, uninterrupted service availability becomes crucial. Unfortunately, no service provider can guarantee 100% uptime, and Salesforce is no exception. What is more, using an on-premises solution to avoid downtimes won't provide impeccable service, either. So, companies had better count on their own efforts and be prepared for an occasional service disruption. Apart from having an emergency plan, it's a good idea to contract a professional Salesforce support team who will help to fix the problem and advise on an effective disaster recovery plan.
Have no idea how to maintain, customize and enhance your Salesforce? We will ensure excellent performance of your system.