Editor's note: Anastasia sheds light on the potential of AR in repair and maintenance. If you're enticed to tap into that potential right away, ScienceSoft has all the tools to be of help with our augmented reality development services.
If you come from a manufacturing background, you most certainly know a thing or two about Industry 4.0. And if my hunch is right, it is also likely you know that augmented reality is a huge part of it. But besides enjoying the reputation of a cutting-edge technology for production and quality assurance purposes, AR has fairly gained a lot of attention in repair and maintenance scenarios, even outside the manufacturing industry as its cradle.
Now, let's see why exactly AR stirs imaginations of maintenance and repair managers all over the world and whether its downsides don't deter them from the initiative.
The main job of an AR application is to make the life of a service technician easier by supporting them with all maintenance/repair data relevant to a specific service case. To accomplish this, the application performs the following steps:
Step 1: Identifying the equipment (or a problem with it).
While maintaining the equipment, technicians use AR applications installed on mobile devices or smart glasses/headsets. Smart glasses make for easy, hands-free access to needed data, but mobile devices, especially tablets, offer larger field of vision and are more affordable.
Regardless of the device it's installed on, the repair and maintenance AR app uses image recognition to compare live feed from the camera to the rich database of related images. In this manner, it automatically determines either the equipment model or the problem with it.
Step 2: Fetching relevant AR data about the identified problem/equipment.
Having identified the equipment or the problem, the app immediately accesses all the AR data (tips, scenario steps, voiced guide, etc.) relevant to a model or a specific issue. Note: In case of simple maintenance or repairs by an experienced technician, who can make a confident manual choice of the equipment/problem in the app's menu, this step can be the starting point.
Step 3: Augmenting camera feed with AR content in real time.
The AR app relies on image recognition algorithms to dynamically augment live camera feed (that has equipment in focus) with different types of content, including:
Text and/or images (technical documentation and manuals).
Videos (see an example here).
3D objects.
Obviously, 3D objects and videos are the most efficient type of visual aid, especially when it comes to complex manipulations with equipment. However, simple text and images can also be of great use in less elaborate service scenarios.
AR apps also provide a technician with an exhaustive list of actions (with animations or illustrations) that guide them through the entire service process.
Besides the AR functionality itself, maintenance apps may also have an integrated video communication feature. Using Skype, Zoom, Microsoft Teams or any other VoIP messenger integrated with the AR app, technicians can consult an expert while demonstrating the serviced equipment in a video call.
Speech-to-text feature can also be useful. It allows technicians to make notes on the service process without stalling it by getting out a smartphone or a notepad.
Instead of spending loads of time on investigating each complex repair case, you can use an AR repair app and:
Increase equipment uptime by slashing mean time to repair and improving maintenance quality -> dramatically reduce downtime costs.
Have the first-time-fix rates of your own field service technicians skyrocket -> eliminate operational costs of unneeded travel.
Reduce technician training time -> cut the costs associated with employees onboarding.
Provide your customers with a self-service repair and maintenance option -> decrease related operational costs and field service wait times.
All these benefits naturally lead to an increase in service quality and customer satisfaction, which – with some marketing and sales efforts – can become your stellar competitive advantage.
Here are some of the companies that already use AR apps for repair and maintenance, featuring the outcomes they've got:
Bosch – repairing automotive vehicles (reported a 15% fix-time decrease for simple car repairs).
ThyssenKrupp – repairing elevators (reported a 75% decrease in service time overall).
Huawei – repairing DC-to-AC solar power inverters (reported a significant decrease in technicians' cognitive load and a service time decrease).
But, surely, as amazing as these use cases are, AR application implementation doesn't come without a challenge or two:
Employees' resistance to adapt to such cutting-edge technology as AR may slow down app adoption, especially if you decide to go for smart glasses (but it's nothing that a motivation strategy and employee training can't solve).
AR content preparation can take way too long and cost way too much, while you can't go easy on it because at the end of the day your AR application can only be as good as your data. However, our 3D designers and BA experts have a couple of tricks up their sleeves to speed up content preparation (e.g., using computer-aided design data that you can get from your product engineering team).
As you can see, the severity of the challenges doesn't outweigh the benefits that an AR solution brings. If you have some questions left or if you want to talk about creating an AR app for your repair/maintenance team, drop me a line.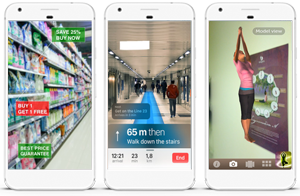 Ready to introduce an augmented reality app as a part of your business strategy? Our skilled AR developers help you to make it happen.