Custom Content Management System
Key Features, Benefits, Development Aspects
With 11-year experience in delivering content management systems (CMS), ScienceSoft provides consultancy on custom and platform-based CMS.
What Is a Custom CMS?
A custom CMS is a tailored solution for creating, storing, and publishing digital content.
Custom content management system may include:
Document management,
Records management (documents for legal purposes),
Digital asset management (audio, video, graphic content),
Web content management.
With 11-year experience in CMS development, ScienceSoft can shortlist the core functionality of custom CMS.
Content authoring tools (e.g., WYSIWYG editor).
Built-in customizable templates.
Content hierarchy taxonomy.
Indexing and search.
Integrated file managers.
Content governance.
Reporting and analytics.
Integrated help desk.
Distribution and publishing
Built-in SEO tools.
SEO-friendly URLs.
Content review and approval workflows, including complex workflows (e.g., non-linear, multistep).
Content personalization.
Multisite and multilanguage support.
Accessibility on mobile devices.
Access control.
Role-based permissions.
Versioning.
Audit trail.
Content retention and deletion policies.
Regulatory compliance (e.g., GLBA, SOX, HIPAA).
Examples of Key Custom CMS Functionality
Benefits of Custom Content Management Systems
Intuitive interface and smooth user experience.
Effective SEO due to high website speed
Unlimited customization capabilities
Advanced data security
Professional CMS support
ScienceSoft recommends integrating custom CMS with other systems to ensure content consistency across your organization, facilitate customer onboarding and marketing campaigns, streamline publishing and updating information about your products, and more.
CRM - to facilitate converting prospects into customers by the regular distribution of personalized content.
ERP - to ensure secure storage and consistency of your company's digital content involved in financial, sales, supply chain management, HR, and other business processes.
Ecommerce solution - to easily create and publish content about your products, structurally organize and make it easily searchable on your site. For example, for one of ScienceSoft's customers, our team integrated CMS with the ecommerce application to facilitate website page creation and editing for non-technical users. As a result, the customer's marketing team just needed to fill CMS widgets with relevant text, images and links.
Marketing automation software - to simplify creating various types of marketing content to streamline marketing campaigns across email, website, social channels, and more.
Social networks - to promote corporate content like news, events, publications, and more by direct publishing on social media.
Among key factors determining the efficiency of custom content management system are:
Well-structured and intuitive content organization
that helps reduce time for content search and accelerate content-related business processes.
Diverse built-in and customizable content templates
that ensure high content reuse, which helps reduce writing time and translation costs and provides content consistency across your organization.
A high level of automation
enables creating, editing, approving and publishing content faster and with less effort.
The average cost of custom CMS solutions ranges from $150,000 to $400,000 for the overall services package, including custom CMS design, development of custom features, configuration, and other related services.
For midsize businesses and enterprises, custom CMS implementation shows the following economic impact:
0.4 – 1.2 years payback period
230 – 400% average annual ROI
Depending on the functionality, custom CMS development can take from 2-3 months (core functionality) to 4-6 months (a CMS with an innovative component).
Key financial outcomes of custom content management system:
Accelerated content-related business processes.
Higher business productivity of employees using content extensively (e.g., lawyers).
Reduced costs for:

Content development and publishing.
Translation.
Website maintenance.
Compliance.
ScienceSoft recommends choosing custom CMS development if you want:
Your CMS to be in line with your lead generation campaigns and content goals and easily adapt to changes.
Full control over your CMS to make updates and modifications (e.g., a new page or a section, branding).
Bulletproof data protection and minimal risks of hacker attacks.
Have unique content creation and delivery needs (e.g., a complex non-linear publishing workflow).
Intuitive UI that reduces the time of user training and facilitates content management even for non-technical users.
Success Story by ScienceSoft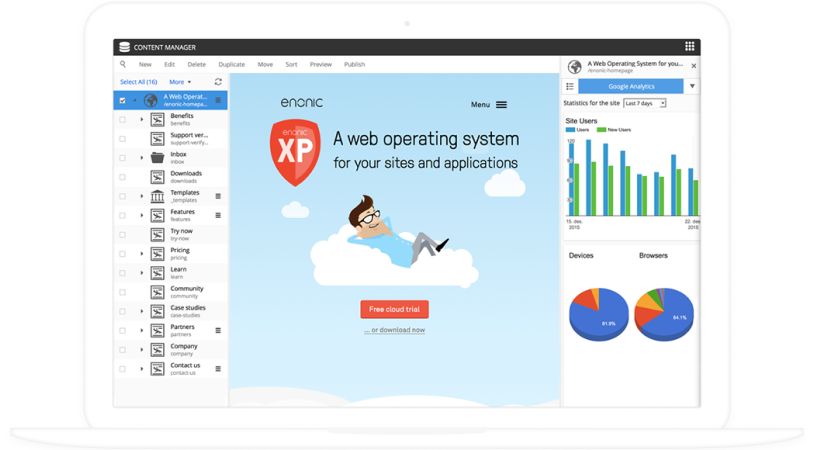 Innovative CMS Application Development
Custom CMS based on the unique object-oriented framework.
Drag-and-drop builder for creating and editing custom layout templates without using HTML code.
Responsive admin UI for facilitated management of dozens of websites simultaneously.
Real-time content updates due to WebSockets.
ScienceSoft's experience in CMS consulting and development as well as custom software development allows us to bring full-fledged content management system to our customers. Our CMS services offering includes:
Analyzing content management needs.
Eliciting technical requirements based on the needs.
Conducting a feasibility study and CMS ROI assessment.
Selecting relevant technologies and tools.
Advising on useful integrations.
Drawing a project plan.
Designing user-friendly and intuitive UX/UI.
REQUEST CMS CONSULTING
Analysis of content management needs.
Custom CMS design.
End-to-end CMS development and deployment.
Data migration.
Integration with required systems (CRM, ERP, etc.).
Quality assurance.
User adoption and training.
Post-implementation support.
REQUEST CMS development
What ScienceSoft's Customers Say
ScienceSoft's team of five Java developers and one test engineer have been working hard to ensure our <CMS> product – Enonic XP – exceeds our customer's expectations.

ScienceSoft's experience in agile development ensured smooth project implementation and iterative development of Enonic XP. As a result, Enonic XP has evolved into an easy-to-use and scalable platform, which is crucial for our success.
Morten Øien Eriksen, CEO at Enonic, a provider of an innovative CMS platform
About ScienceSoft

ScienceSoft is a global IT consulting and IT service company headquartered in McKinney, TX, US. We advise our customers on custom and platform-based CMS implementation and offer all-round related services from business analysis to post-implementation support. If you need assistance or advice on implementing custom CMS, you are welcome to reach out to our experts.

<![endif]--> <![endif]--> <![endif]-->