ServiceNow® ITSM Platform 
Stabilize IT Delivery
ServiceNow ITSM helps businesses streamline IT processes and reduce IT costs due to rich functionality, such as incident, request, problem, change, service level, knowledge, and configuration management.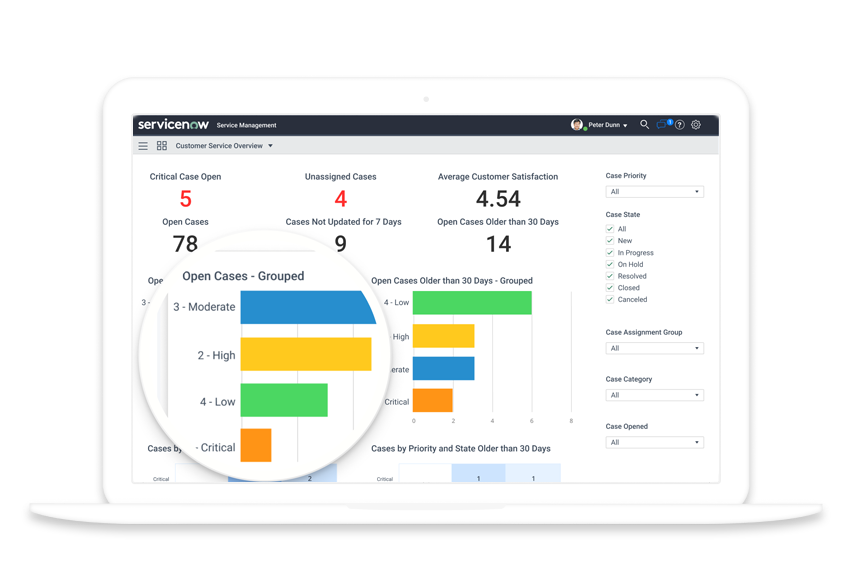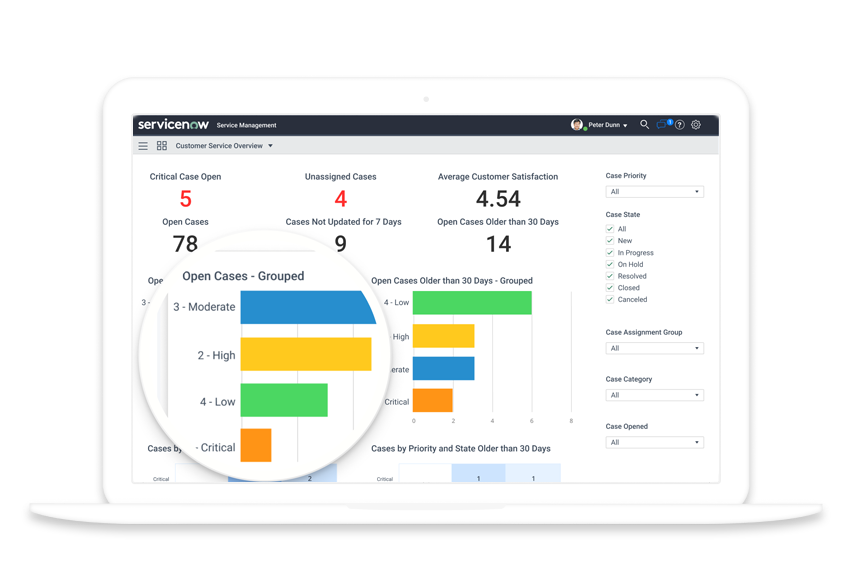 ServiceNow ITSM in Brief
ServiceNow ITSM is designed to streamline IT service workflows and increase IT productivity. The platform is used by diverse mid-sized and large organizations, and it's best-suited for governmental organizations and businesses in highly regulated industries like finance and pharma.
ServiceNow is an 8-time leader in Gartner's ITSM Magic Quadrant. Among famous brands using ServiceNow ITSM are Airbus, CERN, Henkel, Al Jazeera, Deloitte.
Since 2010, ScienceSoft provides ServiceNow ITSM advisory services to help businesses overcome disruptions in IT processes and optimize IT support costs.
Popular ServiceNow ITSM Use Cases
ServiceNow ITSM Key Functionality
Incident management
Omni-channel incident registering
Employees can submit incidents via a self-service portal, chatbot, email, and phone.
Intuitive Kanban‑style boards to enable an IT team manage incident tasks and team assignments, create task checklists, and set task priorities.
A mobile app allows an IT team to triage, address, and resolve incidents on the go.
Automated calculation of a ticket's priority based on incident impact and urgency.
ML-driven recommendations to IT agents on how to resolve incidents based on similar cases.
Configurable role‑based reports and dashboards displaying incident statuses (e.g., unassigned, overdue), priority (high, medium low), resolution time, and other metrics.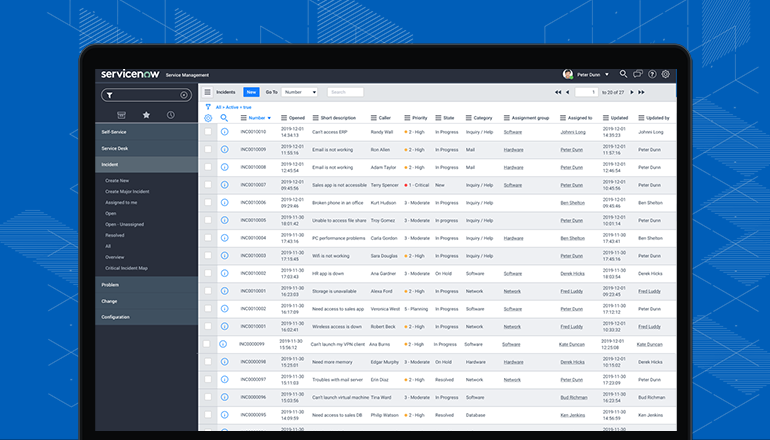 ServiceNow Ticketing Demo
Explore how an IT service agent can effectively register, triage, address, and resolve incidents with the help of the ServiceNow ITSM platform.
Guidelines for IT service agents on how to fix repeated incidents.
Built-in dashboards to enable problem identification and further remediation of abnormal patterns and trends.
IT service agents can share known errors and workarounds for accelerated resolution of similar problems.
Change and release management
Change approval policy management
Automated approval of standard and low-risk changes.
Change impact visualization
A map showing the potential impact of a proposed change on IT, services, and configuration items.
Change acceleration due to the integration of a DevOps pipeline with ServiceNow change management.
A single place for employees and customers to request services from IT, HR, and other departments and get service-related information.
Graphical designer of request workflows
Drag-and-drop building of workflows to automate request processes.
Portal with an embedded chatbot
The service portal with a built-in ServiceNow chatbot allows customers and employees to get answers and solve issues 24/7 due to keyword search and natural language understanding.
Request-related collaboration on the go for an IT team, request tracking for customers and employees, including automated notifications (e.g., change in a request status).
Automation of asset requesting, fulfillment, and ordering processes.
Stockroom inventory management for hardware and consumables (computer keyboards, mice etc.).
Contract lifecycle automation, including approval and renewal for various contracts (e.g., leases, warranties, maintenance, and service) related to hardware and virtual assets.
Multiple barcode scanning
Quick scanning of multiple barcodes or groups of codes with a smartphone for fast entry of the asset information into ServiceNow ITSM.
ML-powered identification of knowledge gaps (e.g., in incident resolution) and task assignment to service agents to create ServiceNow ITSM knowledge articles to fill these gaps and boost self-service among customers and employees.
In-context creation and knowledge harvesting
Creation of knowledge articles from current cases, incidents, and conversations in engaged communities.
Powerful search across knowledge articles with personalized search results for agents, employees and customers.
Reports and dashboards to monitor the use and aging of and feedback about corporate knowledge.
Automated assigning of translation tasks, identification of missing translations for knowledge articles, and more.
Configuration management database (CMDB)
The CMDB accumulates and structures data about all IT components and provides visualization and reporting on configuration items (CIs), audit trail, and more.
Aggregation and processing of key CMDB metrics (e.g., completeness of required and recommended fields of CIs, correctness of CIs based on pre-defined data integrity rules) to provide actionable insights on how to improve the CMDB's performance and health.
Quick and easy loading of large volumes of third-party data into the CMDB via Service Graph Connectors.
Visualization and reporting for Configuration Items
Mapping, querying, and understanding complex relationships of CIs in tables with a clear graphical view.
IT service performance analytics
Tracking diverse metrics (e.g., the number of new and closed vulnerable items, Mean Time to Remediate) to get insights on how to improve IT service performance.
Automatic alerts about deviations from the projected values for monitored configuration items.
Predictive intelligence and data classification
Proactive detection of major incidents due to ML-based flagging of similarity across incidents.
Smart classification and routing
ML-based classification of tasks, incidents, and cases and routing them to relevant agents.
Predicting of time to resolution
Accurate predicting of time to resolution due to regression analysis.
IT service evaluation surveys
Intuitive survey designer
Creating surveys on customer satisfaction with services provided by an IT team using customizable templates and publishing them to specific users or user groups.
Generating intuitive charts based on survey results (e.g., evaluation of the quality of IT services).
Agents or managers can create, schedule, and send surveys from a single interface, create conditional questions, allow users to change their responses, and more.
Creating surveys for users outside the ServiceNow system, saving anonymous survey responses, and showing them on scorecards.
A drag-and-drop designer to create configurable workflows that determine what activities occur according to an SLA, for example, notifying an assignee about a task to prevent an SLA breach.
Detailed visualization of all SLAs associated with a related task, stages and timings of SLA tasks.
Automatic notifications for service providers and consumers, for example, about an SLA breach.
SLA reporting and analytics
Configurable role‑based dashboards to track service delivery and drive service improvement.
Accessible via collaboration tools (e.g., Slack, Teams), a virtual agent creates a case, stores the chat history within this case, and helps employees get immediate answers to questions.
Targeted campaigns and content automation
Providing employees with timely, relevant, targeted content on various campaigns (e.g., signing up for health benefits) based on their location, role, and job type. Evaluating the effectiveness of campaigns and tracking results (e.g., employee engagement with a campaign).
Quick and easy Google-like search of information about various services (e.g., HR, IT, workplace services) across the enterprise and retrieval of the results from the knowledge base, services, and forums.
Integrated case management
Integrated case management helps employees with opening and monitoring cases and supporting case-related activities via e‑signatures, forms, and checklists.
Forums enable employee collaboration on job tasks and work-related content.
Managing the IT service team's shifts, breaks, and time-offs.
Reports on team and individual performance based on diverse metrics (e.g., problems resolved, average handle time, first call resolution).
Service team managers can monitor agents' conversations and analyze voice recordings across all channels.
Managers can recommend coaching and training for their teams based on skill gaps identified by ServiceNow predictive analytics.
Assignment queue management
Tracking assignment queues and wait times.
Opportunities You Get with ServiceNow ITSM
Benefits of ServiceNow ITSM
IT service delivery costs due to request automation

IT staff effort per incident due to intelligent issue categorization and routing

IT staff overall productivity due to employee self-service, virtual agents, and more
ServiceNow ITSM Integrations
To avoid ITSM data silos and streamline IT service workflows, ScienceSoft recommends integrating ServiceNow ITSM with the following corporate systems.
ServiceNow ITSM + HR software: to accelerate providing employees with relevant physical (e.g., a desk, a computer) and non-physical (e.g., an email account, logins) assets in case of onboarding, promotion, or transfer. ServiceNow ITSM tasks are created automatically based on the data stored in HR software (e.g., an employee's name, role, team, department).
ServiceNow ITSM + CRM: to automate the creation and resolution of customer cases in ITSM and increase visibility into customer incidents, problems, and requests for CRM users, which helps eliminate bottlenecks in customer service and reduce customer response times. Also, customer priorities, value, and other details available in CRM are visible in customer accounts in ServiceNow ITSM.
ServiceNow ITSM + ticketing software: to streamline issue resolution and improve collaboration of IT and development teams due to synchronization of incident data. When an IT team creates an incident ticket in ServiceNow ITSM, a new issue is automatically created within a ticketing system. The issue's status, details, and related comments from both teams are automatically updated in both systems.
ServiceNow ITSM Customization Capabilities
ServiceNow ITSM customizations cover code-based adjusting of access controls, tables and form fields, email notifications, IT service workflows, integrations (e.g., ServiceNow ITSM integration with a third-party ITSM system). Also, ServiceNow ITSM enables the development of various custom applications. For example, our team built an ITSM mobile app that combined SolarWinds and ServiceNow.
| | | |
| --- | --- | --- |
| | | |
| | | With 15 years in ITSM and 13 years in providing ServiceNow consulting services, ScienceSoft helps organizations leverage ServiceNow ITSM solutions that offer full visibility into IT processes and infrastructure, enable timely resolution of user requests and incidents, and help optimize IT costs. |
| | | |
<![endif]--> <![endif]--> <![endif]-->