Supply Chain Visibility Software
Features, Integrations, Benefits
ScienceSoft applies 10-year experience in building supply chain management solutions to design and develop technology solutions to achieve supply chain transparency.
Supply Chain Visibility in Brief
Supply chain visibility software tracks shipments (raw materials, finished products, product components, etc.) in real-time and provides insights based on actual supply chain data to supply chain stakeholders (suppliers, manufacturers, carriers, etc.) to help them enhance logistics, predict the demand, and optimize stock levels.
Such solutions can be integrated with supply chain planning software, transportation management software, warehouse management software, supplier management software, order management software, etc.
Supply chain visibility software development takes around 7–12 months and requires $200,000–$400,000+ in investments.
Supply Chain Visibility Software: Functionality to Look For
The feature set of supply chain visibility software differs based on the supply chain network complexity, the industry a company operates in, the company's business objectives and budget, etc. Below, ScienceSoft outlines the core functional capabilities such solutions should have.
Key Integrations for Supply Chain Visibility Software
Supply chain visibility solutions are usually a part of a supply chain management suite. If built independently, ScienceSoft recommends integrating the solution with the following supply chain management and planning systems to make it facilitator of supply chain data movement across systems and enable overall supply chain data transparency:
To analyze suppliers' performance and rate them accordingly.
To promptly suggest an alternative supplier and mitigate unforeseen supply disruptions.
To notify on upcoming and received supplies.
Transportation management system
To gain visibility into supply chain logistics disruptions that could affect order delivery.
To suggest optimal routes, transportation carriers, and vehicle load modes.
To enable transportation cost analysis, detention costs analysis.
Order management software
To enable order fulfillment tracking across the supply chain.
To estimate order delivery time and enable dynamic order delivery scheduling.
To enable dynamic planning of inventory replenishment and reallocation.
To optimize warehouse labor scheduling.
To enable dynamic demand planning, inventory planning, production planning, etc. based on real-time supply chain visibility data.
To ensure the accurate execution of supply chain plans.
Advanced analytics capabilities
To forecast shipment arrival times and prescribe actions for supply chain optimization (optimal departure time for on-time delivery, supplier/carrier assignments, order reroutes, inventory reallocations, etc.).
Convenient role-based reporting and self-service analytics capabilities
To accelerate the adoption rate among users and maximize solution effectiveness.
To enable smooth integration with internal and external supply chain management software and overall solution scalability.
To safeguard a large volume of customer, order, inventory, logistics, etc. information with end-to-end data encryption and role-based data access.
Supply Chain Visibility Software Development: Success Story by ScienceSoft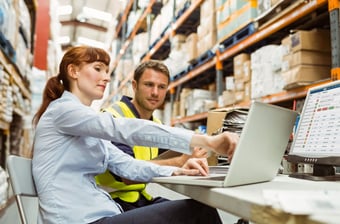 Supply chain e-collaboration network for 1,700-store retailer
Real-time monitoring of buying and selling processes, inventory levels, supplier performance, and more.
Role-based access control for category managers, store managers, suppliers, accountants, etc.
Trackable communication with suppliers via a vendor portal.
Advanced analytics for demand planning.
Customer's benefit: Enhanced visibility into supply chain operations, improved cross-department and supplier collaboration.
Cost Factors and Benefits
The cost of supply chain visibility software depends on:
The number of the required functional modules and their complexity (e.g., advanced analytics capabilities or automation level).
Supply chain visibility software integration needs (the number of systems for integration, their complexity, etc.).
Supply chain data management needs (data volume, complexity, quality, data storage type, etc.).
Requirements for supply chain visibility software availability, performance, security, etc.
User training.
Custom supply chain visibility software may cost around $200,000–$400,000+, depending on the solution complexity.
Major financial outcomes you may get due to introducing a real-time supply chain visibility solution include:
reduced OTIF penalties due to accurate prediction of ETA, dynamic optimization of transportation activities
reduced container dwell time due to real-time container tracking and enhanced logistics operations planning
reduced driver detention due to accurately scheduled supply chain operations (shipment pickups, truck loads/unloads, etc.), dynamic route/transportation mode optimization, etc.
reduced warehouse labor costs due to accurate shipment arrival prediction and achieved transportation visibility
reduced inventory carrying costs due to the visibility of current inventory levels across every step of the multi-echelon supply chain
reduced expedited shipping costs due to dynamic route/transportation mode optimization
Microsoft Dynamics 365 Supply Chain Management
Best for
Supply chain management for mid-sized and large-sized companies.
Features
360-degree overview of supply chain data (order fulfillment, procurement, production, inventory, warehousing, and transportation).
Tracking of inbound shipments and calculating procurement and transportation costs.
Real-time on-hand inventory monitoring with the Inventory Visibility Add-in.
AI-powered supply chain forecasting and recommendations (optimal stock levels calculations, warehouse throughput forecasting, predicting issues in the supply chain, etc.) with Supply Chain Insights.
Self-service supply chain analytics capabilities with the Power BI integration.
Multi-language support.
FourKites Real-Time Transportation Visibility Software
Best for
End-to-end supply chain visibility.
Features
Visibility over transportation, yard, warehouse, stores, etc. operations via GPS, ELD, AIS, mobile device data ingestion.
Real-time freight tracking across all transportation modes.
Fully customizable, automated ETA notifications for suppliers, carriers, customers, etc.
21 out-of-the-box analytics reports and dashboards (OTIF, detention and dwell time, carrier and lane performance, facility performance, etc.)
ML-based forecasts and prescriptive recommendations across the supply chain (ETAs, potential delays, best reschedules, etc.)
Pricing
Upon request to the vendor.
project44
Best for
Transportation operations management.
Features
Multimodal shipment tracking across the entire supply chain.
Predictive ETA scheduling for shipments across all transportation modes (ocean, rail, air, etc.).
A set of pre-built integrations with TMS, WMS, ERP, etc., including Oracle Transportation Management and SAP LBN.
Built-in supply chain data management (cleansing, normalization and enrichment).
Customizable analytics dashboards for carrier managers, supply chain network analysts, customer representatives, etc.
Pricing
Upon request to the vendor.
Supply chain visibility software has to be integrated with a vast number of internal and external systems, which may be costly and time-consuming in case of platform-based software.
You need supply chain visibility software that can be easily evolved with advanced functionality (AI and ML prescriptive supply chain recommendations, creating and sharing role-based dashboards for real-time supply chain tracking, etc.).
Implementing platform-based supply chain visibility software will evoke considerable subscription costs due to numerous solution users.
You operate in a highly regulated industry (e.g., government sector, healthcare) and need a supply chain visibility solution fully compliant with specific security and compliance requirements (SOC 1 and SOC 2, GDPR, etc.).
Consider Professional Services for Supply Chain Visibility Software Implementation
With a 9-year experience in designing and implementing full-scale supply chain management solutions, ScienceSoft helps companies introduce supply chain visibility to improve supply chain operations, increase the on-time delivery rates, and enhance customer experience.
Supply chain visibility software consulting
Analysis of needs for supply chain visibility.
Conceptualization of a supply chain visibility solution.
Solution architecture design and tech stack selection.
Solution implementation planning.
Business case creation, including cost estimation, time budget estimates.
Go for supply chain visibility consulting
Supply chain visibility software implementation
Analysis of needs for supply chain visibility and elicitation of solution requirements.
Conceptualization of the supply chain visibility solution.
Solution architecture design and tech stack selection.
Solution development and integration with required software (SMS, TMS, WMS, etc.).
Supply chain visibility software quality assurance.
After-launch support and evolution (if required).
Go for supply chain visibility implementation
About ScienceSoft

ScienceSoft is an IT consulting and software development company headquartered in McKinney, Texas. We provide advisory and development services to help companies maximize supply chain visibility. Being ISO 9001 and ISO 27001 certified, ScienceSoft relies on a mature quality management system and guarantees that cooperation with us does not pose any risks to our customers' data security. Feel free to contact us in case you need full-scale supply chain visibility software.

<![endif]--> <![endif]--> <![endif]-->