Editor's note: Get to know the best tools for vendor management optimization and contact us for vendor portal development services.
​​​​​Meet Kevin. Kevin is Director of Procurement for X Company. X Company is a long-run, experienced manufacturing business that has a well-developed network of vendors and procures everything from raw materials to facility maintenance services.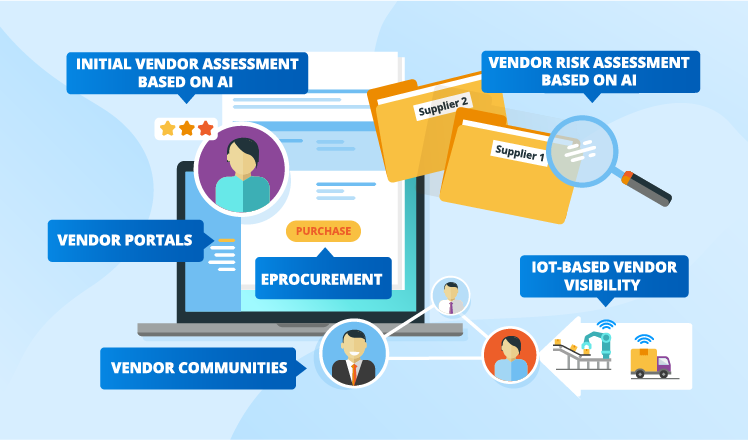 Being an engaged and responsible Director of Procurement, Kevin never stops looking for new sources of improvement in the procurement strategy and more productive vendor management. Among Kevin's constant concerns are:
The pain of looking for better terms of purchase.
Non-reliable supplies.
Complex and time-consuming vendor assessment.
Kevin reports to Annie. Annie is the company's Chief Operations Officer. Annie fully supports Kevin's initiative to try new approaches because the procurement department is where most of the company's money circulates, so its optimization is always desirable. Also being an experienced manager, she understands that vendor management optimization can bring value comparable to or even exceeding that from improvements in customer relationship management.
On top of increased procurement efficiency, Annie would also like to see the improvements in:
Supply chain compliance.

The company's reputation in the market.

Bidding process visibility.

Involvement of vendors in product/service innovation.
Fortunately, the tech world develops at an exponential rate and is always ready to offer businesses new tools with more and more sophisticated functionality, including optimized and enhanced vendor management. Let's take a look at some of the relatively new but increasingly popular and trusted tools that Kevin and Annie may consider for every stage of collaboration with their vendors.
What would Kevin like? – A possibility to get better terms of purchase, more reliable supplies, reduced vendor-related risks, being independent of any specific vendor.

What would Annie like? – Increased visibility of procurement processes.
Two common reasons that tend to prevent a company from expanding its vendor number are a tedious and time-consuming enrollment process of new suppliers and further complicated management of multiple relationships and contracts.
Vendor portals can help to tackle both of them at once:
An easy and clear self-registration

process eliminates the excessive efforts of the procurement staff required to gather all the needed data about a new supplier.

Carefully designed customizable application forms that answer the needs of the company operate as a convenient pre-qualification mechanism. For this purpose, you should introduce the most important criteria (needs, values) for your business there. They can be the ability to produce products under the business's name, the ability to ensure completely environmentally friendly production processes, the ability to ship goods in certain countries, etc. Such practice will allow you to engage only appropriate suppliers and not to waste your time on inherently wrong ones.

O

pen zones

available without registration and different-level accounts

contribute to the enlargement of your vendor community. They simplify the involvement of small and midsize businesses, giving them time to explore and try out the system without significant investments. While the communication with your long-time suppliers may go as far as to include the integration of their ERP with the portal, less expensive accounts with limited functionality may suffice to new smaller suppliers.
Also, once you organize all vendor-related data in one consolidated web-based vendor database of the portal and apply the portal's rich functionality (powerful search options, notifications, instant messages, etc.), the communications with your vendors become much quicker and vendor management a lot easier.
Try this online demo to better understand the process.
What would both Kevin and Annie like? – Quicker and more informed decisions about new suppliers.
AI-based technologies can open new opportunities for supply chain optimization leaving less room for guesswork in such an important activity as initial vendor assessment. Intelligent models of an AI-based tool can perform a laborious task of vendor assessment and generate insights from a huge volume of vendor-related data, including the experience with existing vendors, accessible info about potential vendors and more.
To create specific AI-based models (a combination of selected algorithms), data scientists, together with procurement people, define the most relevant and important vendor indicators for the company. These indicators can be of quantitative (the vendor's current income and time in the market) or non-quantitative (vendor's geospatial information, the recent situation in the vendor company, partners and holdings) nature. After this data gets appropriately encoded, the AI algorithms are applied to provide predictions regarding the future vendor performance.
As the success of AI-based tools depends greatly on the quality and volume of input data, they'd rather work together with the organization's other systems, such as a vendor portal, a procurement portal, ERP, etc., leveraging their valuable data. To deliver a more comprehensive analysis, AI-based technologies may also extract additional info turning to the media screening of potential suppliers, the analysis of the opinion of research companies and other independent resources, content analysis of social networks, etc.
The benefits of such comprehensive pre-qualification are quite significant. In doing so, AI techs allow for a quicker and easier choice among multiple vendors with seemingly identical offers as well as help to avoid a sometimes biased assessment performed by the procurement staff. Let's say you have finally narrowed down the bid answers to two potential vendors. On the surface, both look practically the same, except for prices – one of the companies offers a little lower one. Will you choose this one? Well, you're likely to. But an AI-based tool can timely reveal that the company has a lot of common traits with your existing problematic vendors. Thus, you have an opportunity to make a more informed decision and avoid late deliveries.
The analysis of vendors' geospatial information concerning the established logistics network allows you to reduce freight and related costs as well as improve supplier delivery performance and ensure more sustainable suppliers. Modern AI-based tools will not just use info on the distance between different locations but also evaluate custom duties, traffic congestion, environmental problems in the area, etc.
What would Kevin like? – A streamlined buying process.

What would Annie like? – Superior transparency and homogeneity of the procurement-related processes for logistics, marketing, inventory, financial department, and senior management.
eProcurement brings all purchasing activities into the fast and secure online environment and automates multiple aspects of the buying process, from order creation to payment activities. Electronic procurement has significantly advanced over time and offers rich functionality (such as complex approval processes, bid management) to simplify and enhance the buying process.
The eProcurement offers several ways to increase the productivity of procurement departments:
E-flow of documentation significantly reduces order processing time and facilitates order reconciliation, e.g., by encouraging the usage of standard forms, introducing versioning systems, etc.

The suggestions and opinions of all parties concerned are stored in one shared space (procurement, financial, marketing departments, internal end users, etc.)

An easy-to-follow interface and 'controlled' workflows allow for the involvement of in-company end users (non-procurements employees) to increase order accuracy and avoid the duplication of effort.
What would Kevin like? – Competitive environment, increased vendor performance.

What would Annie like? – Regular joint innovations, reduced time for a new product release, shared values (environmental and ethical concerns).
Online vendor communities usually emerge within a vendor portal. Triggers to such closer communication are Q&A sections, forums, shared file spaces (with R&D results, training materials sharing, etc.), instant messages, etc. Your vendor network becomes more transparent, and its participants become more accessible to each other and the customer-company, which is a good step to boosted communication with and among your vendors.
Creating online communities of your suppliers, you can help your vendors to show better results via sharing your valuable experience in various business areas. You can quickly provide access for your "A"-category vendors to learning and training materials, starting from best HR practices to quality assurance and manufacturing efficiency improvements, and monitor their progress with them.
The communities also simplify vendor involvement in R&D activities. The dedicated online environment for your cooperation allows sharing with suppliers your research plans and results from the very beginning and throughout the process (testing results, user feedback, etc.) as well as develop a mutual understanding of product quality and encourage vendors' valuable input and suggestions on quality and cost improvement.
In modern vendor communities, targeted data sharing is available, which means that you won't deliver extra info to the vendors not concerned while providing as much as needed to those directly involved.
What would Kevin like? – Delivery control, more accurate predictions.

What would Annie like? – Full control over the product/service quality, better production planning.
In some industries (like aerospace, food & beverage, medical products manufacturing), it may be vital to have exceptional visibility into a vendor's operations as the quality of your services/products, your timely supplies, etc., are in direct dependence on internal processes of suppliers. The IoT solutions can help manufacturers to introduce the required level of transparency. They imply the placement of IoT sensors and RFID tags across a vendor's facility (storage facilities, production lines, etc.) to get relevant and accurate info on their processes.
Let's take a pharmaceutical company as an example. When it comes to the quality of medicinal plants, a lot may depend on the timing of harvesting, purification, drying and storage conditions. This is exactly the reason why the chemical composition of the same type of raw material can differ. Time-to-time inspections of the vendor's production lines and inventory will hardly solve the issue. Here, IoT can come to help. Having the vendor's storage facilities equipped with sensors that track a wide range of variables (temperature, humidity, etc.), the pharmaceutical company can boost confidence in the quality of a final product.
Another IoT use is direct monitoring of your Tier 1 suppliers' stocks. It allows accurately planning the deliveries and coordinating your activities accordingly. For example, if you timely identify some delay in a vendor's warehouse replenishment, you can decide on the more effective usage of your production lines while waiting: enable manufacturing of other products, perform the full cleaning and maintenance of production machines (relevant for manufacturing companies) or temporarily increase prices to avoid potential shortfalls (for those in retail).
The full visibility of vendor processes also allows you to get an outside perspective on how a supplier works and timely offer improvements that will bring mutual benefits (e.g., new saving opportunities). However, it's worth noting that not every vendor will allow such a level of transparency and even if attained, not always such investments pay off (for example, when supplies are not intensive or the profit from sales is low).
What would Kevin and Annie like? – Sound assessment of the existing suppliers.
Here we again have recourse to specially created AI models and the usage of across-business data insights that allow the procurement department to get deep and highly valuable knowledge from seemingly low-value info regarding their vendors. The key to thorough vendor risk assessment with use of AI is transactional data collected in the course of your cooperation with vendors. The assessment can be based on data about previous deliveries (defect rates, timeliness, the accuracy of order fulfillment, consistency of product characteristics from batch to batch, etc.), surveys of stakeholders, KPIs analysis, inspection results, etc.
The finale
Annie and Kevin have recognized more opportunities in vendor portal implementation and IoT monitoring. So, this became their starting point. Now, the company experiences 17% improvement in buyers' productivity, have reduced excessive inventory by 33% as well as manages to avoid serious manufacturing process disruptions. Satisfied with the results, Annie and Kevin also consider the introduction of deep AI-based vendor assessment in the future. But before that, they need to make sure that their vendors are ready for the required level of openness in the relationships.
Watching the improvements in the procurement process, the vendors of X company also get tempted by the idea of starting SCM digitalization. However, with their specific needs, they hardly need it all at once. Thus, they take their time to assess the available tools and understand what can bring them the most value when digitalized. Surely, it is a reasonable move, as there's no need to rush headlong into the tech world – here, as in many others areas, less is more.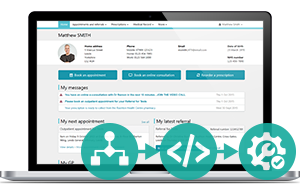 Need to deal with a challenge in software planning, development or maintenance? Leverage the qualified assistance of our specialists to get the results you aspire to.