Automated Ordering System to Streamline Sales Order Fulfillment
Automated Ordering System in Brief
An automated ordering system centralizes orders from all sales channels, streamlines order processing and routing, and tracks order fulfillment in real time. The system is widely used by businesses to decrease order fulfillment time and costs and avoid mistakes related to manual order handling.
Key Features of an Automated Ordering System
ScienceSoft creates automated ordering software with unique functionality closely bound to our clients' objectives. Here, we have summarized the features commonly requested by our customers:
How an Automated Ordering System Looks
Integrations for an Ordering System
ScienceSoft recommends integrating the automated ordering solution with relevant business-critical systems to streamline order aggregation from relevant sources and processing and maximize visibility of order fulfillment operations. Essential integrations include:
Sales channels (a company's website, marketplaces, offline stores, etc.) - to instantly consolidate orders and leverage automated order entry into the fulfillment system.
Payment service providers - to process customers' online payments securely.
ERP / Financial software - to generate invoices and ensure error-free financial reporting (e.g., monthly statements on sales revenue from fulfilled orders).
Warehouse management software (WMS) - to get visibility into inventory levels and accurately prepare ordered products for shipment.
Shipping carriers' systems (for businesses using outsourced shipping services) - to estimate shipping costs, choose the most cost-efficient delivery options offered by shipping carriers, and track order delivery.
Factors that Drive High ROI for an Automated Order Processing System
Employing over a decade of experience in creating supply chain management software, ScienceSoft's consultants have defined important factors that can bring maximum value from automated ordering software implementation.
| | |
| --- | --- |
| | System tailored to the specifics of order fulfillment processes (e.g., rules for routing orders to fulfillment locations, prioritizing deliveries, confirming return requests) to maximize order execution speed and accuracy. |
| | Real-time inventory visibility at all inventory locations to prevent stockouts and ensure efficient distribution of orders to fulfillment locations or suppliers. |
| | System scalability to support business growth (launch of new sales channels and fulfillment locations, customer base expansion, etc.) and high performance to withhold peak ordering times, e.g., during Black Friday or Christmas Sale. |
ScienceSoft's Business Analyst and Digital Supply Chain Consultant Serge Legchekov shares his experience:

To facilitate order fulfillment planning, I suggest our customers augmenting their automated ordering software with AI-driven prescriptive analytics. AI can provide intelligent recommendations on optimal fulfillment locations and delivery sequence with a view to a company's unique order execution workflows.
Ordering Automation: Success Stories by ScienceSoft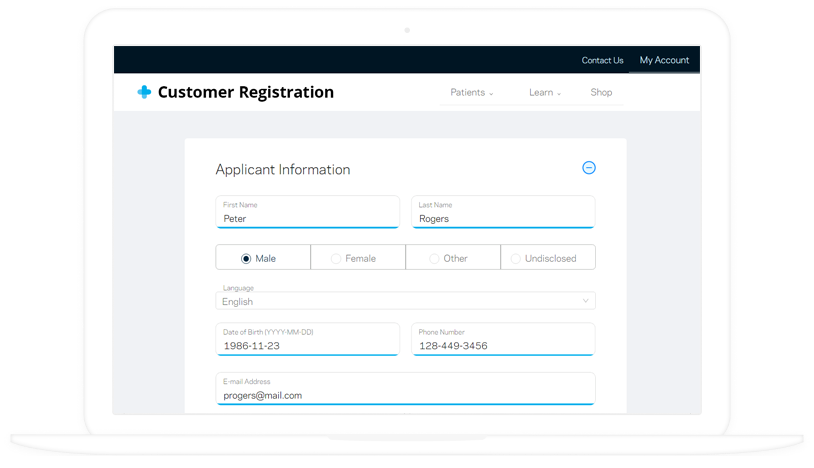 Order management automation for phytotherapeutic business
Designing and implementing a custom order management system that provides full visibility of customer orders and a real-time view into their fulfillment status.
OMS integration with the Customer's ecommerce solution for the automated aggregation of customer orders.
Customer's benefit: faster, more accurate and efficient order processing, minimized risk of order fulfillment delays.
Ways to Set Up Automated Ordering
| | Business automation software | Off-the-shelf ordering software | Custom order processing system |
| --- | --- | --- | --- |
| | Implementing all-in-one OOTB business automation software that comprises a digital ordering tool. | Implementing market-available ordering software, which typically enables automated order aggregation and processing and provides fulfillment control dashboards. | Building custom automated ordering software to get all necessary functional and non-functional capabilities and digitally transform your unique order management flows. |
| | Establishing a cohesive order management automation environment. | A fast and cost-effective way to leverage auto ordering. | Getting a solution fully tailored to your order processing and fulfillment needs. |
| | High subscription cost. Chances to obtain a large share of unnecessary functionality. | Pre-defined features, integrations, and processing flows. Inability to evolve the solution when needed. | Software design requires additional time and investments. |
Do You Need a Custom Ordering System?
Answer a few simple questions and find out whether you should opt for a custom-made order automation solution.
Do you need an ordering system with specific features, e.g., AI-powered demand forecasting, order triaging based on custom rules, or blockchain-based order recordkeeping?
Do you need a solution providing functionality that is usually a part of other software, e.g., CPQ ("configure, price, quote") features to automate price estimation for configurable products?
Do you need to integrate the ordering system with multiple back-office systems or legacy tools?
Do you need an ordering solution providing compliance with the local regulations in the regions your company operates?
Do you operate in a regulated industry (e.g., healthcare, public sector) and need a solution providing advanced order data security?
Do you need an ordering solution with various interfaces for different roles in the order management team?
Do you plan to evolve the solution with new functional and non-functional capabilities in order to adjust it to changing business requirements?
Do you have large teams involved in order fulfillment processes and look to avoid the software fees associated with the per-user subscription model?
Please tell us a bit more about your needs
Answer at least 3 questions to get results.
You can go with off-the-shelf ordering software
Looks like market-available order automation solutions are a viable option to meet your needs. Turn to ScienceSoft if you need help with choosing the optimal ready-made tools, their implementation, customization, or integration with your existing corporate systems.
You definitely should consider custom development
A tailor-made automated ordering solution will help you reap the unique benefits that market-available software cannot offer. Turn to ScienceSoft to get the detailed assessment of a custom ordering system's feasibility for your business situation.
Custom ordering software is your best choice
Looks like market-available order processing tools don't fit your specific requirements and won't be able to provide the expected operational and economic feasibility. Turn to ScienceSoft to get a consultation on custom ordering software development and receive cost and ROI estimates
Platforms We Recommend to Automate Order Processing
Magento Order Management
Description
Recognized among strong-performing order management software by Forrester. Companies leveraging Magento's ordering system are Brown-Forman Corporation, Rural King, Frankfurt Airport Shopping Mall.
Intuitive UI.
Support of diverse order fulfillment workflows, including in-store fulfillment.
BI-powered reporting on orders, shipments, returns, and payments.
Best for
Midsized and upper-midsized businesses looking for an easy-to-adopt ordering system.
Pricing
Request Magento Order Management implementation cost.
Note: The product is a part of the Magento Commerce platform offer.
IBM Sterling Order Management
Description
Recognized among leading order management software by Forrester. Renowned clients of IBM's OMS are Nike, CVS Health, Staples, Polo Ralph Lauren Corporation, and FleetPride, Inc.
A powerful rules engine for the solution's customization.
Support of the whole order life cycle, including after-sales and returns management.
Best for
Enterprise businesses.
Pricing
Available upon a request to a vendor.
Oracle NetSuite Order Management
Description
Recognized among strong-performing order management software by Forrester. Among companies using NetSuite OMS are Jimmy Jazz, Guthy-Renker, Lovesac.
Support of custom system triggers to create scenarios for automated order fulfillment, specific to a particular business (can be done directly via UI).
Basic reporting capabilities (advanced reporting is available within a separate analytics solution).
Best for
Midsized businesses without complex fulfillment scenarios.
Pricing
Available upon a request to a vendor. Note: The product is available within the NetSuite platform license.
Development Costs and Financial Outcomes of the Automated Order Fulfillment System
From ScienceSoft's experience, the cost of developing a custom ordering system is from $200,000 to $400,000, with cost factors including the scope of functional modules, complexity of data migration procedures, the number and complexity of integrations.
Key advantages of the automated ordering system
Decreased order fulfillment costs.
Optimized order delivery timing and costs.
Reduced human errors (e.g., missed or misplaced orders).
Payback for an ordering system can be expected within 3 months.
Implement Order Processing Automation with Professionals
Having 34 years of experience in software development, ScienceSoft offers consulting and development services to build powerful automated ordering systems.
Ordering system consulting
Our consultants:
Analyze your order fulfillment workflows and define optimal functionality to enable automated order management.
Help decide between a platform-based and a custom ordering system, taking into account mid-term and long-term benefits of both.
For a custom solution: design a secure and scalable software architecture.
Prepare an integration roadmap (with sales channels, ERP, PIM, etc.).
For a custom solution: prepare UX and UI software prototypes (optional).
Estimate implementation costs, timelines, and expected ROI.
Go for consulting
Ordering system development
Our development team:
Elicits implementation requirements for an ordering system.
For a custom solution: designs a secure and scalable software architecture.
For a custom solution: develops the front end and the back end of an ordering system.
For a platform-based solution: configures and customizes software.
Integrates an ordering system with other systems (online and offline sales channels, ERP, PIM, etc.).
Covers end-to-end quality assurance of the system.
Provides post-launch support and software evolution (if required).
Go for development
About ScienceSoft

ScienceSoft is a global IT consulting and software development company headquartered in McKinney, Texas. We provide consulting and development services for businesses to implement ordering systems that automate order fulfillment processes end-to-end and help meet the unique requirements of their B2C or B2B clients. Being ISO 9001 and ISO 27001 certified, we rely on a mature quality management system and guarantee your data security. Check out our software development offer for more details.

<![endif]--> <![endif]--> <![endif]-->