Automated Accounting System: Features, Integrations, Benefits, Pros of Custom Software
Having 15-year experience in building financial software and practical knowledge of 30+ industries, ScienceSoft offers software development services to help businesses implement effective accounting automation solutions.
Automated Accounting Software in a Nutshell
Automated accounting software helps eliminate manual accountants' tasks even across complex multi-entity bookkeeping, invoicing, payables, receivables, and expense management. Such solutions support multi-location inventory accounting, financial data consolidation and reconciliation, country-specific financial reporting, and more.
An automated accounting system integrates with CRM, HRMS, inventory management software, asset management software, a financial planning and analysis solution, etc.
The implementation of custom automated accounting software may take 10+ months. The costs for building the automated accounting system start from $200,000 and may grow above $500,000 depending on the solution complexity. Custom automated accounting software may bring up to 290% annual ROI.
Automated Accounting Software: Key Features
ScienceSoft have summarized fundamental automated accounting software features based on our experience with accounting software projects.
Automated creation, updating and approval of journal entries in the general ledger and subledgers on external and intercompany financial transactions, including multi-currency transactions.
Customizable journal entry templates for various ledgers.
Scheduled recurring and reversing journal entries.
Automated attachment of source documents (invoices, receipts, cheques, payroll reports, leases, etc.) to each journal entry.
Automated consolidation of financial transactions across multiple intercompany ledgers and recording them in GL.
Rule-based GL coding and transaction classification by category (asset, liability, equity, revenue, expenses, etc.)
Automated calculation of GL balances.
Rule-based re-allocation of the accumulated account balances to the branch/subsidiary account balances.
Template-based invoice generation, including recurring invoices.
Calculation and application of taxes, discounts (including those on early payments), additional charges (e.g., interest on late payments, insurance, carriage), and billable expenses.
Automated workflow for multi-department invoice approval.
Scheduled invoice sending to customers.
Accounts receivable (A/R) automation
Automated calculation of the received, due and overdue amounts, DSO, A/R turnover ratio, and more.
Automated payment collection via various payment methods, including bank transfers, wire transfers, ACH, credit cards, cheques, or by direct debit.
Automated allocation of received payments to customer invoices.
Scheduled collection notifications on due payments to customers (via email, messaging apps).
Accounts payable (A/P) automation
Automated calculation of the amounts paid, partially paid, owed, DPO, A/P turnover ratio, etc.
Automated capture, extraction, and validation of purchase invoice data against the corresponding purchase order data.
Scheduled payments (to suppliers, vendors, governmental entities, etc.) via a pre-defined payment method.
Multi-department payment approval.
Notifications on payment dates.
Expense accounting automation
Automated capture, extraction, and validation of data provided in receipts on business-related employee expenses (travel, transport, telecoms, etc.).
Multi-department expense approval.
Automated generation of expense reports.
Automated calculation of reimbursement amounts per each employee.
Automated recording of data on reimbursable employee expenses in the expense ledger and the general ledger.
Scheduled payments of employee reimbursement.
Fixed asset accounting automation
Calculating, recording and tracking:
Original and capitalized value of fixed assets, including those in multiple locations, regions.
Fixed asset depreciation based on various calculation methods (straight line method, double declining balance method, units of production method, sum-of-the-years' digits method, etc.), or user-defined depreciation schedules.
An asset's tax basis.
Inventory accounting automation
Automated creation of inventory records based on purchase orders.
Recording and tracking inventory values of inventory items:

Across multiple domestic locations, regions, intercompany entities.
Across various stages of development and production, such as raw materials, in-progress goods, and finished goods.
Calculating employee salaries, overtime, bonuses, commissions, deductions, etc.
Recording and tracking the calculated payroll amounts in the payroll ledger and the general ledger.
Scheduled payments to employees.
Tax management automation
Calculating VAT, sales, use, withholding, income, and other taxes based on the tax rates in regions a company operates.
Recording and tracking data on the calculated tax amounts in the tax ledger and the general ledger.
Automated tax filing under region-specific regulations.
Scheduled tax payment.
Automated reconciliation of financial data in bank statements with GL, A/P and A/R records.
Automated removal of duplicate transaction records.
Defining the outstanding transactions.
Notifications to accountants on reconciliation discrepancies.
Automated intercompany reconciliation.
Scheduled financial reports (monthly, quarterly, yearly, etc.) by region, entity, or consolidated reports, including income statement, balance sheet, cash flow statement, tax summary, and more.
Compliance with GAAP (specifically ASC 606 and IFRS 15), SOC1 and SOC2, SOX, GDPR (for the EU), ZATCA regulations (for Saudi Arabia), industry-specific regulations.
Key Integrations for the Automated Accounting System
ScienceSoft recommends integrating automated accounting software with relevant corporate solutions to eliminate double data entry across disparate systems and ensure accurate recording and reporting of financial data. Key integrations include:
CRM - for the automated input of accurate customer data, payment terms, price and quantity of ordered goods when generating invoices.
Treasury software - for the automated creation of entries on financial transactions across operating, investment, financing activities in the general ledger and subledgers.
HR management software - for accurate payroll calculation.
Procurement system - for the automated purchase order recording in the A/P ledger.
Inventory management software - for accurate recording of inventory values on inventory purchasing and utilization.
Asset management software - for accurate calculation of the fixed asset depreciation.
Financial planning and analysis software - for accurate financial performance analysis, financial planning, budgeting, and forecasting.
Bank accounts - for faster reconciliation.
BI solution - for facilitated accounting analytics and reporting.
| | |
| --- | --- |
| | Maximized automation of routine, rule-based processes. To eliminate low-value manual accounting tasks, e.g., journal entry, invoice and report generation, payroll and depreciation calculation, GL coding, tax filing, financial data reconciliation, etc. |
| | Proper user training. To help accountants quickly learn how to apply automation to streamline their daily tasks. |
Accounting Automation: Success Stories by ScienceSoft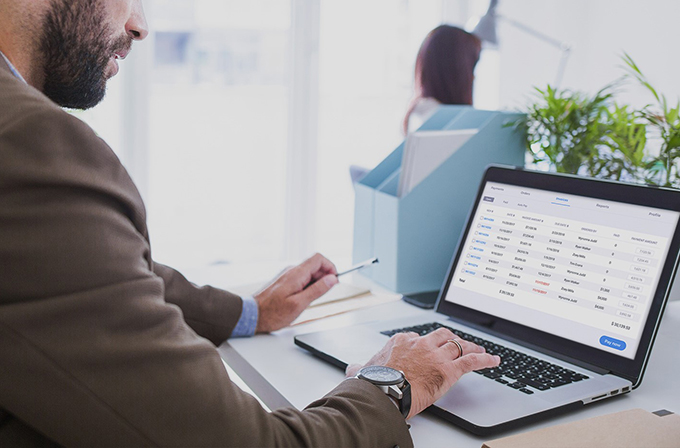 Custom Billing Software for a Leading European Marketplace
Functionality for automated invoicing, bookkeeping, financial reporting, etc.
Integrating the solution into the Customer's online marketplace.
Flexibility to evolve the billing platform with new features.
Automated system scaling from using 2 to > 50 app servers depending on the load.
Customer's benefit: Faster payment processing, streamlined accounting and debt collection.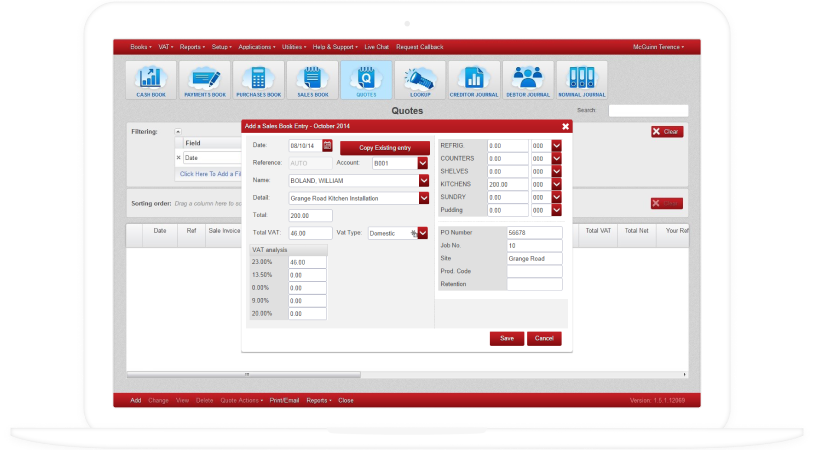 Accounting Software Migration to the Cloud
Re-designing the architecture of a legacy accounting solution into a modular web-based multi-tier architecture.
Developing additional features, such as e-payments, automated tax calculation, and more.
Re-designing the billing module to enable making payments via the customer portal.
Customer's benefit: facilitated system maintenance, reduced cost of data storage, higher product value for end users.
Automated Accounting Software Implementation Costs and Financial Outcomes
The cost of automated accounting software implementation varies greatly depending on:
The number and complexity of a solution's functional modules, including the amount of automation (implementation of RPA and AI-powered features).
The volume of data that needs to be migrated from the spreadsheets and/or existing accounting software.
The number and complexity of integrations (with CRM, asset management software, inventory management system, BI solution, etc.).
From ScienceSoft's practice, a custom automated accounting solution of average complexity requires $200,000 - $400,000 in investments. Annual ROI for custom automated accounting software may reach up to 290%.
Benefits of automation in accounting
time saved due to the elimination of manual accounting tasks
improvement in financial data accuracy due to eliminated manual errors
reduction in average processing time per financial transaction
reduction in time to process invoices
faster financial close
reduction in DSO due to automated A/R collections
approval of journal entries, payments, and financial documents due to automated multi-department approval workflow
tax compliance due to automated tax calculation and filing
Off-the-Shelf Accounting Automation Software ScienceSoft Recommends
Oracle NetSuite Cloud Accounting
Description
Rating: Key player on the global market for accounting software (as per Accounting Software market report).
Key strengths:
Automated consolidation of financial data across multiple company branches and subsidiaries for multi-entity accounting.
Multidimensional financial analysis and reporting (by subsidiary, region, product, etc.).
OOTB localized financial reports.
Custom item taxability rules, e.g., to easily accommodate tax reductions or exemptions for specific products.
Native integration with other Oracle NetSuite apps, including Financials, Analytics, and Order Management.
Cautions:
Costly and complex customization to cover business-specific accounting needs. Multi-entity accounting requires an add-on module.
Features:
Customizable GL account types and reporting segments (e.g., region, product line, profit center).
Automated financial transaction reconciliation.
Automated approval workflows for journal entries, invoices, payments, etc.
Automated transaction currency conversions based on the up-to-date exchange rates.
Automated invoicing, including consolidated invoicing.
Automated payment collection via various payment methods, including credit card, cheque, bank transfer, electronic funds transfer (EFT), and more.
Customizable customer notifications on payment collection.
Calculating fixed asset depreciation based on standard or custom methods and schedules.
Calculations and scheduled payments on lease liabilities.
Compliance with ASC 606, GAAP, SOX, and more.
Best for
Large enterprises that need to manage complex international accounting processes.
Pricing
From $999/month (license cost for a base module) to $6,998/month (license cost for a base module and an add-on module for multi-entity accounting) + access cost for each additional user of $99 user/month.
Microsoft Dynamics 365 Finance
Description
Rating: Key player on the global market for accounting software (as per Accounting Software market report).
Key strengths:
Configurable chart of accounts that automatically summarizes GL transactions of multiple subsidiary entities, including those with different fiscal years and currencies.
Automated centralized creation of journal entries across business entities.
ML-powered short-term cash flow forecasts and predictions on expected payment dates on receivables.
Regulatory compliance covering tax, reporting, audit, and payment format requirements of 43 countries and regions and various industries, including healthcare, manufacturing, banking and finance, and public services.
Native integration with Dynamics 365 Supply Chain Management for company-wide inventory accounting and Power BI for advanced visualization of financial analytics.
Cautions:
Substantial customization efforts to meet unique accounting needs.
Features:
Automated invoicing, including recurring, retainer, project invoicing.
Automated workflows for invoice and payment approval.
Automated payment collection via various payment methods, including bills of exchange, cheques, credit cards, EFT, and more.
Automated bank reconciliation.
Automated supplier payment proposals.
Automated matching of purchase invoices to purchase orders and product receipts.
Automated reimbursement of employee expenses.
Automated conversions of transaction currency.
Automated foreign currency revaluation for open A/R and A/P transactions.
Automated calculation of depreciation and current value of fixed assets.
Automated processing of the asset lease transactions.
Configurable templates for invoices and financial reports.
Best for
Mid-size and large businesses that operate in multiple currencies or need to manage multiple domestic and global entities.
Pricing
$180 user/month ($30 user/month for the individuals already licensed for any other Dynamics 365 app).
| | |
| --- | --- |
| | Off-the-shelf automated accounting software requires costly and time-consuming integration with your business-critical systems (CRM, HRMS, asset management, financial planning & analysis, etc.). |
| | You need a flexible automated accounting system that is easy to evolve with trending accounting industry technologies when required, e.g., comprehensive AI-powered analytics or accounting for crypto-assets can be added. |
| | You need an accounting solution providing automation of business-specific accounting tasks, e.g., calculating payroll or the fair value of assets and liabilities based on custom formulas, creating A/P payment and A/R collection queues based on specific priority rules, or generating financial reports in compliance with specific local financial regulations. |
Automated accounting software consulting
Analysis of accounting automation needs.
Assessment of the existing accounting processes, tools and their integration points.
Suggesting optimal accounting automation features and solution architecture and tech stack.
Preparing an integration plan (with CRM, inventory management solution, financial planning & analysis system, treasury software, etc.).
Implementation cost & time estimates, expected ROI calculation.
GO FOR CONSULTING
Automated accounting software implementation
Accounting automation needs analysis.
Automated accounting solution conceptualization.
Automated accounting solution architecture design.
Accounting automation software development.
Integrating the solution with the relevant systems (CRM, inventory management solution, financial planning & analysis system, treasury software, etc.).
Quality assurance.
User training.
Continuous support and evolution (if required).
GO FOR IMPLEMENTATION
What our Customers say
We cooperated with ScienceSoft on the evolution of our Azure-based product for accounts payable management. ScienceSoft was to cover end-to-end development of an intelligent paperless invoice processing module for the product.

The new software module performs stably even under heavy load, which helps provide a high-quality user experience for our customers. ScienceSoft proved to be a reliable tech partner, and we can recommend other businesses to consider ScienceSoft as a software development vendor.
Wadih Pazos, Chief Operating Officer, Paramount WorkPlace
The invoicing system created by ScienceSoft automates data integration from different sources, invoice generation, and provides visibility into the invoicing process. We have already engaged ScienceSoft in supporting the solution and would definitely consider ScienceSoft as an IT vendor in the future.
Heather Owen Nigl, Chief Financial Officer, Alta Resources
About ScienceSoft

ScienceSoft is an international IT consulting and software development company headquartered in McKinney, Texas. We provide consultancy and development services to help businesses build effective automated accounting software. Being ISO 9001 and ISO 27001 certified, we apply a mature quality management system and guarantee that cooperation with us does not pose any risks to our customers' data security. If you are interested in getting an automated accounting solution, feel free to turn to ScienceSoft's team.

<![endif]--> <![endif]--> <![endif]-->