Editor's note: Searching the right app for Sales Cloud may turn out to be a bother. To make the task easier for you, ScienceSoft's Salesforce team made a list of top 3 Salesforce Sales Cloud apps on AppExchange. And in case you don't find what you need on this list or on AppExchange, our Salesforce app developers will gladly develop a high-quality custom app for you.
Despite the fact that Salesforce Sales Cloud is a powerful platform for managing the sales process within an organization, its standard functionality cannot satisfy all possible customer needs. Therefore, there is a large number of add-ons for Sales Cloud made by Salesforce itself, as well as by third-party Salesforce vendors. To keep you abreast of Sales Cloud app trends, ScienceSoft's team has picked top 3 third-party applications for Sales Cloud based on our customers' experience.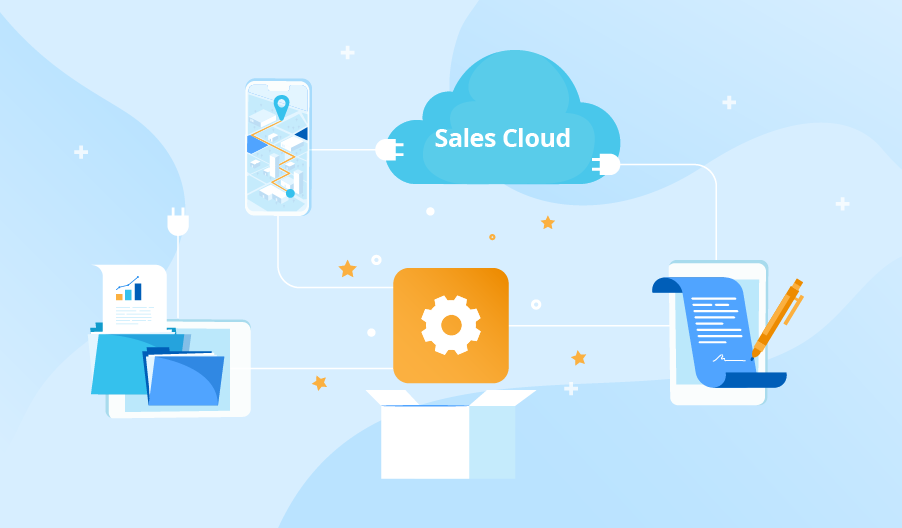 Designed by Nintex in 2007, this application allows generating documents of all types in Word, Excel, PDF and PowerPoint right inside Sales Cloud. The app simplifies the working process for sales reps, as they can create documents (for example, proposals, certificates, etc.) without any tool-switching, copy-pasting and related human errors involved. It saves plenty of time that they can spend on lead nurturing, handling objections, etc. Besides, users point out the high-quality customer service of DocGen.
Nintex Drawloop DocGen costs start at $20/user/month (paid annually). The minimum number of users is ten, so a minimum purchase makes up $2,400 a year. A free trial period lasts for 30 days, plus there are discounts for nonprofit organizations.
The application works with Professional, Enterprise and Unlimited editions of Salesforce Sales Cloud.
Developed by Salesforce Maps in 2011, Salesforce Maps visualize accounts and related data on a map. It allows sales reps to create schedules and routes for field sales and roadshows that help see more accounts on the way in less time. The app provides a possibility to prioritize onsite visits based on the accounts' value to drive the overall sales productivity.
Salesforce Maps costs at least $75/user/month (paid annually), offers discounts for nonprofit organizations and works with Sales Cloud Professional, Enterprise and Unlimited.
| | | |
| --- | --- | --- |
| 4,600 reviews | 4.6 average rating | 66% five-star reviews |
Released by DocuSign, Inc. in 2010, Salesforce DocuSign provides an eSignature service that allows sending agreements to customers through a variety of channels and getting them signed on every device possible without any printing and scanning involved. Streamlining document-signing processes, the app saves sales reps and customers' time. More than 500,000 companies enjoy DocuSign, which makes this app a leader among all the Salesforce applications and in the eSignature market.
Eligible for use with Sales Cloud Professional, Enterprise and Unlimited, DocuSign costs $12/user/month minimum (paid annually). The minimum number of users is 10, so $1,440 is a minimum purchase. A free 30-day trial period and discounts for nonprofit organizations are available.
Is the practice of add-ons common for CRM platforms?
Yes, it is! Microsoft Dynamics 365, one of the market-leading CRM platforms, also has an extensive marketplace of additional ready-to-use apps that help build extra functionality and set up needed integrations. Quick search shows 1,000+ add-ons for Microsoft Dynamics 365 Sales.
What if you need something special?
Checking the app's functionality isn't enough: you have to ensure the version of the app is still compatible with the latest version of Salesforce and is customizable enough to fully reflect your requirements. If the functionality of existing AppExchange applications cannot satisfy your needs or if the "$X/user/month" payment scheme is not an option for you, you can opt for a custom app or store-bought apps customized by ScienceSoft. ScienceSoft's Salesforce team can also design an app for placing on AppExchange, which can become a source of permanent income for your company.
Get Your Special Sales Cloud App
A Salesforce partner with 11 years of experience, we can provide a custom Salesforce app for your internal use or listing it on AppExchange.