<![endif]-->
<![endif]-->
LMS Consulting To Make the Learning Process a Success
LMS consulting services are aimed to ensure successful implementation of a new learning management system or enhancement of a current LMS to help you improve learning experience and engagement, increase user adoption and reduce learning costs.
ScienceSoft has been helping customers fulfil these LMS objectives since 2015. We offer LMS consultancy to streamline LMS implementation and maximize its ROI and user adoption via an optimal value/cost ratio and a balanced feature set that caters to diverse learning needs.
Learning content management
Support of diverse content types (text, images, video, audio).
Authoring content using built-in or third-party tools.
Embedding content from external sites.
Advanced search and course catalog.
Automatic translation and localization.
Speech recognition for training communication skills, soft skills, and more.
Online learning:

Asynchronous (self-paced learning).
Synchronous (real-time learning).

Blended learning (online learning and classroom learning combined).
Instructor-led learning.
Self-learning.
VR- and AR-enabled training.
AI-driven course recommendations.
Assigning and enrolling learners to training.
Scheduling training sessions.
Tracking training activities.
Alerts and notifications.
Personalized learning paths.
Chatbots and virtual assistants.
Learning assessment and feedback
Tests and quizzes.
Polls and surveys.
Certification management.
Analytics and reporting.
Skill gap tracking and analysis.
Integration with social media.
Forums and discussion boards.
Learning content ranking and commenting.
Peer feedback.
Mini-games simulating real-life scenarios.
Storytelling.
Interactive videos.
Leaderboards.
Reward points.
Badges.
Auditable compliance reports.
Diagnostic tools to identify compliance gaps.
Support of technical standards like SCORM 1.2, SCORM 2004, AICC, Experience API (xAPI), LTI.
Support of industry-specific compliance regulations (e.g., HIPAA, GDPR) by eLearning software.
Microtraining (bite-sized learning).
Synchronization with the LMS back end.
Online and offline learning.
ERP.
CRM.
HR information systems.
Talent management systems.
Learning experience platforms.
Document management systems.
Content management systems.
Knowledge management systems.
Intranets, portals, and other collaboration tools.
Video conferencing software.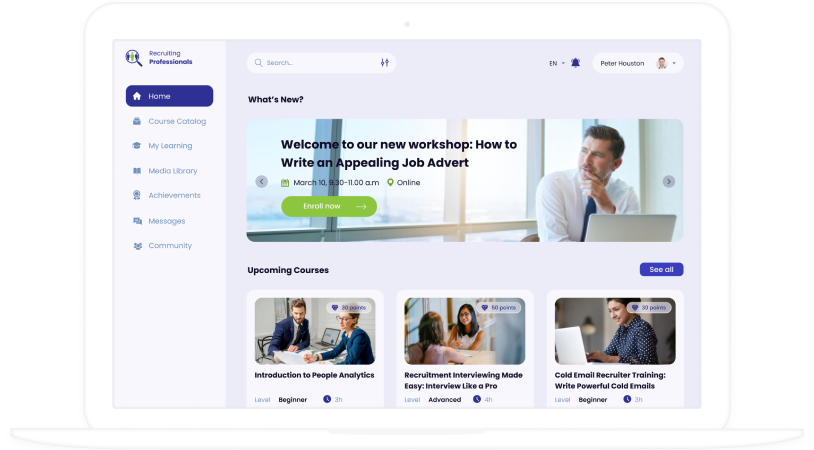 Learning Management System Demo
See how a learning management system can facilitate eLearning processes from course enrollment to learners' knowledge assessment.
32 years in software development.
32 years in data analytics and AI.
8 years in big data.
6 years in eLearning software development.
Implementing IT solutions for eLearning since 2015.
8 Gold Microsoft Competencies

Expertise in 30 industries, including healthcare, manufacturing, oil and gas, banking, retail, professional services.
25+ business analysts with 5-9 years of experience.
AWS Select Tier partnership.
We cooperate with customers to define target LMS KPIs (e.g., software TCO, project duration, user adoption rate, learner satisfaction) and build our consulting services around these targets.
Minimized financial risks
We develop a business case with a comparison of ROI and TCO of various LMS implementation options like custom and ready-made LMS. Thus, we help you make an informed decision about the most cost-effective option.
Minimized implementation risks
We offer you consultancy at each stage of an LMS implementation project to ensure your implementation will be a success.
TECHNOLOGIES WE APPLY
Back end
Click on the technology to learn about our capabilities in it.
Platform expertise
LMS implementation consulting
Providing a digital learning strategy.
Defining LMS tech requirements.
Creating a business case with costs, business outcomes, KPIs, ROI or NPV.
Choosing a ready-made or a custom LMS.
Elaborating on a project plan and a user adoption strategy.
Delivering LMS training.
Advising on a platform for LMS migration, including cloud LMS migration.
Creating a business case with costs, business outcomes, KPIs, ROI or NPV.
Creating a migration plan without disrupting business processes.
Adapting learning processes to the new digital environment.
Suggesting new features, modules or advanced technologies (e.g., AI, big data, VR, AR) for your LMS.
Creating a revamp plan.
Building UX and UI redesign mockups.
Adapting learning processes to the new functionality.
Providing LMS training.
WHY YOU SHOULD GO FOR LMS CONSULTING RIGHT NOW
Professional LMS consulting can help you safeguard your LMS implementation from failure, improve efficiency and user adoption of your current LMS solution, and leverage the following benefits:

LMS implementation costs due to elaborated implementation strategy and design.

Training time as compared to traditional training.

Learning costs due to saving money on travel, materials, equipment, dedicated staff and trainers.

Learner engagement due to interactive and immersive learning.

<![endif]--> <![endif]--> <![endif]-->