Relying on our experience in Salesforce implementation services, ScienceSoft answers the most popular questions of those interested in Salesforce without going into deep technical details. We tell about the goals this CRM helps achieve, the industries it serves, explain how its key features work and why Salesforce CRM is appreciated by so many customers worldwide.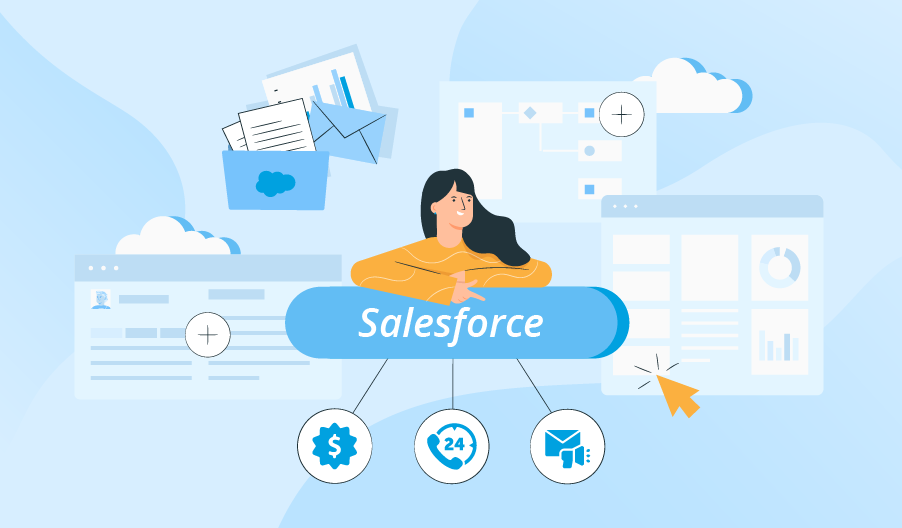 General facts about Salesforce
What is Salesforce?
Salesforce is Software-as-a-Service (SaaS) CRM created by Salesforce.com, Inc. (usually abbreviated as SFDC for Salesforce dot com), a cloud computing company.
What is Salesforce used for?
Salesforce is used for customer relationship management in sales, marketing and customer service. The list of core Salesforce products includes:
Sales Cloud – software allowing sales process automation, design and management; contact, lead, and opportunity management; sales reporting and forecasting.
Service Cloud – software allowing automation and management of omnichannel customer service, case management, field service management, and customer service analytics.
Marketing Cloud – software allowing automation and management of marketing campaigns, customer segmentation, social media advertising and creation of customer communication scenarios.
There are also industry-specific products, like Health Cloud, Financial Services Cloud, Government Cloud, Nonprofit Cloud, etc. which cover the business needs and business process peculiarities of the organizations operating in these domains.
Is there Salesforce ERP?
There is no proprietary Salesforce ERP on the market. However, there's a number of cloud-based ERPs built by third-party vendors on the Salesforce Cloud Platform (like FinancialForce and Rootstock). These ERPs can be integrated for free, or, to be more precise, the integration cost is included in the total cost of the ERP software you're purchasing.
Salesforce costs
How much does Salesforce CRM cost?
A Salesforce solution may consist of one or several Salesforce products, and its cost will depend on the editions of these products and the number of user licenses purchased.
Find out more in the article Salesforce Pricing: How Much May Salesforce Implementation Cost.
Is there a free version of Salesforce?
Salesforce doesn't offer a free CRM version, there's only a free trial period of 30 days for Sales Cloud and Service Cloud. If you're looking for free CRM, consider popular Salesforce alternatives that have free versions (like Zoho, HubSpot CRM, etc.).
Is Salesforce free for nonprofits?
No, special Salesforce Nonprofit Success Pack (NPSP) isn't free. Among the two available editions, the Lightning Enterprise edition costs $36 user/month and the Unlimited edition costs $72 user/month. However, non-profit organizations eligible to take part in The Power of Us Program by Salesforce can receive 10 free user licenses of the Lightning Enterprise edition of NPSP and get deep discounts on additional licenses.
Can you pay for Salesforce monthly?
All Salesforce products sold on a per-user basis require the contract with annual billing. If the billing frequency is an issue, you can raise it with your Salesforce account executive and discuss possible billing options.
Salesforce benefits
Why use Salesforce?
Below, we outline the benefits of the key Salesforce products: Sales, Marketing and Service Clouds.
According to Salesforce Customer Success Metrics Survey, the benefits of using Sales Cloud are:
38%

increase in forecast accuracy

38%

increase in sales productivity

32%

increase in the lead conversion rate

28%

increase in sales revenue

26%

increase in the opportunity win rate
According to Salesforce Relationship Survey, the benefits of using Marketing Cloud are:
27%

increase in the lead volume

30%

increase in lead conversion

25%

increase in marketing ROI
According to Salesforce Relationship Survey, the benefits of using Service Cloud are:
45%

increase in customer retention

47%

increase in agent productivity

31%

increase in the speed of case resolution
Is Salesforce the best CRM?
Salesforce is one of the leading CRMs on the market. In 2019, Gartner has named Salesforce leader in its Magic Quadrant for Sales Force Automation for the 13th consecutive year, and in the Magic Quadrant For CRM Customer Engagement Center – for the 11th year in a row.
Why is Salesforce so good?
When compared with its main competitors, it becomes clear that Salesforce is generally valued for its rich default functionality, high customizability and ample integration capabilities.
Besides, Salesforce customers claim to appreciate this CRM for:
A large variety of products and add-ons for sales, customer service and marketing needs for companies of all sizes and domains.
The availability of additional software from Salesforce and third-party software vendors (there're over 5,000 applications on Salesforce AppExchange).
Extensive customer support and self-service capabilities (a wide range of online resources, like Trailhead and product documentation for user training).
Salesforce customers
What companies use Salesforce?
Salesforce has proven to be useful for any industry, be it professional services, IT, manufacturing, retail, healthcare, or banking and finance. Among renowned Salesforce clients are Adidas, AWS, Schneider Electric, Canon, Philips, T-Mobile, Toyota, Marriott and others.
How many customers does Salesforce have?
More than 150,000 companies worldwide use Salesforce to manage their customer relationships, increase sales revenue and spur employee productivity.
Technology aspects
How does Salesforce CRM work?
Salesforce CRM gathers comprehensive customer information and tracks interaction with each customer. Besides, Salesforce CRM has a number of features that streamline the internal business processes of the organization with the help of automated email notifications, task assignments, field updates.
A list of key Salesforce CRM features includes:
A 360-degree customer profile – functionality that aggregates comprehensive customer information, including the info from the account (e.g., company name, industry, size) and contact (e.g., a contact person's name, job title, phone, email) objects.
Sales automation – features like workflow rules, approvals and the Process Builder allow no-code automation of sales-related processes.
Marketing automation – the mass email feature allows creating targeted emails and track what contacts received them. The campaign management feature helps segment customers, deliver personalized messages to them, manage marketing campaigns across all channels and track their results.
Customer service automation – the omnichannel feature brings the cases from multiple customer communication channels (e.g., web, email, phone, social media, etc.) under one roof and routes them to designated agents. The case management feature automates the whole lifecycle of a case, from creation to closure. The knowledge base helps customer service agents find the needed answers and help to address customers' issues faster.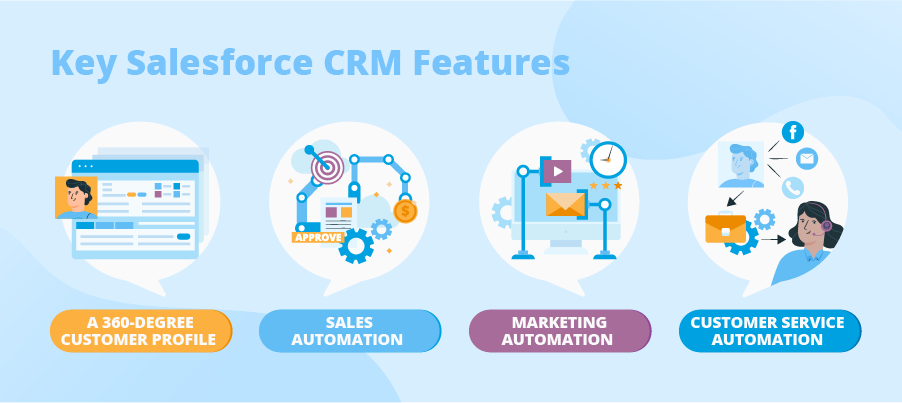 You can watch demos to get a full picture of how a 360-degreee customer profile, lead, opportunity and email marketing campaign management in Salesforce work.
What coding language does Salesforce use?
Apex code, a strongly typed, object-oriented programming language with Java-like syntax is used for Salesforce development. With Apex, developers can automate many internal business processes, like expected revenue and discount calculation, and enable automated field updates, email notifications and task assignments.
What database does Salesforce use?
Salesforce runs on the Oracle database.
Is there a good alternative to Salesforce?
Similarly to Salesforce, Dynamics 365 offers a comprehensive set of work tools, has paid add-ons and flexible pricing plans. Dynamics 365 Sales and Customer Service subscriptions are cheaper than Salesforce subscriptions, especially if you already use some other Dynamics 365 products. Also, Dynamics 365 is a more suitable option if you need an on-premise deployment since Salesforce offers only cloud-based products. If you are interested in other Dynamics 365 capabilities, you are welcome to check our Dynamics 365 consulting offer.
Still have questions?
Our overview may help you form a general understanding of Salesforce. Turn to ScienceSoft's Salesforce consultants to solve any particular issue with this CRM, be it choosing a Salesforce edition or automating business processes.
Do you need to get an expert opinion on your Salesforce solution? Our consultants will analyze your current Salesforce capabilities and offer an optimal solution to meet your business needs.