Editor's note: We share three projects where Salesforce was used for different business goals. Go for CRM consulting with ScienceSoft to know how YOUR company can benefit from a CRM system.
Whatever your business is, be it a manufacturing company or a service company, Salesforce has a solution to address your sales, marketing, and service needs with its rich functionality. With our experience in Salesforce consulting, we can bring some insights on certain implementation cases for enterprises in different domains with a view on the required level of customization.
Let's see how Salesforce helps to build better relations with your customers, convert these relations into larger sales, and facilitate the work of sales and customer service teams, taking my colleagues' projects as examples.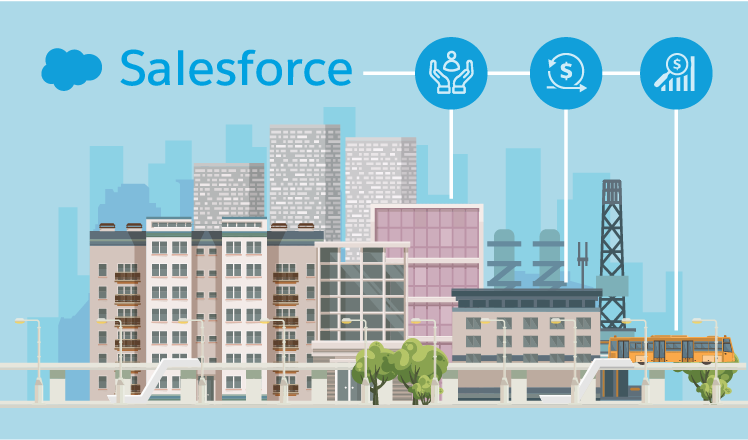 1. Salesforce as a tool to analyze business data
A large-scale US enterprise engaged in the production and sale of trucks, buses, and construction equipment with an extensive network of retailers needed a tool to analyze data coming in from the retailers and produce reports on future sales opportunities. My colleagues thought that Salesforce Sales Cloud enhanced by Einstein AI would be quite the thing.
Sales Cloud Einstein is responsible for analytics and provides solid grounds for shrewd sales-related decisions with elaborate predictions. To forecast the winning opportunities, Einstein analyzes a sales rep's past opportunities and creates a predictive model. The criteria used in the analysis include the opportunity's and related account's record details, history, and related activities. With the help of follow-up reminders, a sales rep won't lose touch with an important opportunity, as a notification will come when a key moment of the deal occurs. Thus, efficient data analytics paves the way for smarter decisions sales reps take.
The Einstein Account Insights feature analyzes thousands of US-based news sources, picking out the news related to the sales rep's accounts, for instance, when the account is changing its company leadership or is involved in merger and acquisition talks. The selected information shows right on the home page as well as on account records in the form of brief notifications. This feature helps to keep sales reps informed about the most important events and changes relevant to their accounts and assists the enterprise in adjusting its proposals to the customer's changing needs.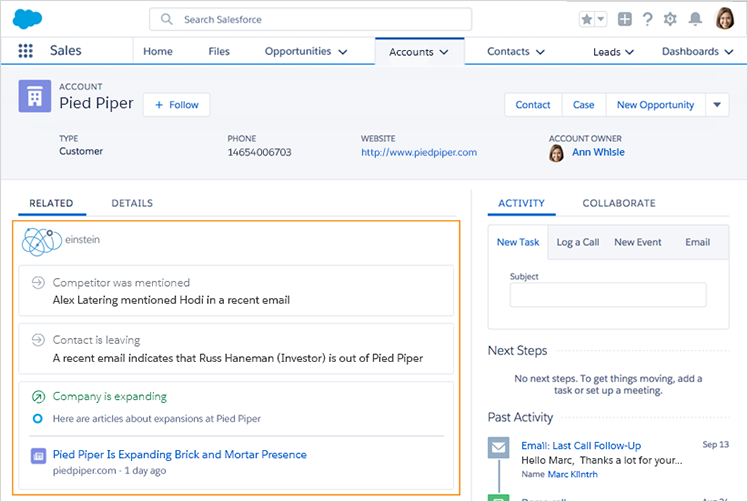 Tracking account changes with Salesforce Einstein
2. Salesforce as a tool to improve sales staff's performance
One more example of a Salesforce solution, which my colleagues provided, was for a company suffering from insufficient marketing and sales teams' collaboration and the lack of visibility into sales staff's performance.
Sales and Marketing Clouds integration has become the answer to the lack of collaboration between departments. It provides a common environment for their joint efforts aimed at building better strategies for selling and getting more quality leads (the ones most likely to convert) with a full view on each other's customer communication. As a result, sales reps get access to leads activities on the website, which allows them to plan their communication more thoughtfully and initiate it successfully.
Sales process visibility has been achieved with customized opportunity records. They allow sales reps to make the most of the sales process since all its stages from the needs analysis to the deal closed, as well as the actions undertaken, are at hand. As for the sales managers, they can use the progress bar to plan their reps' activities, get a full view of them and see how effective their reps are at every stage of the sales process. The progress bar helps to make the sales process properly structured for sales reps and serves as a reminder of what to do on each step.
3. Salesforce as a comprehensive solution to upgrade customer service
My colleagues have provided a CRM solution based on Salesforce for a large railway company, which strived to improve its customer service and increase the number of regular clients.
First of all, my colleagues opted for the implementation of Salesforce Service Cloud to ensure better customer support. The LiveMessage feature enables customer service agents to deliver swift and personalized support to clients via any preferred means of communication (phone, email, social networks, etc.). And a single service console helps to boost support efficiency by displaying all the details of a case in one place.
The issue of customer retention was successfully addressed by enhancing Salesforce CRM with a smart customer loyalty program. This program allows regular customers to earn points by buying more train tickets. They can spend the points on further trips or use them as a gift for another person afterwards. The program includes three loyalty levels, which the program's members can reach depending on the number of points earned.
90 customized email templates designed in CRM also work to boost customer loyalty and serve as elements of elaborate scenarios of customer communication. As a result, the company gets a tailor-made communication plan for each customer step like booking tickets or tracking discounts, and customers benefit from personalized emails.
Afterword
So, what benefits does Salesforce bring for enterprise needs?
Salesforce significantly improves customer service and support. Customer relations is a thing to nurture since retaining an existing client is 6-7 times less expensive than getting a new one. Salesforce offers wonderful opportunities to provide you with clear tailor-made steps on the way to building solid relations with a happy client.
Salesforce allows data analytics and predictions. These days you need smart data to make the most of your vast customer base. Salesforce is an ample tool for AI-powered data analytics, which helps you make more resourceful decisions for increased effectiveness and profitability of your sales efforts.
Salesforce enhances salespeople performance. Easy collaboration in Salesforce helps to achieve the augmented performance of your sales staff. Sales reps may perform and record tasks on a single platform making them available for the colleagues. Thanks to the better process visibility, your employees will get step-by-step Salesforce-powered guidance on how to turn their opportunities into profitable sales.
Do you need to get an expert opinion on your Salesforce solution? Our consultants will analyze your current Salesforce capabilities and offer an optimal solution to meet your business needs.