Editor's note: Daria explores common types of web portals available on the market. If you need assistance in implementing a portal suitable for your business, don't hesitate to ask for our web portal development assistance.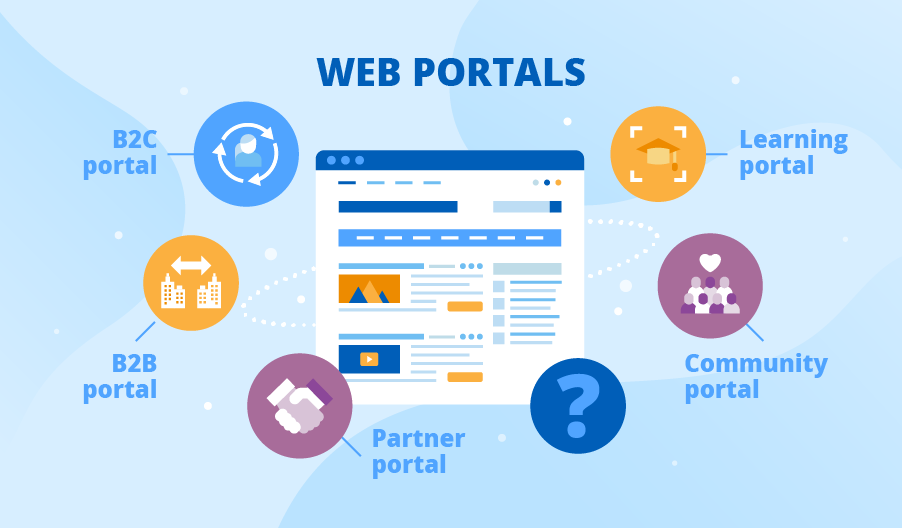 In 2022, online presence has become a must to stay competitive. According to iTRate, a person spends almost 7 hours on the Internet on a daily basis. No wonder, around 90% of US customers expect a brand to have an online self-service portal for clients. A modern web portal can be considered a superior website, or 'a high-traffic website with a wide range of content, services and vendor links' in Gartner's words. With a single web interface providing access to a variety of data and services, web portals offer sophisticated functionality and interactive capabilities for various industries (e.g., ecommerce, mass media, banking, education) and all kinds of communities.
Common types of web portals
A B2C portal is a typical ecommerce portal that is aimed at creating the best buying experience possible. It allows building a purchasing journey from sparking an interest in your product or service to finalizing the purchase. Try this online customer portal demo to better understand how this kind of portal looks like.
Tips from ScienceSoft: Provide your customers the possibility to create an account with just their basic information or buy without registration. At the same time, encourage registration as a convenient way for a customer to track their purchase, promptly contact customer support or get access to special offers and promotions.
A B2B portal typically deals with more expensive and complex products or services than a B2C portal. B2B portal types include a buyer-owned portal, a supplier-owned portal and independent marketplaces that bring together multiple buyers and vendors. In B2B, there is little room for impulse buying and the purchasing journey becomes longer and involves more participants. Thus, the B2B portal needs superior personalization and collaboration capabilities.
To explore the specifics of B2B portals more closely, you can check our demo vendor portal for an F&B manufacturing company or our sample B2B customer portal for a furniture manufacturer and explore a B2B ecommerce portal demo.
Tips from ScienceSoft: A pop-up chat that works well in B2C is not an option for B2B. You'll need to design truly personalized ways to get in touch with your B2B customers.
Service portals
A service portal (self-service portal) is a web-based platform that collects functionality and information from various sources to enable user self-help and self-service. The most common types of service portals are customer self-service portals, employee self-service portals (they often exist as a part of a larger HR portal), government service portals and patient portals.
Partner portals are designed for businesses that sell via indirect sales channels. A partner portal is a tool to manage your partner relations and convince your partners to sell more of your products or services.
Tips from ScienceSoft: To encourage your partners to sell more, the portal should provide your partners' salespeople with comprehensive informational resources (marketing, sales, training, certification materials) and technical tools (product configurators, price calculators, order tracking, etc.).
A community portal is an excellent way to promote your brand and increase its visibility. It is also a way to hear what your audience thinks about your products or services and gain impartial insights for their improvement.
Tips from ScienceSoft: By employing different user engagement activities like discussion boards and opinion polls, you will be able to collect valuable information from your audience. You can encourage portal users to participate in these activities by rewarding them with special coupons or discounts.
Currently, the need for eLearning portals is increasingly high as people tend to move their learning activities towards digital platforms. In the business sphere, learning portals can be used by companies that would like to save the money and time they used to spend on the in-person training of new or existing employees.
Tips from ScienceSoft: Consider diversifying the learning content on your portal. Create audio, visual, and textual materials for learners to have plenty of options for learning and testing their knowledge.
Time to benefit from a web portal!
In this overview, I've mentioned just the most popular portal types. However, there are portals covering more specific needs in engaging with your audience, be it your customers, partners, or employees. Also, businesses can opt for custom-built portals or employ one of the ready-made solutions as Dynamics 365 Portals and Sharepoint Portals. In case you need help in creating any kind of a web portal, feel free to contact ScienceSoft's team.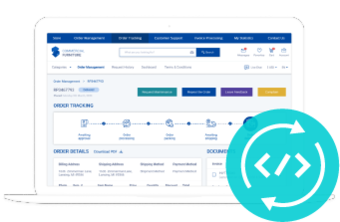 In web portal development since 2005, ScienceSoft's team will deliver a tailored portal solution fully in line with your business needs.