Why customer experience
Contrary to what is generally thought, CX is not exclusive to B2C companies, and B2B can also generate benefits from it.
The increasing importance of customer experience is not something new on the market. Whereas previously the customers had to invest significant efforts to look for the product needed, today before them there is a true luxury of choice between multiple sellers. Numerous companies with practically identical products of similar price and quality fight for the customers.
Why B2B customer portal is one of the best investments in building the CX? Let's get on with its key contributions to the great customer experience (also click here to see how it looks in real life).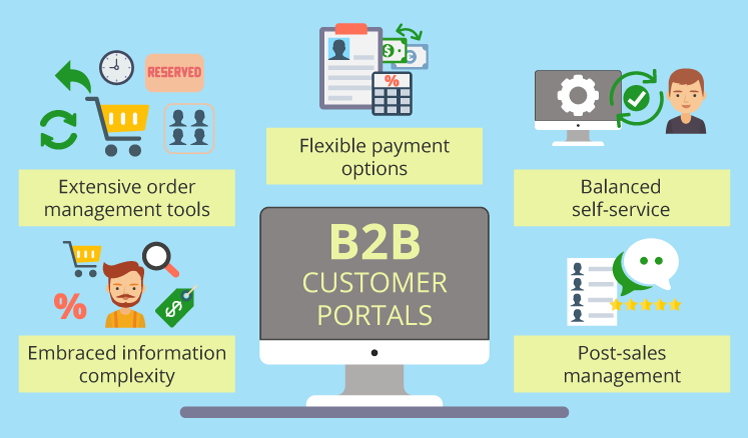 Embraced information complexity
It means that the portal allows you to provide information that is:
Easy to reach. Wisely structured data, intuitive user interface and rich search functionality of the B2B portal allow the customer quickly get all the required information.
Relevant. Through integration with the internal systems, the customer is able to get the most relevant information 24/7.
Personalized. It keeps the customer believing that everything is done for his special benefit. Customers see only the products that match their needs and possible substitutes in the catalog, the prices that are specially tailored for them, discounts and news.
Extensive order management tools
The portal covers the whole complexity that characterizes B2B orders. It ensures convenient ordering process through such functions as re-order, returns, scheduled purchasing, reservations, group buying, parts and consumables resupply.
Flexible payment options
The complexity of B2B arena also applies to its financial transactions. B2B customer portals allow different currencies, bill paying, provide a possibility to purchase by instalments and track credit limits.
Balanced self-service
Self-service and associated automation save efforts of the seller and time of both, the seller and the buyer, and reduce errors in the documentation. No wonder a customer more and more often chooses it as a faster and easier way to resolve his issues and get what he wants.
But even though automation wins the most important resource in the world – time, to make CX stand out, a B2B portal needs to find the right balance between digital and human interaction.
The thing is that the automation tools are to streamline human interaction but in no way to eliminate it. Any relationships (and B2B is no exception here) benefit from personal touch. Thus, to contribute to a good customer experience, a successful portal follows a combined approach and integrates self-service with various communication tools and live chats.
Post-sales management
Customer experience is not only about selling and buying, which is just a starting point for your communication with the customer. Let's see how B2B customer portals can contribute to successful post-sales management.
Maintenance. The portal allows you to organize further interaction: regular maintenance, replacement, and repair. Customers can create a claim, schedule time for repairs, get the technician contact information, provide him with all required information in advance, always stay up-to-date with the progress and plan their business processes accordingly.
Feedback. It is the best tool to understand what products and services a customer needs and satisfy these needs. Such features as live chat, suggestion box, surveys and polls, Net Promoter Score system get and process the customers' comments and, as a result, you understand their expectations and undertake considered improvements, providing rapid response to the customer's complaints and requests. You can also compare yourself to competitors, identify key challenges, investigate details of loyalty problems and track the efficiency of improvements made.
How to get even more
Analytics
The analytics of your portal will, again, help you to understand better who your audience is, what they are interested in, gain valuable data about customer journeys and achieve personalized online selling.
ERP/CRM integration
First, the ERP integration grants your customers immediate access to current information about products and their stock availability. Secondly, the customers can always get relevant information about highly personalized B2B prices on their own. Thirdly, the customer has limited access to the required documentation and can download their PDF variants. Fourthly, the customer gets a full control over the entire order fulfillment process, knows exactly at what stage his order is at the moment and, therefore, makes crucial timely decisions for the smooth operation of his business.
CRM integration may become of good help in tailoring the communication to the customer's needs. The account manager scans all the necessary information about the customer. He can see the purchase history. He can provide more advanced responses. He can proactively predict future needs. When a customer gets a follow-up call from the account manager who already has a comprehensive idea about the company (based on the knowledge received from its profile) and then offers possible beneficial changes to the order – it's a whole different story.
Community forums
That's simple. They inspire discussions. They spark the feeling of affiliation, involvement and belonging.
Education blog
It combines business with entertainment and education, enhancing the connection between the customer and the brand and ensuring its stronger presence in the customer's life.
So, what's the bottom line
Today business is much more than just value for money. Today business puts the customer experience in the spotlight. And a B2B customer portal may well contribute to making the interaction with the customers in your business simple, clear and efficient, which is exactly what great customer experience is about. Please note though that in no way should it be taken for granted and only well-thought portal will let you enjoy all the above mentioned advantages.
Over 17 years, we build and integrate portals with key enterprise systems for smooth sales and service interactions between business and customers.