Editor's note: In the article, we explain how to optimize your procurement processes with a dedicated portal. If you get impressed with the benefits described, we will be happy to offer you vendor portal development services and implement a tailored solution for your business.
A procurement portal became probably one of the most popular and the most universal solutions for digital transformation of supply chain management. Its rich functionality allows to optimize two complex and important business processes at once interactions with vendors and various purchasing activities.
Let's take a closer look at the benefits you're to get building a procurement portal and explore how exactly the portal makes them possible.

Wait, so what is a procurement portal?
A procurement portal is one of the tools that allow bringing your purchasing process online. Its concept derives from the combination of a vendor portal and an internal procurement software.
A vendor portal keeps all supplier-related data organized and easily accessible for the buyers and allows for their quick, smooth and effective communication with the suppliers.
By using an internal procurement software the employees post their needs, plans, forecasts, etc. Further, the requests are routed to the procurement department and undergo electronic approval procedures. And finally, the approved requests either turn into orders and are handled by buyers or get purchased directly from approved suppliers in a punchout mode.
Combining the functionality of a vendor portal and an internal procurement software, a procurement portal brings all their processes in one place, thus aggregating the benefits you get from these two separately as well as introducing some new ones (closer cooperation with suppliers, better demand prediction, 'guided buying', etc.).
Imagine your life with eprocurement
A procurement portal allows for even more efficient procurement, more stable supplies, more favorable terms, and better deals. So, here's what you get when bringing your procurement processes into its secure, fast and organized environment.
1. You increase supplier diversity
First, a procurement portal simplifies the involvement of new vendors. A self-registration form lets you get all the important info about a potential supplier at once and with less effort. And a well-designed registration form with thought-out compulsory fields (as stating the ability to produce products under your name) and their order helps to engage the right vendors. Also, it is possible to introduce a free trial version and less expensive accounts with limited functionality (e.g., without integration with a vendor's ERP) to encourage small and midsized companies to present their offers.
Secondly, the portal makes it possible to work with an enlarged number of suppliers with ease:
No matter how many vendors you have engaged, within seconds the portal composes a shortlist of the most suitable suppliers according to multiple parameters you set up, such as SKU, brand, price, business type (MBE, local supplier, eco supplier), location, payment and delivery terms, etc. As a result, the portal exempts you from managing huge volumes of data manually.
Managing multiple tender awards and agreements becomes easier. Automatic alerts let you keep abreast of all critical dates, e.g., contract expirations, payment and bidding schedules.
2. You make informed choices with comprehensive pre-assessment
A procurement portal represents a convenient tool for vendor pre-assessment. In just one click, the vendor's profile displays all relevant info (including the tenders that the vendor took part in, contracts signed, payment schedules, POs, invoices, etc.) and quickly brings you up to speed.
The detailed description in the profile may include any number of indicators important for your business. This can be a set of general markers from years on the market and availability of recommendations and feedback to a possible return of unsold/non-marketed goods, available discounts (contractual, seasonal, order-specific, etc.) and after-sale support. You may also configure the profile to cover such specific info as:
Production/manufacturing technology.
Shelf/service life of the product.
Available specifications, certificates or test reports.
Compliance with quality standards.
Required storage conditions.
A minimal batch for shipping.
Average lead time.
Consent to the inspection of production lines and/ storage conditions.
Excess capacity.
Delivery terms (EXW, FCA, CPT, CIP, DAT, DAP, DDP, FOB, FAS).
Dedicated marketing budget, and many others.
To facilitate supplier appraisal, the portal provides you with the vendor's overall score calculated on the basis of their previous performance assessment as well as it allows monitoring the history of previous interactions, including prior deliveries, inspection results, returns and the reasons behind them, etc.
On top of that, there is a possibility in the portal environment to pull all reference materials regarding the vendors, such as comments in social networks and media clippings. This can be used to understand the vendor's current business strategy, their position in the business world and track the experience of the vendor's actual partners.
3. You leverage competitive bidding
Considering eBidding as one of its key functions, a procurement portal offers an array of tools for stress-free bidding management:
You publish an offer stating all important requirements and setting the list of the relevant categories. From now on, all bid-related info is kept in one place so, for example, you have no more need in digging through your inbox to find the emails from multiple participants.
You track the invitation statuses and save time concentrating on those who haven't read the request. You also promptly introduce changes into a tender's conditions being sure that they won't be left unseen and all participants will be kept informed.

The system automatically organizes and pre-compares the bidders highlighting the best available options in terms of price and vendor's rating.
Keeping your Q&A section updated helps your vendors to find the answers to common questions as well as guards the procurement department from hundreds of parroting emails and phone calls.
Try out this demo to get the visual understanding of the online bidding process on the procurement portal.
4. You build stronger connection with suppliers
With the portal's forums and Q&A sections, you create a certain community of your suppliers with common goals and desire to discuss and improve to deliver appropriate products.
The ability to share feedback (including that from other departments' employees) and communicate your expectations in the opinions section also inspires more close cooperation.
The possibility to reach the vendor via instant messages streamlines negotiations, especially in case of urgent critical decisions. For example, with such access to the vendor representative, you can easily get extra info on their locations for a specific product to assess them considering your logistic networks.
5. You motivate suppliers to improve
A procurement portal provides the vendors with your feedback on their performance (at the very least, through the rating scores). Also, your vendors see constantly whom you choose, who wins the bids and develop their cooperation strategy accordingly.
Finally, the healthy competition on the portal constantly keeps your vendors on their toes and lets you get the best value for money.
6. You get better prices
Orders made across the company even independently are still placed in the common shopping cart for one vendor. Thus, you combine orders across the organization or its several locations and get the possibility of significant volume discounts. And with the portal's visibility, you can easily find out what else you can buy from a vendor to increase these volumes.
Moreover, the portal provides you with a set of other arguments to keep prices down. You can easily appeal to:
Long cooperation your status of a long partner will remain vivid even in case of serious staff changes on all sides.
Profitable cooperation your vendors get more accurate and relevant demand info and can plan their production process better smarter and avoid inventory exceeds.
The portal also opens advanced ways of getting better prices allowing for the engagement of your sub-suppliers. Optimizing the supplies of your vendor, you help them to reduce production costs and consequently may expect their product price to decrease for you. For example, you can offer better opportunities for you Tier 1 suppliers, or suggest one common Tier 2 supplier for several suppliers in Tier 1 so that they may use volume discounts. However, such scenarios become possible when you have established relations of trust with your 'A' suppliers and can request documentation with the detailed description of their expenses for production needs to identify their points for improvement.
7. You become a reliable partner with in-time payments
The chances that you miss a thing are lowered as you:
Get alerts on all coming payments.
See the most relevant of all currently available payment options.
(optionally) Have integrated payment systems to allow direct payments.
8. You provide your dedicated staff with comprehensive overview
Displaying all relevant requisitions with their statuses (open, approved, pending, declined, completed), vendors selected/recommended, RFI, RFP, RFQ sent and LPO generated/sent, etc., the portal helps the procurement department to see immediately what requires their involvement. Thus, it is much easier for them to identify pending issues and, consequently, plan their time and efforts more efficiently.
The system also allows watching general trends in the company's procurement processes, as how much the company spends and where how often and where budget exceeds happen, etc., processing, classifying, organizing and representing all the data in an easily digestible form of multiple diagrams, tables, interactive elements, etc.
What is more, as the info is stored in the cloud and is optimized for mobile access and the procurement staff can reach the required data and keep themselves informed from any location be it their station, other vendor's location or even their vacation spot (only in case of urgent need, surely).
The final thoughts
A procurement portal allows expanding the choice of possible suppliers and triggers healthy competition among your vendors. Along with this, the portal makes it easier to attract the better procurement opportunities and never miss a thing by centralizing all procurement-related data and making the processes traceable.
To conclude, we do not mean that a procurement portal is a must for any business and there can be no proper administration of multiple purchasing processes without it. However, the portal may definitely help companies with developed and extensive procurement to manage the purchasing processes faster, clearer and easier.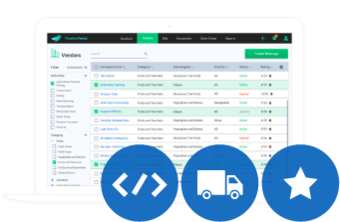 Transform the procurement process in your company and enable strong vendor management with a tailored portal solution.