Editor's Note: In this article, Oleg shares insights on Dynamics 365 Portals, diving into how you can best use them and what the portals are structurally. If you consider using Dynamics 365 Portals, feel free to leverage ScienceSoft's 12 years of experience with Microsoft Dynamics 365.
Nowadays, having a dedicated self-service website becomes critical for your brand success, as 88% of US respondents expect a brand to have a self-service portal. On the opposite side of the spectrum, 80% of sales are done involving distributors and other partners, making a platform for collaboration with business partners a necessity. Taking all of the above into account, let's dive into how Microsoft Dynamics 365 Portals may be both an effective and quick-to-set-up solution, which will help you keep up with the trends by extending your CRM functionality for you and your customers.
Dynamics 365 Portals, which are now called Power Apps Portals, are websites that further extend the functionality of your existing Dynamics 365 solutions (for sales, marketing, customer service, field service, supply chain management, and HR). It's mainly done via exposing certain CRM data (e.g., deal details, shipment stages, etc.) to portal users, such as customers, partners, employees or communities. Such functionality opens up collaboration and engagement opportunities involving those audiences. A good example of such functionality provided for customers may be seen in a web portal project we did for a company that helps its clients manage commercial and residential property taxes. Now, let's take a closer look at how Dynamics 365 Portals utilize these capabilities for different user groups.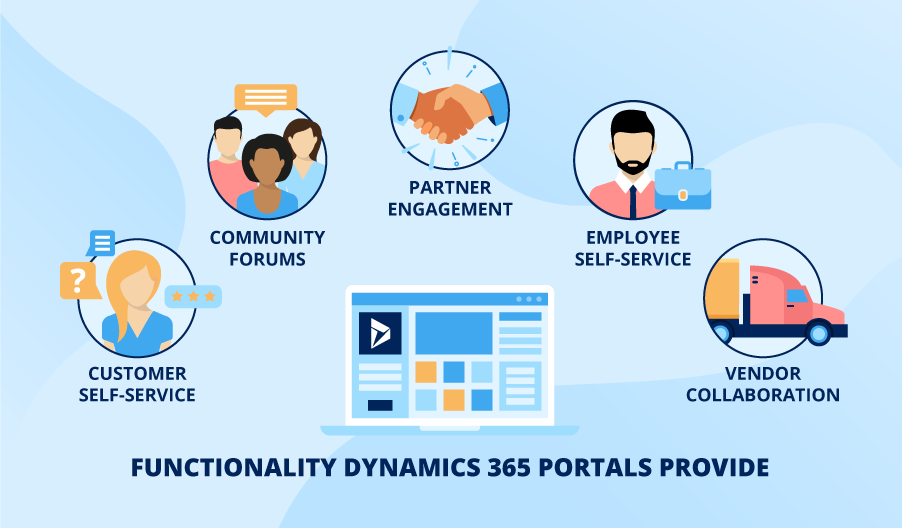 Dynamics 365 Customer Portal integrated with Dynamics 365 Customer Service allows you to reduce the help requests volume for service agents and provide smoother customer service. On a portal, you can provide a knowledge base targeted at resolving customers' frequently asked questions. What is more, the portal can suggest to users relevant knowledge base materials based on the keywords they typed. Simply put, with the suggested knowledge base articles, you may answer your customers' questions before they are even asked. To further enhance self-service capabilities, you may add live-chat and personalized customer collaboration and product/service analytics features, to make your customer's interactions with your brand a lot more convenient anytime.
Community forums
With Dynamics 365 Portals, you can create and monitor community forums to enhance both customer-to-customer and customer-to-service interactions. Such interactions may include, for example, discussions on your products/services and customer suggestions.
Partner engagement
In case you collaborate with partners on distributing and selling your product or services, a Dynamics 365 partner portal may become your solution for smoother cooperation. Such a portal allows sharing important deals data from all involved parties. For example, you may capture your distributors' sales data similarly to your own sales team. This helps you streamline the sales process and maximize sales efficiency.
Employee self-service
With an employee self-service portal, you give targeted access to specific HR features and data for different employee groups, depending on their needs. Such a portal can become handy to share internal corporate knowledge with the employees. You may create and share training materials or launch a knowledge base. To go beyond training, you may enhance your company's corporate spirit by introducing a corporate media gallery, communities (depending on your employee personal interests) and different corporate events.
Vendor collaboration
A much needed addition for companies seeking efficient and accelerated supply chain management. Vendor portals allow you to collaborate with your vendors via one secure online hub. This allows your purchasing agents to form orders more efficiently as well as adds the ability to manage and track the current order status directly in your ERP. In addition, such a portal allows you to review and accept/reject orders and perform vendor invoicing straight away. As for your vendors, they gain accessible information on orders, such as quantity, delivery date, etc.
The caviar of Dynamics 365 Portals is that a functional starter portal can be launched with minimal efforts. A quick start is possible thanks to further customizable portal presets. You may also adjust user roles and grant access permissions, ensuring data security.
Dynamics 365 Portals deliver content via web pages with integrated tools and elements covering all the required content management functionality. The essential portal elements include:
Web pages
Content is delivered via web pages linked to a single URL address. The web pages connect through parent-child relationships and form the sitemap. They also serve as a basis for providing access to web files, forums, etc. Dynamics 365 Portals offer web page templates that you may customize. Also, you can create your own templates.
Web files
Web files serve to provide access to inline or downloadable content, just like on any other website. There are 2 options for how content may be stored within your portal. It may be done either via a note with a file attachment stored within your CRM and ERP or employing Azure Blob Storage. According to my experience, the latter option is more efficient in case you deal with a large number of documents though it requires more configuration.
Content snippets
Dynamics 365 Portals allow you to create, store and use snippets, including plain text, HTML layout, or even template processing instructions. Snippets help create a consistent look and feel of the site and make localization in multiple languages much more manageable.
Entity lists and entity forms
Entity lists define which CRM and ERP data is displayed on your portal. You can create, edit and view entity lists and set trigger workflows for various display formats, including traditional grid lists, a calendar or a map, a downloadable spreadsheet.
To work with records in entity lists, Dynamics 365 Portals feature entity forms, which add the ability for the portal pages to interact with Dynamics 365 CRM functionality and extend it. You may create and use entity forms to generate a layout or data capture forms, for example, a Contact Us form. Each time a user fills in the form, Dynamics 365 CRM automatically qualifies them as a lead.
The main strength of a Dynamics 365 portal is that it's easy to get started with and rather cheap. Employing Dynamics 365 Portals, you get a truly good solution for better customer engagement and partner collaboration with no need to spend extra time or resources on full-scale web development. Another major benefit is the centralized database across all Dynamics 365 apps, including your portal. And it's a lot easier to increase satisfaction and build the loyalty of your customers and partners when you exchange actual and accurate data with them.
While being a good solution out-of-the-box, Dynamics 365 Portals still require substantial skills to implement and configure properly, depending on your business needs. For example, if you run a portal for a retail chain, having payment processing information exposed there without necessary security configuration can be dangerous. Likewise, if you have a large user base, you need additional adjustments to ensure smooth portal performance. So, if you feel uncertain while assessing your business specifics for using Dynamics 365 Portals, ScienceSoft's consultants will gladly help.
Contact the team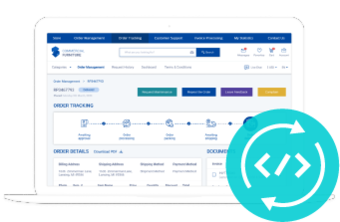 Power Apps Development by ScienceSoft
Get purpose-built business apps for efficient process automation and self-service for your customers, employees, partners.