Development of Marketing Software for Assisted Living Providers
Industry
Healthcare, Software products
Technologies
Java, MS SQL Server
Customer
A US company providing hospitals, ancillary providers and assisted living organizations with operational technology and electronic health record solutions to collect, process and analyze clinical data including patient, treatment and medication information.
Challenge
The Customer needed a marketing module to complement their software for assisted livings. The solution was to help the Customer's clients to track communications, set task reminders, handle prospects and referral sources.
Solution
The key entities inside the marketing module are communities (types of assisted livings using the software), inquiries, employees, communications and referral sources. The solution consists of the following submodules:
Inquiries / Prospects
This submodule includes the information about the prospects and allows to promptly evaluate if the individual is qualified for the services. For example, if the prospect's income level is lower than the monthly fee in the assisted living facility, senior housing, etc., this person is immediately excluded from the sale process. The "prospects" item consists of the following functional elements:
Contacts
Medical history
Needs
Care level: IL, AL, MC
Interest level (inquiry, neutral, warm, hot, very hot)
Income
Unit / Amenity preference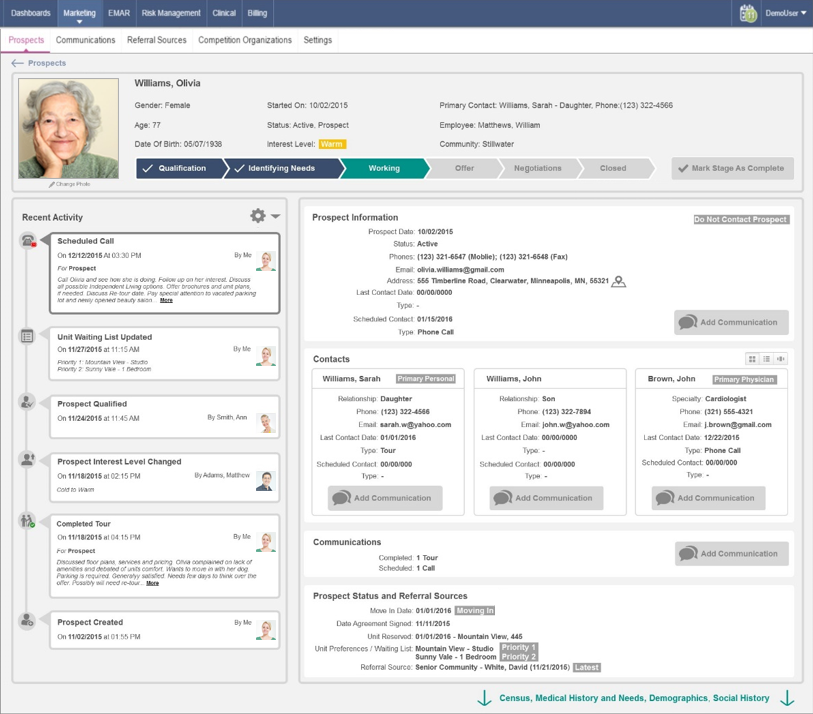 Communities
The list of available assisted livings, their facilities and vacant units goes here. The following organizations can be in the list:
Geriatric care
Rehabilitative care
Social services
Palliative & hospice care
Care coordination
Behavioral health & dementia care
Referral Sources
This submodule includes the list of sources that recommend the caregiver, such as:
Previous residents
Government
Healthcare professionals
Networking
Trusted advisors
Other referral sources
Employees
The "employees" submodule allows to evaluate the marketing staff performance via the following elements:
New prospects
Communications
Move-ins
Close rate (# Move-ins / # Prospects)
Communications
This submodule allows to manage communications with prospects, referral sources, personal and professional contacts. It is possible to schedule an activity and mark it completed. The list of possible activities includes:
Phone calls
Emails / Letters (e.g., to invite a prospect to an event)
Presentations
Appointments
Tours
Home visits
Events
Results
ScienceSoft's experienced software developers delivered marketing module that allows users to significantly approach the ambitious goal of 100% occupancy via handling prospects effectively, tracking communications along with progress for referral sources and employees.
Technologies and Tools
Ext JS, SASS, Java 8, Spring, Hibernate, Apache Maven, Apache Tomcat, MS SQL Server 2012

Need help with a similar project?

Drop us a line, and our rep will contact you within 30 minutes to arrange an initial discussion.

<![endif]--> <![endif]--> <![endif]-->