Collaboration is crucial for an enterprise as it ensures continuity of business processes and their effective implementation. It also improves employee engagement, retention and performance and encourages innovation.
SharePoint is a widely used enterprise-level platform that in addition to content and project management, offers rich collaboration capabilities. Holding a Microsoft Gold Competency in Collaboration and Content, we at ScienceSoft know firsthand how to make collaboration work for the benefit of businesses. In this article, we'd like to share with you our vision on the essence of enterprise collaboration and show how SharePoint fits into this concept.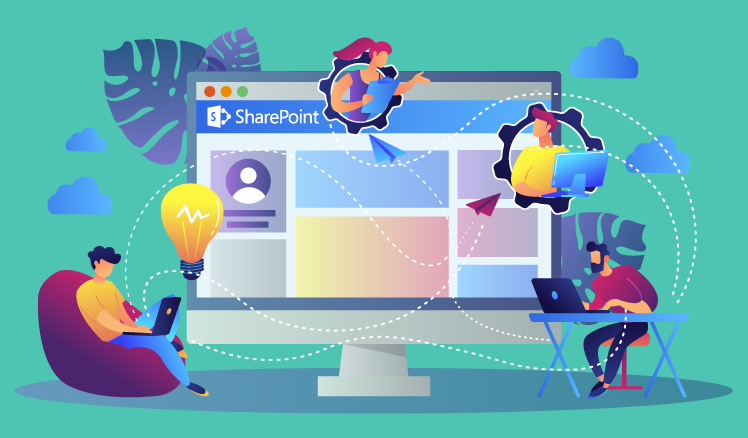 The concept of enterprise collaboration
Enterprise collaboration is often defined as a communication system consisting of a number of tools that help employees to complete tasks jointly across a company. However, this approach lacks comprehensiveness because it doesn't cover the conceptual side of collaboration.
In our view, enterprise collaboration is not only about digital tools like intranets, it's also about company-wide culture that comprises certain collaborative behaviors, processes, relationships. Enterprise collaboration requires a comprehensive and structured view that involves analyzing it at three levels:
The structural level (collaborative structures, roles and responsibilities of employees).
The systemic level (systems, processes, and policies).
The interactional level (employee communication).
Besides, collaboration should not be confused with cooperation, as there is a significant difference between the notions. Cooperating employees with different knowledge, skills, and experience may work together on common goals but not engage in debate, and the focus will still be on the individual actions of each team member. With collaboration, on the contrary, the focus is on the teamwork that results in creating something new: ideas, products, etc.
Challenges of enterprise collaboration
We understand the main challenges of enterprise collaboration as follows:
The l

ack of a company-wide collaboration strategy

. Effective collaboration requires each employee to learn how to work together. However, senior managers often view enterprise collaboration not

as a necessary organization-wide cultural value but as a skill required occasionally, for example, when working on a certain project.

Insufficient support.

Usually, there's no such thing as recognition of collaboration results in large businesses. As only individual success or performance counts, collaboration is not encouraged at the enterprise level.

Disconnection of people. Collaboration tends to decrease with distance, and as organizations grow, collaboration becomes difficult to manage as workloads expand and employees scatter through multiple departments and even different locations. E

nterprise departments and teams become estranged and don't communicate or share information with each other. In this case, sharing the same document repository, for example, becomes not enough for employee collaboration.

Disconnection of tools

. Different teams or departments in an enterprise can use different collaboration tools, which makes it harder for employees to find the information they need to get work done. As a result, productivity, execution, and innovation at an enterprise are stumbled. For example, an engineering team can't access CRM for details on a contract with a customer on equipment production, while it's the main tool for a sales team. Also, when an enterprise tries to introduce one collaboration tool, employees can complain about it and not use it. They can use too many tools at the same time or duplicate tools for the same tasks, which also leads to inconsistency of collaboration tools across an organization.
SharePoint as a collaboration platform
Enterprise collaboration often takes the form of intranets, document management systems, project management systems, and other solutions. SharePoint can be quite suitable for collaboration at the enterprise level as it helps to curb collaboration challenges both on-premises and in the cloud (as a standalone solution or as a part of the Office 365 suite).
In general, SharePoint is widely used in enterprises. So, there's no need to adopt new software while establishing collaboration in a company, which is cheaper and adds to user adoption. But what SharePoint has to offer as a collaboration platform?
SharePoint-based collaboration
First of all, SharePoint is convenient for establishing collaboration both at a small and at a large scale:
Team-based collaboration. For team-centric collaboration, SharePoint provides creating a virtual workspace with team-only access. SharePoint enables any team member to create a project, decide who can participate in it and what access each participant will have.
Company-wide collaboration. SharePoint can support cross-departmental collaboration through various tools like content management systems. However, the core of company-wide collaboration is the intranet that connects all company units and stores all corporate documents, policies, news, etc. Employees from different departments can communicate through the intranet's instant messages tools, discussion boards, blogs, etc. And beside business communication, SharePoint intranets can support corporate life through communities, which creates weak ties that are valuable for boosting collaboration. For an example of such an intranet, you can check our interactive demo.
Below we provide an overview of SharePoint's strengths and weaknesses as a collaboration platform.
Benefits
There is a number of reasons that make SharePoint good for employee collaboration:
Affordability of the cloud deployment.

SharePoint Online suggests that enterprises should pay a subscription fee on a monthly basis. The subscription plans for enterprises start at $8.00 user/month, which is quite affordable for big companies.

No coding.

SharePoint enables creating solutions for collaboration without coding. Users just need to assemble and connect the required building blocks of functionality in SharePoint, such as custom web pages or web parts.
Integrated environment. SharePoint is compatible with other Microsoft products, which is one of the main reasons for its popularity. Besides, the platform easily integrates with third-party software, including enterprise systems (CRM, ERP, HR, etc.), which facilitates enterprise collaboration.
Adaptability. SharePoint allows a company to use only needed tools without overloading it with unnecessary software. Thus, SharePoint enables creating a solution that meets the collaboration needs of businesses of any size or domain.
Managing permissions. SharePoint enables managing user permissions according to their roles. This makes collaboration well-organized as SharePoint regulates who is allowed to see, edit, delete, etc. documents and perform various actions like approvals.
Increased productivity. SharePoint provides employees an opportunity to collaborate at any location, for example, when they work from home or while travelling on business, which reduces employee downtime. This can significantly reduce the amount of time spent on waiting for information and decisions and helps employees to be more productive.
Enhanced project management. SharePoint offers smooth coordination of project-based collaboration. It ensures centralized storage of all project-related documents within the same workspace. SharePoint enables keeping version history for documents, as well as real-time collaboration and commenting. Thus, it creates full visibility into projects and ensures everything is on track due to such functions as monitoring tasks, deadlines, etc.
Easy reporting. SharePoint allows tracking employees' work activities, including an audit trail of all employee's activities in the collaborative environment. It enables easy and quick generating automated reports based on various metrics like the number of fulfilled tasks per month, which helps to assess employee performance.
Large-scale collaboration. SharePoint enables collaboration not only inside but also outside an organization by connecting employees with its partners and vendors.
Limitations
Along with all the benefits of SharePoint as a collaboration platform, it has several important limitations:
High total cost of the on-premises deployment. Although cloud-based SharePoint collaboration is quite affordable, the on-premises deployment of the platform can make a collaboration solution expensive due to various additional costs (implementation, configuration, maintenance, and more).
Training is required for proper user adoption. According to a recent report, 58% of SharePoint users indicate user adoption of the platform is an issue within their organization. Indeed, SharePoint is not intuitive, and developing and managing user training on the platform becomes even more challenging when an IT team continues to enrich or modify the platform's functionality. So, even tech-savvy employees are likely to require training to get the most out of a SharePoint solution, especially if a company's SharePoint environment is highly customized.
Dependence on Office 365. Using SharePoint Online requires an Office 365 license for every user. It's not a problem if a company already has Office 365 but it can be challenging for the one that doesn't, especially if it has hundreds to thousands of employees to license.
Complicated access for external users. Although SharePoint provides an opportunity to share data with the users outside an organization, the experience for external users is anything but simple. For example, external users may face multiple credential prompts and access errors when trying to access SharePoint sites.
SharePoint collaboration framework
Let's see how SharePoint fits into the three-level enterprise collaboration framework.
The structural level. SharePoint supports open collaborative structures. For example, a SharePoint-based intranet creates a centralized collaborative environment that connects members of a team, as well as various teams or the company's departments. SharePoint enables collaboration around certain works, projects, etc. SharePoint is also supportive of managing roles and responsibilities of employees. For example, based on information in profiles, employees can be automatically assigned with roles in workflows. Also, according to their roles and responsibilities, employees get different permissions that define their activities as regards documents (viewing, editing, creating, etc.).
The systemic level. SharePoint's capability to integrate with various enterprise systems facilitates employee collaboration and increases its efficiency due to creating a single source of truth. For example, a document management system based on SharePoint allows for the automated extraction of data from CRM when creating a contract, which eliminates retyping and duplicating data.

Also, any changes done in a document management system are mirrored in CRM and vice versa. SharePoint can also centralize knowledge by creating a knowledge base. Due to the capability to build various types of workflows (horizontal, vertical, multistep, etc.), SharePoint can ensure automating any kind of document-related processes, for example, reviewing contracts.

As for policies, if an enterprise needs to abide by federal or state regulations like SOX, HIPAA, GLBA, etc., SharePoint ensures tracking all user activities within the company's digital environment. Also, SharePoint supports deletion and retention policies for documents. Thus, it's possible to enable certain documents to be automatically deleted after a certain period as required by compliance regulations.

The interactional level. SharePoint offers multiple tools for effective communication, including live chats, blogs, wikis, etc. SharePoint also supports getting feedback from employees through surveys based on lists. Thus, employees can freely comment on blogposts, share ideas, give feedback to a new policy, a project, a corporate event, etc. This helps to create a corporate culture where openness, sharing and discussion are crucial and where the voice of each employee is heard. All this improves employee engagement, motivation, trust and loyalty, increases their performance and even retention rate.
Building blocks of SharePoint-based collaboration
SharePoint offers the following building blocks necessary for creating a robust collaborative foundation at the enterprise level:
Structural blocks
The key structural blocks include various types of sites available in SharePoint that are used to create collaboration solutions:
Team sites allow a work group or a team to collaborate on tasks, schedule events, track the status of tasks, share ideas, etc.
Communication sites support cross-company communication. They enable viewing the published content by all the company's employees, which makes them a useful tool to inform about policy updates, corporate events, etc.
Hub sites connect sites related to a certain project, department, region, etc. Thus organized, these related sites can share navigation and apply a common look and feel.
Functional blocks
The main functional blocks are represented by the most crucial SharePoint capabilities for enterprise collaboration:
File storage. SharePoint offers up to 25 TB per site collection or group.
Content management. It helps to organize and manage all types of content (text, audio, graphics, video) in libraries and lists with metadata, records management, and retention policies. Besides, SharePoint offers a new level of collaboration – immersive – that is provided by mixed reality technology (SharePoint Spaces). For example, this technology can be used for developing three-dimensional objects like car parts.
Work automation. SharePoint provides automating collaboration processes with alerts and workflows, for example, an automated notification about a contract's expiration.
Communication. To communicate and share information and ideas, SharePoint users can use discussion boards, blogs, forums, etc.
What's more, integration with Office 365 enables to enrich SharePoint-based collaboration with Yammer, Microsoft Teams, and other collaboration tools.
SharePoint collaboration: Use cases
SharePoint can be used to create various collaboration solutions for large businesses. We outline the most significant of them supported by examples from our experience.
Intranet
Due to the platform's high customizability and flexibility, the most common way to use SharePoint is a fully fledged intranet that can have a different ratio between business and social features. For example, a portal for lawyers implemented by ScienceSoft is more business-oriented with collaboration centered on documents.
Customization and integration with other enterprise systems make a SharePoint-based intranet a powerful collaboration space that can provide users with almost any resource they can think of in a searchable centralized location, including:
A branded landing page.
Custom navigation.
Corporate policies.
Employee profiles.

User access controls.

Project and task scheduling.

Meeting management.

Mobile access.

Multifunctional web parts and add-ins.

Communication tools.

Training content.
Document management system
A document management system is another popular SharePoint-based tool that facilitates collaboration on documents. It tackles such issues as unstructured document storing, ineffective search, duplication of documents, inability to track changes and more. SharePoint's rich functionality ensures secure and centralized storing of documents and streamlined document handling as in this example. It also enables users to collaborate on documents during their whole lifecycle: from creating a document based on a template to its archiving or sharing with other users.
The most important document management capabilities of SharePoint include:
Indexing

Enterprise search

Versioning

Real-time collaboration

Approval workflows

Audit trail
Knowledge management system
A knowledge management system based on SharePoint makes knowledge easily accessible for users, thus facilitating enterprise collaboration on the management of two types of knowledge: tacit knowledge (ideas, insights, experience, etc.) and explicit knowledge (manuals, procedures, records, etc.).
SharePoint also encourages collaboration regarding two models of knowledge distribution: pull (search) and push (news, training opportunities, etc.). For example, our company has delivered a SharePoint-based learning portal that allows educational establishments, enterprise training managers and learners to collaborate on learning programs for construction specialists.
The described use cases are not restricted only by the above examples. Enterprises can use SharePoint to create a unique case within their corporate environment, for example, by extending out-of-the-box functionality, enabling a company's branding or creating other collaboration solutions like HR management systems.
SharePoint competitors for collaboration
Although SharePoint is one of the most popular collaboration platforms, it's not the only one. Let's have a look at the alternatives to SharePoint and their pros and cons.
Confluence
It is a project collaboration tool that offers project and document management. It also includes a searchable knowledge base.
Pros. Confluence offers intuitive UI/UX, provides easy setup, fast uploading and sharing files. It also has rich customization capabilities and enables integration support for other Atlassian software like Jira and HipChat, as well as third-party software like Google Apps.
Cons. The organization of documents in Confluence is non-intuitive. Search is not effective, for example, it's problematic to find a file if you don't know its name.
eXo Platform
It is open-source, social collaboration software designed for big companies. It offers such features, as a social network, content management, employee collaboration, etc.
Pros. eXo Platform is easy-to-use and mobile-friendly with extensive integration and customization capabilities. It offers powerful document management functionality. eXo Platform supports internal social posts, forums and wikis.
Cons. It lacks reporting & analytics functionality that is important in assessing the efficiency of a collaboration solution and detecting potential bottlenecks in its work.
HyperOffice
HyperOffice offers an integrated suite for collaboration.
Pros. It is a feature-rich solution that includes the following functionality: email service, Outlook integration, calendaring, intranet/extranet publisher, task management, content management, real-time collaboration (synchronous editing), version control, etc.
Cons. It takes time to master all the suite's functionality, so training is required.
Box
It primarily focuses on document management functionality. Box is a cloud solution that allows storing, managing and sharing files easily and access documents from anywhere.
Pros. Box has intuitive UI. It offers easy file sharing, strong security and mobile-friendliness.
Cons. It lacks important collaboration features like audio and video conferencing, group calendar, project and task management.
Afterword
In our opinion, effective enterprise collaboration starts with a company's culture. The idea of sharing information between employees, uploading the files they're working on, commenting on best practices, even engaging other people in their projects for cross-team collaboration should become ingrained into the company's culture and strategy.
The next step is arranging a collaboration framework using an appropriate collaboration platform and tools. If we take SharePoint as an example, it has all an enterprise needs for effective collaboration, including communication, collaboration and content management tools. Due to its flexibility, the SharePoint platform can be tailored to the company's collaboration needs. Also, due to its integration-friendliness, SharePoint is a suitable platform for both team-based and company-wide collaboration. For example, in the form of an intranet, it can connect employees from different departments who use different collaboration tools.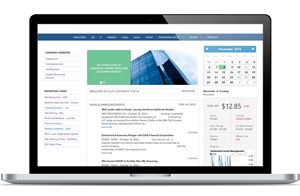 Do you want to create a brand-new Office 365 or SharePoint intranet or improve your existing corporate portal? Let's make it real together.