If you're thinking about ITSM implementation, but you're unsure which framework you need, here, we'll try to help you by comparing ITIL and COBIT within an enterprise on a real-life example. But before making any practical comparisons, let's briefly turn to the 'theoretical' difference between COBIT and ITIL.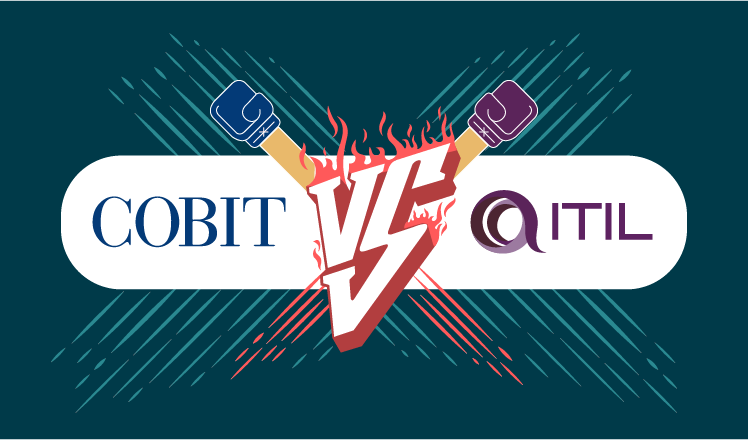 ITIL vs COBIT. The difference
Definitions
COBIT is a set of practices for top management to understand how they should approach their enterprise IT. And ITIL is a roadmap of exactly what should be done to organize IT employees' daily processes.
Scope
The first thing to mention is that COBIT and ITIL cover pretty much the same area. Although, it would be wrong to say that they both are only about ITSM because COBIT is a bit broader than just that.
Approach
This is the key point. COBIT's approach to IT is from the business side (top down), while ITIL is looking at the matter mostly from the IT perspective (bottom up). Besides, COBIT distinguishes between the management and governance of IT. The former is like a tactic, while the latter is more of a strategy. And from COBIT's point of view, ITIL deals with management, while COBIT itself mainly applies governance.
Objectives
COBIT's main aims are for business to control enterprise IT and set the right direction for it. Besides that, it means to align business goals with IT goals, bring IT value to business (preferably in the form of financial profit) and manage resources, risks and IT efficiency.
While ITIL mainly aims to organize IT services on the whole and IT departments' work in particular and provide an opportunity for constant operational perfection.
A real-life example to make it simple
Now that we've outlined the difference between these IT 'guidance' frameworks (ITIL and COBIT), let's look at their usage on a real-life example. To do that, let's imagine a company, say, MN Logistics Group, an international logistics enterprise working mainly in the US and Canada. It's a large company that employs 15,000 people and has offices in 20 locations. They used to be one of the leaders in the field but now, due to numerous problems, they are facing a serious crisis.
How COBIT helps
Here are some of the problems that the company is facing and their COBIT-provided solutions:
| | |
| --- | --- |
| General problems | COBIT's aid |
| 1. The organization of IT is inefficient, doesn't meet business goals and seems outdated. IT teams always have too much on their plate and focus on the wrong things. For instance, the software that calculates quickest routes for drivers often proposes inadequate variants, which results in delivery delays. And instead of seeing to it, the IT department prefers only to do network administration (which also isn't perfect). Besides, IT teams don't pay much attention to IT risk management. They don't have specific plans for emergencies, say, data center power loss or an IT service outage. | 1. The ability for business leaders to prioritize their IT needs and work out corresponding plans. Using COBIT 5's Goals Cascade, the company can translate its stakeholder needs into an actionable strategy. This way, top management can pinpoint the IT processes that they want to focus on. And such a clear strategy for business-IT relationship can establish an understanding between the two. As a result, IT teams know that their business wants them to fix route software and focus on particular IT processes more (on risk management particularly). |
| 2. The company frequently fails audits by potential partners. To start a successful cooperation with any logistics company, the company's clients need to be sure that this particular partner will fulfil their obligations and deliver goods on time. To establish that, service-user companies often audit their potential partners. And MN Logistics tends to fail more audits than it passes because of extremely long downtimes and overall unreliability of enterprise IT. | 2. A clear system of benchmarks. Initially, COBIT was started as an audit framework. And now, it still proposes a very handy enterprise IT evaluation system. Using it, MN Logistics can perform internal audits and, when the time comes, get ready for external audits by potential partners, successfully pass them and win new clients. |
| 3. Long-term partners tend to stop using the company's services and prefer working with their rivals. Frequent delays, inability to monitor how soon the delivery will arrive as well as overall unreliability result in losing loyal clients. | 3. Stability and new software. Due to establishing a clear Goals Cascade, the company's IT now ensures that their delivery system works stable, with a sufficiently reduced number of delays. Besides, top management decided on and made arrangements for developing a new web and mobile app that would allow the company's partners to monitor deliveries in real time. |
How ITIL helps
Here's how ITIL can solve the problems that IT teams in MN Logistics face and cause:
| | |
| --- | --- |
| Specific IT problems | ITIL's aid |
| 1. IT teams are constantly overloaded. If some technical issue occurs (say, network connection is unstable), MN Logistics' employees can wait forever till IT specialists see to it. And while they wait, let's say, they can't finalize the waybill, the driver can't set off, delays pile up. Downtime costs are enormous. | 1. Specific ITIL processes to organize and normalize IT departments' work. ITIL's Service Transition and Service Operation describe in detail how IT departments can effectively organize their work according to various ITIL processes. With this organization model, IT specialists rarely get overloaded, which dramatically reduces downtime costs. |
| 2. It's impossible to monitor IT staff's performance. The system IT guys are using only shows how much the team did last month. But there's no information on the individual performance of the team's members. | 2. A system of accountability. ITIL provides a broad system of KPIs, against which MN Logistics can evaluate the efficiency of whole IT units or of particular IT employees. Besides, using ITIL presupposes using an ITSM platform, which stores all the data on who-did-what. |
| 3. Similar breakdowns keep occurring. IT teams fix numerous breakdowns, but some of them just keep happening again and again. And in the existing overload, it's impossible to find out why these issues occur and how deep they are. | 3. Differentiating issues. To tackle IT issues more efficiently, ITIL offers a system that differentiates between events, incidents, problems, changes and requests. If a similar incident happens for a, say, third time, it can be viewed as a problem, whose root cause is analyzed and eliminated. Such a system allows to approach issues in more detail, speed up their resolution and prevent them from happening again. |
| 4. Changes in the company's IT infrastructure are chaotic. Since there's no database of changes in the company's IT, new elements of the IT infrastructure and software always puzzles users and even the IT teams themselves. | 4. Change management and CMDB. ITIL lays down a detailed procedure for changes in enterprise IT. Firstly, changes are authorized. Secondly, people are informed about particular changes. And if the change isn't successful, a preapproved backout plan is enacted. |
| 5. Unclear IT spending. The IT department always complains about the rigid financial control of their top management. And top management is never sure that their IT department stays within budget and uses it sensibly. | 5. Financial management. In its Service Strategy, ITIL dedicates a whole process to it. If applied sensibly, Financial management can shed light onto IT spending and adherence to IT budget, as well as regulate financial planning and save money. |
So, ITIL vs COBIT or ITIL and COBIT?
As you can see, these two work closely together and, generally speaking, aim at one thing: making IT stable and efficient. But it doesn't mean that this is the only way they look good: ITIL and COBIT work pretty well separately.
You may think that it is weird to use a tactic (ITIL) without a strategy (COBIT). But you should not forget that ITIL also provides 'strategic' basics for IT services organization, which are more than enough at early stages. Besides, judging by the differences in their approaches, definitions and, most importantly, objectives, COBIT feels more like a framework for large and more IT-mature enterprises. It needs a huge number of IT processes and a substantial enterprise IT to govern. While ITIL can be a good first step to achieving such scope on the whole and a high level of IT maturity in particular.
So if you're thinking what to go with – COBIT vs ITIL or ITIL and COBIT – it's all very simple: the first stage of your ITSM implementation project should probably be ITIL. And when you thoroughly learn your way around it, you can start thinking more globally, thinking COBIT.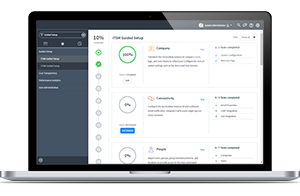 Need a better way to manage your IT? Hit the button below and find out how we can make your IT management efficient and crystal clear.