Editor's note: Businesses invest in Salesforce to get more sales. However, to unpack the true power of Salesforce, you need a vital ingredient, customization. Karina, one of ScienceSoft's Salesforce experts, explains how to tailor-make opportunity stages to correspond to your sales processes.
One of the many advantages of Salesforce is its ability to ensure transparent sales processes with a special tab called "Opportunities". This tab includes a list of all sales opportunities with their actual statuses to trace each deal with great precision. Thus, instead of wasting precious time on constant updates of a pipeline spreadsheet, sales managers can track deals in real time and close them more efficiently.
Many companies who still use the Salesforce Opportunities tab "as is", miss a chance for increased sales productivity that it brings when customized properly. I will share recommendations of ScienceSoft's Salesforce consultants, including myself, on the situations when it makes sense to create custom Salesforce Opportunity Stages and how to do it smoothly.
Why use custom Salesforce Opportunity Stages
Out-of-the-box Salesforce Opportunity Stages represent key milestones of a generic sales process, which consists of the following milestones:
Prospecting
Qualification
Needs Analysis
Value Proposition
Id. Decision Makers
Perception Analysis
Proposal/Price Quote
Negotiation/Review
Closed Won
Closed Lost
Live Opportunity Management Tour
We've identified that these standard stages rarely reflect companies' specific sales cycles. For example, companies that have lengthy and complex sales cycles with regular customer communications may need extra opportunity stages or may want to change stage titles. These changes will make opportunity stages more relevant to a company's individual sales process and more intuitive for sales managers. On the contrary, the same list of opportunity stages may be excessive for companies with a simple sales process.
To help you get the best of Salesforce and increase its ROI, I've made a checklist of activities to customize your Salesforce Opportunity Stages.
5 steps to customize Opportunity Stages
1. Map out your sales process
This means actively defining the specific phases of your sales process and determining which of them you will reflect in your Salesforce Opportunity Stages. At this step, you need to consider which of the standard opportunity stages suit your sales process and which of them should be customized to adjust to your sales process. The main goal here is to ensure that the pipeline describes all main stages of your sales cycle without becoming too complex and confusing for sales managers.
ScienceSoft's advice: Avoid ambiguous stage titles. Your sales managers should clearly see the difference between opportunity stages and understand when to pick a certain stage. For example, your sales managers may be confused with some abstract categories that may both denote to an accomplished milestone or some work in progress. If you have a stage called "Product Trial", it may have controversial meanings:
Your customer has just agreed to participate in a trial, and now you need to ensure product installation.
Your customer has already started the trial period and is actively exploring your product opportunities.
To minimize potential mistakes, better double-check that you have created clear-cut opportunity stages.
2. Define entrance and exit criteria for each stage
An opportunity stage is not a one-off milestone, as it includes a number of key tasks to be completed before moving to the next stage. That is why each stage should represent an ample phase in the sales cycle with a number of activities that help to push the opportunity forward during this phase. To help your sales managers faster reach the next opportunity stage, you need to consider such activities and create a picklist for each stage. For example, to pass from "Qualification" to "Needs Analysis", a sales manager should complete the following tasks:
Hold the first meeting.
Generate a list of requirements.
Then, during the "Needs Analysis" stage, a salesperson should do away with a number of activities to proceed to the next stage:
Review requirements with the lead.
Identify decision makers.
Identify how to meet the requirements.
Estimate deal amount and add it to Salesforce.
Estimate close date and enter it in the system.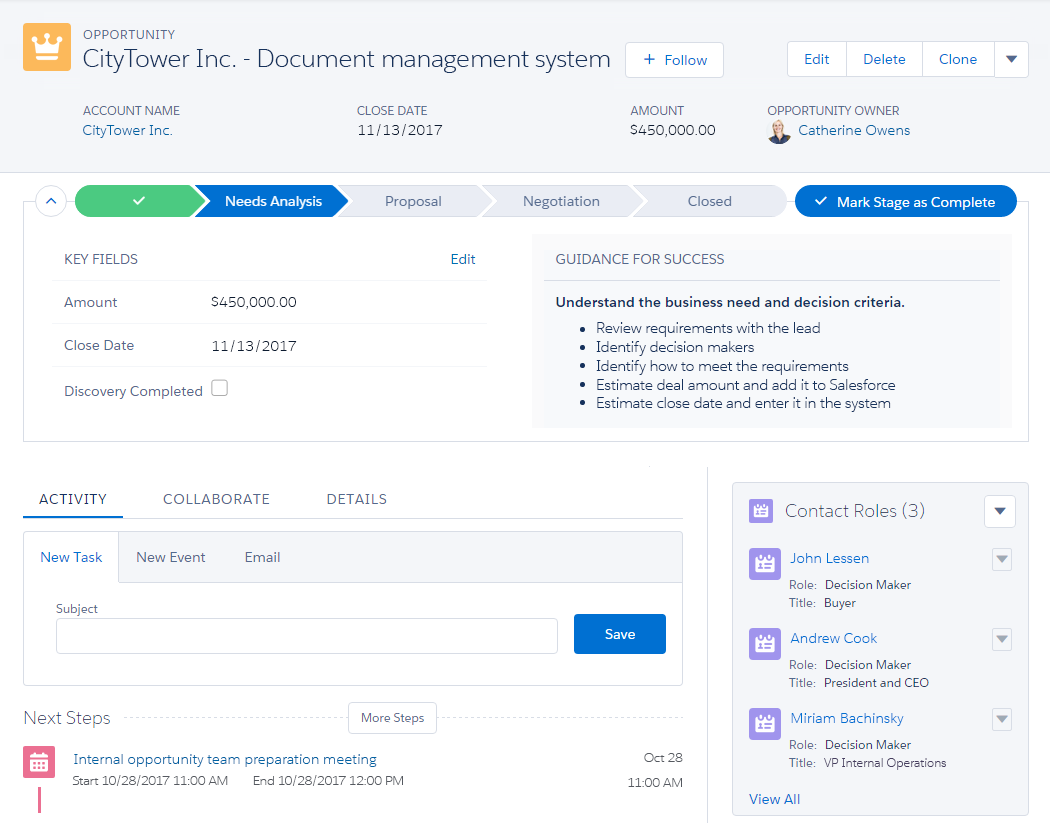 ScienceSoft's advice: Use one-step actions for picklists. Using vague notions in picklists has a similar effect as using obscure titles for opportunity stages: they suspend salespeople's activities and prevent you from closing your deals faster. That is why it's better to avoid notions that imply multiple actions.
3. Consider the percentage
As a deal progresses through the opportunity stages, the probability that the company will make the sale grows. That is why companies should assign a particular stage percentage based on the probability that sale will close in a given phase. Out-of-the-box Salesforce CRM has predefined percentages that correspond to standard opportunity stages. However, this data doesn't represent the level of confidence and the actual state of things in a particular company. That is why we advise customizing your probabilities based on your historical data. For example, you can go through the last couple of years to see the percentage of deals that closed after they reached each stage.

Out-of-the-box Salesforce opportunity stages probability values
ScienceSoft's advice: We also advise not only determine the overall probabilities, but also compare how these probabilities change year by year to see the trends in your opportunity stages. For example, you may notice that at a particular stage you close fewer deals. Taking into account this insight, you can work out appropriate measures to prevent such cases in the future.
4. Automate opportunity stages
The true power of Salesforce comes with automation.
That's how the automation of opportunity stages was implemented in one of ScienceSoft's projects: When an opportunity comes to the Open stage, the task for follow-up calls and emails is created. At the Contracting stage, the approval process is initiated for all documents and pricing. The automation spares the sales team the tediousness of entering information manually and ensures important things never get missed. As such automation goes beyond the powers of point-and-click tools, it was enabled by code means.
Note: Opportunity stage automation with code becomes possible in the Enterprise edition. Although Enterprise costs twice as much as Professional, it allows getting a considerably higher ROI. Some Salesforce customers report the ROI of more than 300% annually, see the examples here and here. The possibility to customize Salesforce to support all (yes, really all) specifics of a particular business is what makes such impressive results possible.
ScienceSoft's advice: To keep customizations under control, make sure developers document them properly. For example, ScienceSoft's developers describe each customization in a corporate knowledge base and comment code informatively so that maintenance brings no surprises later on.
5. Revise your opportunity stages
Since sales process evolves and may significantly change with time, you should periodically revisit your sales process to ensure your opportunity stages are still relevant.
ScienceSoft's advice: In Salesforce CRM, you can set up different sales processes for each type of sales you make. Thus, if you come up with a new product or service offering, you can work out an individual sales process for it and create corresponding opportunity stages with their own percentages.
Customized opportunity stages underpin precise revenue forecasts
Salesforce CRM functionality allows preparing Opportunity Pipeline reports that show the entire open pipeline sorted by stage and probability. My practice shows that these reports are of extreme importance for any company, as they allow planning future cash flows and revenue. Thus, if a company tailors opportunity stages to its individual sales process, it can increase its pipeline visibility and more accurately predict future revenue streams.
Is there a CRM system with even more flexibility in opportunity management?
Microsoft Dynamics 365 Sales offers extensive configuration capabilities, and a sales team can easily tailor an opportunity pipeline to their specific processes. Besides, with predictive opportunity scoring, they can prioritize opportunities and start faster with the ones that promise more likely conversion and higher profit. Opportunity management is not the only aspect of sales management where Dynamics 365 is strong. Check our offering of Dynamics 365 services to know more about this platform and roughly assess if it suits your needs.
Getting more sales with customized opportunity stages
I am convinced that out-of-the-box opportunity stages are good as a starting point only. To get an increase of 28% in revenue promised by Salesforce Customer Success Metrics Survey, companies should customize and automate. And fortunately, Salesforce Sales Cloud was created just for that.
You can do a lot of customization with point-and-click tools. However, it allows only the high-level support of your business processes, which is rarely enough. To take into account all subtleties (which is critical for sales productivity), you'll need to go for deeper customizations with the Apex code, which may be hard to implement in-house. ScienceSoft's Salesforce team of consultants and developers would love to show you how to get more from your Salesforce licenses. If you are interested, you are very welcome to send us a request.
Need to enhance your Salesforce solution? Our developers will tailor it to your business needs.