The popularity of Software as a Service (SaaS) as one of the software delivery models is constantly increasing. The deployment preferences for ERP, CRM, and QMS solutions, for one, provide vivid statistics: more than 60% of companies prefer to have these solutions as SaaS, 10% – as on-premises, and 30% choose to combine the two models (that is, store sensitive data on private servers and the rest of the data – in the cloud).
If you are considering the possibility of distributing your software product as SaaS but want to have a comprehensive understanding of this model first, this article is the read you need. We explain why both the users and product owners find the SaaS distribution model so beneficial and help you make important SaaS-related choices based on our own experience with SaaS application development.
Below, we list 3 main reasons why you may want to choose the SaaS development strategy over on-premises product implementation.
By providing your users with access to already set-up software, you minimize the risks of losing customers due to possible installation challenges. Moreover, you reduce testing and support efforts and costs since you don't have to perform testing for various operating systems your customer may have or provide support for installation-related issues.
While updates for on-premises software can be made convenient via prompting the automatic installation of the latest release, you can't be sure all your users hop on the latest version right away. In fact, many of them will continue using your older versions for various reasons, which means you'll have to cover the costs of supporting them as well. This isn't an issue with SaaS since the moment you roll out a new release, you make it the only one available version for your customers to use.
Along with continuous software development and evolution, a software product may require more processing power, memory or storage. If the product is supposed to be set up on-premises, many customers won't be ready to invest in any technical upgrades only to continue using this very product and will most likely start looking for an alternative. If it is a SaaS product, your customers don't have to worry about scalability since you are the one in charge of hardware management. It's also you who makes sure from the start that your software is designed in the way to easily adapt to the increased demand in the future.
Let's look at the 4 most important points you need to consider before launching the software development of a SaaS product.
Choosing a place to host your software is one of the most important decisions in the SaaS development process. Instead of building their own cloud infrastructure, many products, including those that are already commercially successful, take advantage of paid cloud platforms (Platform-as-a-Service) such as Microsoft Azure, Amazon Web Services (AWS), and Google Cloud.
Before you start searching for such platform for your software as a service, you – or your software development vendor – should draft a list of necessary requirements for your product. That is, you have to understand what technical resources your software needs in order to offer the best performance. Make sure you look at your product's roadmap and analyze how the requirements may change in a few soonest releases.
Once you have your requirements list, compare it against the existing platform offers by estimating their reliability, availability, and disaster recovery options. When choosing a SaaS platform or a plan, stick to the requirements your product needs now, but make sure the platform of your choice has an offering that can cover your future requirements too.
Leading cloud platforms strive to offer 99.99% or 99.999% uptime. These figures sound more than reassuring, but they imply that there can be situations when your software will be unavailable due to planned or unplanned downtime. An additional '9' means a big difference here, since:
99.99% uptime = 52 minutes of yearly downtime.
99.999% uptime = 5 minutes of yearly downtime.
99.9999% uptime = 32 seconds of yearly downtime.
However, the 'six nines' uptime is a rare offer: most cloud providers, including Amazon Web Services, provide 99.99% uptime. Clearly communicate the planned downtime periods to your customers beforehand and be ready to respectfully address user complaints in case of emergency downtime. In both cases, state it openly that all your users' data is safe and make sure to live up to the promise.
One of the advantages of SaaS development is the rich range of revenue models that you can choose from. To find a suitable revenue strategy, think about the possible benefits of each of them for your business and for the customers of your product.
Subscription
Subscription suggests multiple paid plans that can be used to gain access to your software for a certain amount of time and on certain conditions. For instance, you can offer 2 plans: one that grants access to an incomplete list of your software as a service features and costs $15/month per user and a complete edition that costs $25/month per user. Offering 2-4 weeks of free trial proves effective since it invites a new user to take a look at what you are offering and lets them decide whether they would want a subscription.
Usage-based
If your SaaS helps users to perform certain one-time transactions – for instance, place an order and pay for it – the subscription model may be not the best choice. Instead, consider charging your users for each transaction performed with the help of your software. This model can be considered a micropayments strategy, which is reportedly becoming extremely effective today.
Freemium
The freemium model suggests that a part of your software functionality is free and the other part is only available for paying users. The model requires a deep understanding of your target audience since you need to define which free features will make your users stay and which locked ones will convert free users into customers. This model best suits solutions that offer various levels of service: for instance, accounting software can have free basic functionality that is enough for small businesses but requires payment for more advanced features needed by large and midsize enterprises.
Customization
According to this model, you only ask users to pay for customization of your software. This model is great for products that can offer a much higher value once they are customized – for instance, enterprise solutions that can't be tailored to every business from the start and need to be tuned up individually. In order to convert your users, you need to make sure you demonstrate all the perks of customization and show how it will enhance user experience.
While working with software in the cloud frees users from installation, integration and update management hassle, the issues of data security can't be overlooked. If customers consider the data they work with sensitive, they may not feel comfortable opting in for a SaaS solution and prefer an on-premises solution instead.
Make sure to let your customers know about the managed security services your SaaS has in place. Moreover, consider offering a hybrid strategy option – that is, a SaaS and on-premises combination. With it, the users of your software as a service will be able to store their sensitive data on private servers and conveniently perform other tasks in the cloud.
On a final note
The decision to distribute your software as SaaS can bring both you and the users a number of advantages. However, as you make your product more convenient to use and maintain for your customers, you take on more responsibility for it. The performance, availability, and security of your product will lie on your shoulders 24/7. Be sure to prepare for this responsibility before you launch the SaaS development process and always feel free to reach out to ScienceSoft or other software development vendors, who can help you share it.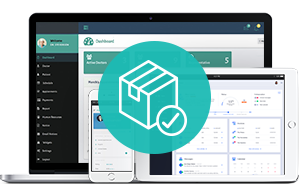 Got a great idea for a product? Our experienced software development teams are ready to help you put it into life!