Editor's note: Based on his experience in building collaboration solutions, Sergey shares a proven strategy of building an efficient remote collaboration environment. And if you need to improve remote collaboration at your organization or move your company to telework while ensuring that your remote employees stay productive, check ScienceSoft's remote work consulting and enablement offer.
Despite the growing trend towards remote work, many organizations still question its viability. Employee productivity and efficiency of remote team collaboration are the focal points of their concerns. In my other article, I explain how your remote employees can work effectively, provided they're equipped with proper tools. This time, I'd like to zero in on the collaboration issue.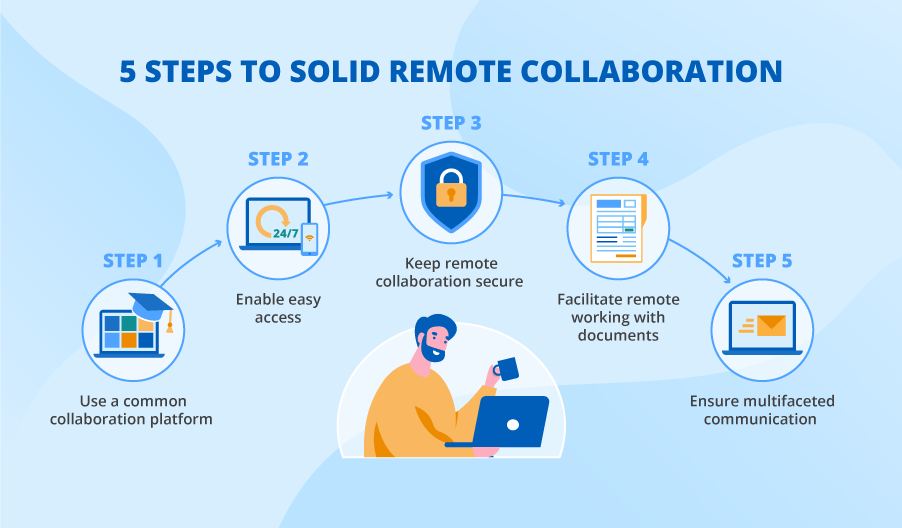 At ScienceSoft, my colleagues and I have been developing collaboration solutions for years already, including those for remote collaboration. For example, in a recent project, my colleagues helped a company smoothly move to telework, ensured secure and efficient collaboration, and enabled employee productivity tracking.
Relying on this experience, I've highlighted the key challenges of remote team collaboration and tips on how to make remote collaboration successful.
The main challenges of remote collaboration include:
Ineffective communication and slow decision-making.
Disconnected collaboration tools (everyone uses different tools for similar tasks).
Inconvenient team collaboration on documents (creating, editing, approving and signing).
Security risks (unauthorized access to corporate data, sensitive information leakages).
Lack of employee engagement and motivation as a result of isolation.
I recommend you to ditch disjoined tools used at your company and introduce a common collaboration platform that will become the backbone of your company's remote collaboration. It will unite the key enterprise systems into an integrated environment, connect your remote teams via separate collaboration spaces, provide effective tools for completing their working tasks and ensure relevant, structured and regularly updated knowledge hub. I think the latter is especially important for successful remote collaboration, as centralized information ensures all employees are on the same page. For example, in one of our projects, my team helped an oil and gas service company that expanded its presence quickly across 7 different regions to structure scattered documentation and provide employees with a single point to corporate information – the intranet. To get a full picture of an intranet's capabilities for remote collaboration, have a look at our SharePoint intranet live demo.
You should provide your remote employees with an opportunity to access the collaboration spaces at any time and any place and easily share data. Therefore, I strongly recommend you to leverage cloud collaboration platforms, such as Office 365, G Suite, Asana, Trello, or others. Also, make sure your collaboration software is mobile-friendly so that employees could access them via any device.
I recommend you to implement the following features for secure access to your collaboration platform:
VPN to provide a secure encrypted tunnel for the transfer of data between the company's network and remote employees.
Multi-factor authentication to prevent unauthorized access to the company's network.
Data encryption to protect data at rest and in transit.
Anti-virus software with regular updates. You should also encourage your remote employees to secure any devices they use to access the corporate data and resources.
Data loss prevention software to detect potential breaches of sensitive data on your remote employees' workstations and prevent them by blocking this data.
Virtual machines (e.g., on Azure or AWS) to enable remote employees to login to the company's server using Remote Desktop Protocol, while the company's network remains protected.
To improve team collaboration, I advise making sure that your digital workplace offers co-authoring. This feature allows remote workers to access and edit a document simultaneously.
Another way to streamline remote collaboration on documents is an automated approval workflow, which allows reducing the time of document finalization and supports the accountability of employees. For example, in one of our projects, we created two workflows for a 6,000-employee consumer products company. These workflows tracked the number of approval rounds and sent recurrent reminders to the participants until the approval was complete.
With diverse communication channels, your employees can choose the most effective means of communication, depending on the situation:
Email software (e.g., Gmail, Outlook, Yahoo Mail). I recommend using email in cases when your remote employees may need to get back to this information later.
Instant messaging tools (e.g., Slack, Flock, Skype, Microsoft Teams). Chat software is good for quick interactions. It helps bring remote teams together and accelerate decision-making.
Video conferencing tools (e.g., GoToMeeting, Microsoft Teams, Google Meet, Zoom). Video conferencing is a good replacement of real interactions for remote employees, as it allows them to feel connected to their teams and supports employee accountability.
Project management tools (e.g., Wrike, Smartsheet, Jira). These tools help facilitate communication on a certain project or a task due to keeping project collaboration organized and well-documented. It's especially relevant for new hires: they can have the full picture of a project due to seeing all the previous activities and discussions.
Surely, your remote employees will use these tools both for business-related and non-formal communication. My advice here is to separate these two types of communication by using different collaboration tools for each kind. For example, your employees may use Office 365 collaboration tools for professional conversations and communicate informally in Slack.
Another option to separate non-business communication from business-related communication is to encourage your remote employees to use a social intranet for informal interactions. Social intranets offer discussion boards, social media integration, communities, classifieds, and other social features that will engage your remote employees and help them not mix work with fun stuff. To get a better idea of the social intranet, you can have a look at the project we've implemented for a construction company.
Start your efficient remote collaboration
On the way to successful remote teamwork, you need to choose a suitable collaboration platform, efficient communication channels, and introduce strong security measures into your collaboration environment. If it sounds challenging to you, ScienceSoft experts are always ready to help you with any of these tasks. All you need to do is just let us know.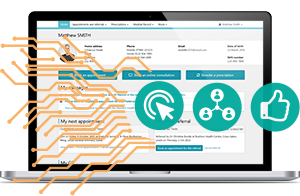 We help businesses go beyond pure IT-enabled automation of daily operations. We offer digital workspace and collaboration, digital HR, digital customer experience and more for your company to build a new digital mind and uncover IT potential to the fullest.