HR-Focused Portal Development for a Construction Company
Technologies
SharePoint, React.js
Customer
The Customer is a Canadian construction and design company.
Challenge
The Customer was not satisfied with employee collaboration concerning HR-related activities in their company. Besides, the company's HR team lacked convenient employee search and structured document storage, which affected the efficiency of HR processes and the team's performance. So, the Customer wanted an employee portal with an HR focus to streamline related business processes, facilitate access to HR documents and increase engagement of the company's employees.
Solution
ScienceSoft's team analyzed the Customer's needs and developed an HR-focused portal in SharePoint accordingly. The portal has the following main elements:
Home page
Our specialists added useful links to the home page to facilitate access to the key information on the portal. These links can direct employees from HR and other departments to payroll and recruitment details, employee handbook, insurance forms and plans, corporate policies. The portal also has the lunch menu quick link, which facilitates ordering meals for employees.
The home page shows corporate news and announcements. The news functionality is implemented as a slideshow of cycling pictures. And announcements are displayed depending on users' location. Also, our SharePoint team integrated the portal with Facebook, LinkedIn and Instagram. Thus, employees could share news and ideas via the portal's home page.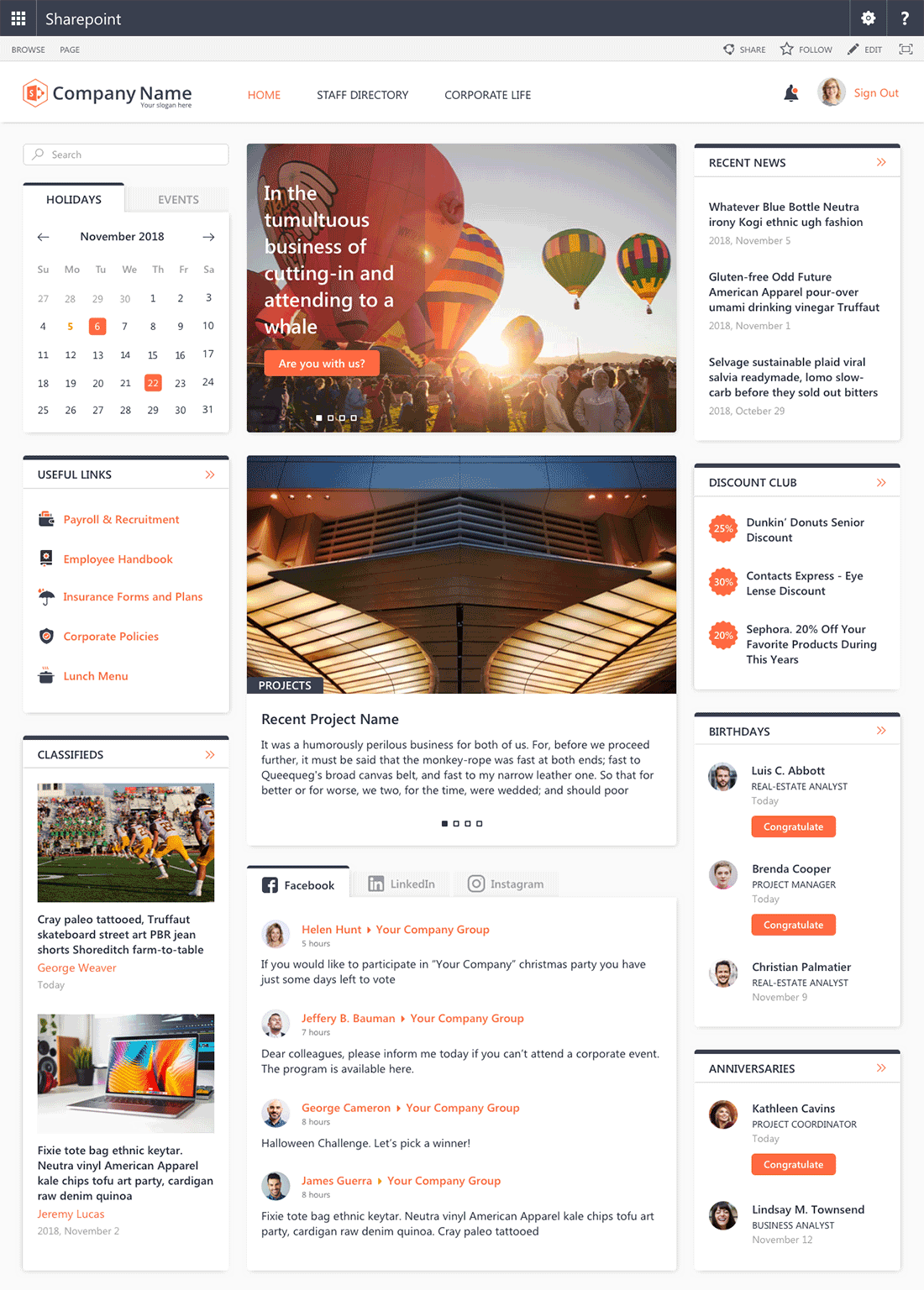 Staff directory
The staff directory implemented by ScienceSoft's team allows employee search not only by name or position but also by such parameters, as Manager, Hire Date and Availability.
The portal's employee profile pages are searchable and contain information about their skills, education, contacts and other personal information. The profile pages also show the projects related to these employees. ScienceSoft's team has added two web parts to them that extract project information from SharePoint libraries and show 3 current and 5 past projects together with relevant project pictures and delivery dates.
Corporate life
The corporate life page includes such elements as birthday and work anniversary boards, a discount club section and classifieds. It also has an event calendar that shows holidays and business events.
Results
The Customer has received a robust employee portal with a focus on HR-related activities and a good balance between business and social features. The portal helps employees to quickly reach important HR-related information and corporate news, easily find colleagues' profiles using various search filters, and communicate with colleagues via social media. All this contributes to better employee collaboration at the team and the company levels. The portal's social features support employee engagement and user adoption of the portal.
Technologies and Tools
SharePoint Online, Microsoft Flow, SharePoint Framework, TypeScript, React JS, SCSS, Office Fabric UI, Visual Code.

Need help with a similar project?

Drop us a line, and our rep will contact you within 30 minutes to arrange an initial discussion.

<![endif]-->