The impact of SharePoint - 2016 by AIIM shows that 85% of respondents use SharePoint as their intranet platform and 92% made it their major collaboration tool hosting employees' workplaces and corporate team sites. For an example of SharePoint-based intranet, you can check our demo.
All in all, collaboration is the most popular SharePoint duty comparing to document management (80%), records management (47%) or web content management (30%). At the same time, since organizations vary by business domains and sizes, their requirements to SharePoint collaboration and a SharePoint intranet can be absolutely different.
In this article, we will analyze specific characteristics of large, medium-sized and small companies and identify what kind of SharePoint intranet suits each group.

SharePoint intranet for a large company
Large companies are universes with their specific corporate culture, unique business processes and complex collaboration cycles, so their intranet requirements are numerous. Let's point out the most frequent and important factors that determine what large companies expect from their SharePoint-based intranet:
A complex divisional structure with a multitude of teams that perform different tasks and have to interact frequently. They need a solution that ensures team and cross-department collaboration equally well.
Various types of employees with different working styles and collaboration preferences. Employees expect the intranet to cover their individual needs. Software user adoption is often a challenge, as it's hard to address everybody's requirements.
Integration of different enterprise systems (CRM, ERP, SCM, etc.) and tools should enable uninterrupted business processes and organization-wide collaboration.
Active communication with customers and partners.
A large amount of heterogeneous content (sometimes including sensitive data) that employees need to manage securely.
Active knowledge management.
A need to support corporate culture and spark the sense of community.
A need for multilingual collaboration (often).
How will a SharePoint intranet look in a large company?
With these multiple requirements, large companies often opt for a custom SharePoint intranet. In this scenario, SharePoint on-premises can be the right platform enabling organizations to:
Develop powerful SharePoint department and team sites that enable effective business collaboration, as well as launch community sites to support social life and foster corporate culture.​
Guarantee multilingual collaboration.
Build an intranet with a variety of business solutions ensuring document and records management, quality assurance and workflows, project management and more.
Enable knowledge management features (knowledge classification, sharing, storing, distribution, etc.) to ensure corporate knowledge accumulation and reuse.
Launch suitable collaboration tools such as Yammer or Skype for Business to collaborate with outside users.
Ensure sensitive data protection with Microsoft-enabled security mechanisms.
Integrate the intranet with other enterprise systems to support continuous collaboration between different departments and teams.
Implement custom design and branding to get an intranet with a unique modern look and feel.
Deploy a mobile intranet to let internal and external users access the portal wherever they need it.
In addition to a multipurpose on-premises intranet, large companies can also adopt SharePoint Online or Office 365 to enable cloud-based collaboration for particular department and teams. In this case, employees will be able to use modern SharePoint communication sites or Microsoft Teams for instant messaging and video conferencing. Hybrid SharePoint deployments can ensure smooth integration of on-premises and cloud environments.
SharePoint intranet for a medium-sized company
Among key features of mid-size organizations that can affect the development of an intranet, there can be the following:
Several large teams or departments that accomplish key business functions.
Multiple small teams and departments that need their collaboration areas apart.
A few powerful enterprise systems instead of numerous smaller solutions.
A strong industrial focus of implemented enterprise solutions (often): for example, a healthcare-focused CRM system.
A need to support innovation management to develop their business.
How will a SharePoint intranet look in a medium-sized company?
The choice of an intranet for a mid-size company depends strongly on the available IT infrastructure.
If a company already runs a developed IT infrastructure, they can opt for an on-premises SharePoint intranet. It will enable the full gamut of collaboration features, as well as will allow building up an industry-oriented corporate portal filled with relevant features. Innovation management can be organized on a separate SharePoint site or with the help of innovation-focused collaboration tools on team sites.
If a company doesn't manage its own IT infrastructure, a cloud intranet based on SharePoint Online or Office 365 will be a more suitable solution. A cloud intranet will support dynamic collaboration among various teams regardless of their size. Mobile apps will enable employees to access their portal remotely. A cloud intranet can also be a good fit for mid-size companies that want to avoid deep customizations.
A hybrid intranet can become an optimal solution for those companies that can't switch to the cloud completely due to the compliance constraints.
SharePoint intranet for a small company
Although small companies have a moderate amount of employees, they still need to organize a fruitful collaboration. At the same time, some specific conditions restrict the scope of intranet projects in small companies:
Small companies aren't ready to invest into heavy development and customization of the solutions they use. That's why they have high requirements to out-of-the-box capabilities of their software.
They are usually not ready or unable to support on-premises deployments due to IT infrastructure constraints.
They look for flexible collaboration tools that can adapt to different collaboration scenarios when needed.
Mobile collaboration tools are must-haves.
How will a SharePoint intranet look in a small company?
For a long time, SharePoint was considered inappropriate for small companies exactly because it existed as a bulky on-premises solution requiring heavy investment. However, thanks to the advance of the Microsoft cloud, even small enterprises can afford a corporate intranet nowadays. It can come with several variations:
A SharePoint Online intranet will be a suitable solution for companies that work with content actively and need strong document and workflow management features.
An Office 365 intranet will offer a variety of cloud applications (Outlook, Word, Excel, PowerPoint, Access, OneNote) and collaboration-driven services including Outlook, OneDrive, SharePoint, Yammer and Microsoft Teams.
A Microsoft 365 digital workplace that will be available for small companies at the end of 2017 and will bring together Office 365, Windows 10 and Enterprise Mobility + Security.
So does a SharePoint intranet really fit an organization of any size?
This is the truth we've been guiding you to throughout our article. SharePoint in its actual state can meet collaboration needs of various organizations and can host intranets tuned to organizations' sizes and employees' preferences. Organizations can not only decide on their corporate intranet structure but also combine SharePoint on-premises and cloud capabilities to follow users' collaboration wherever they need it.
At the same time, intranets in large, mid-sized and small companies require different implementation approaches. While small companies can use out-of-the-box Office 365 or SharePoint Online capabilities, large businesses will need a custom solution that will be adapted to their corporate culture, complex business processes and versatile collaboration scenarios.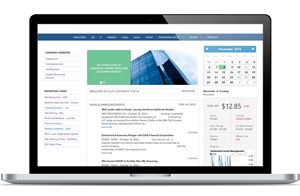 Do you want to create a brand-new Office 365 or SharePoint intranet or improve your existing corporate portal? Let's make it real together.